News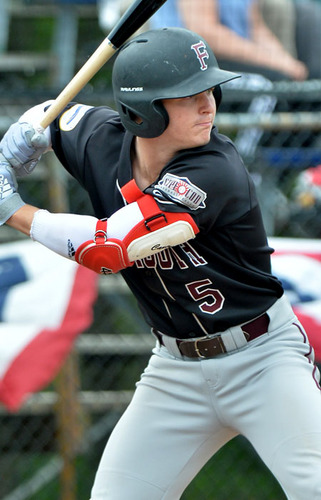 01/18/2021 5:45 AM
Article By: Taylor Viles


The 2020 MLB draft was only five rounds, the shortest in the history of pro-baseball. Usually prospects have 40 rounds to wait for their name to be called. Because of this, players who didn't collect the stats they'd hoped to during the shortened COVID-19 season, went into the draft with some apprehension.

This was the case for former Falmouth Commodores infielder Hayden Cantrelle ('18,'19). He explained how the excitement existing on draft day between him and his family soon turned into nervous energy.

"As the draft went on, I started to see players in my own conference who I thought I was way better than, get picked before me," said Cantrelle. "And then I realized that the market was dropping significantly. I was afraid my number would be too high with a low budget draft. But I was very fortunate to get a deal negotiated."

The Milwaukee Brewers took Cantrelle with the 20th selection of the 5th round. Falling in the draft, he acknowledged, was likely due to his final college season. In 17 games with the Ragin' Cajuns of Louisiana Lafayette in 2020, he only hit .136. That was a small sample size of what he is capable of as the year before, Cantrelle managed .309 in 59 games.

His time in a Commodores uniform didn't hurt him either. Coming to the Cape once, is an accomplishment in itself; Cantrelle played in two seasons for Falmouth.

"The struggles I had in the first summer allowed me to be really good," he said. "I learned how to fail after that first summer on the Cape. My second year, I made my adjustments and then I think the play showed from there."

The stat sheet reflected these improvements. In his first season, he averaged .174 in 32 games. He did collect 28 walks and three triples, but it was in 2019 when Cantrelle's knowledge of the sport and hard work paid off. For the first half of the summer of 2019, he was in the top of the league for batting average. At season's end, his Commodores teammate Zach DeLoach won the batting title, but Cantrelle still hit .315 in 36 games, belting three home runs and seven doubles.

It wasn't just his stellar play that made the season enjoyable. "I think my favorite moment was when...we won 11 in a row," he said. "We were having so much fun. We were throwing a frisbee before the game. [On the field], we were just wearing people out.

The impressive stretch of play came in late July helping Jeff Trundy's Commodores to the best record on the Cape.

Cantrelle says the Cape League helped to bring him down to earth and brought into perspective aspects of the sport he'd been playing his whole life. "It made me realize at first that I wasn't that good. It also made me realize the very simple things that make the very good players very good. So you know, it really helped me learn how to practice those things while humbling me along the way," he said.

Since getting drafted, Cantrelle has had to adapt to the lifestyle of a professional baseball player, although, according to him, he's been well prepared to take on the situation. "I feel like the transition has been pretty easy," he said. "You know, I went to a really hard high school baseball program and I played for two very hard baseball coaches in college. I feel like I was ready and prepared for a professional environment."

He says handling the "extra time" when he's used to being in the classroom or doing school work has been the biggest adjustment.

Over two months during this part fall, he was able to participate in a Brewers camp giving him a taste of his competition as well as the players he will have the chance to work with in the coming years. "I met a lot of guys who I realized we're on the same career path, you know, it's just so cool," said Cantrelle. "To see how [other players] handle their business and how they approach the game [and] being able to learn from every type of player from every different country is also very unique."

Growth was a key to his success on Cape Cod and Cantrelle knows that if not for the opportunity with the Commodores, his work ethic and the self-progression of his game might not be the same. He says that without the Cape League, "I'd still be looking for that experience."

Looking forward, Cantrelle knows he has a long road before he sees his first pitch on a major league diamond. He's expecting a minor league invite to spring training where he'll get the chance to show scouts, on a bigger stage, just why the Brewers chose him with their last pick of the draft. This will help determine where he's placed in the minor leagues for 2021.