News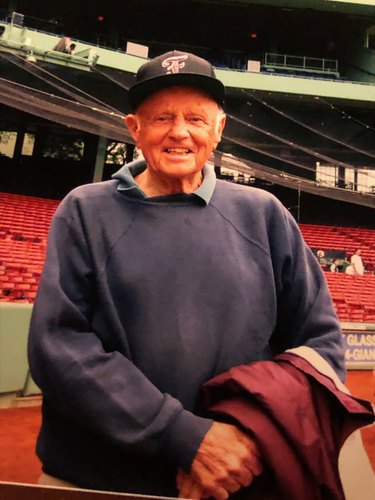 03/12/2021 5:45 AM
Article By: Taylor Viles

Al Irish first attended a Cape Cod Baseball League game in 1925, supporting the Falmouth Commodores at their original field in Falmouth Heights. 94 years later, at their second home of Guv Fuller Field, he threw out the first pitch during a game. The summer of 2019 became the final season of summer baseball Irish would see.

He passed away on February 20 at the age of 101, but not without leaving behind a legacy that only a century of life could earn a person. A legacy not only spanning the baseball world, but including the Falmouth Masonic Lodge, the Falmouth Historical Society, and St. Barnabas Episcopal Church.

Through each civic engagement, his radiant energy affected the people he worked with. It is through those people with whom his legacy lies. It is those people who remember Irish the way he deserves to be remembered: a man with dedication and a driving passion for his involvements and his family.

"Al was a sweetheart. He did not have one ounce of bad bone in his body. He loved everyone, cared about everyone, and if he met you and got to know you, he wouldn't forget you," said Cape League President, Chuck Sturtevant.

The Cape League was Irish's first love as he spent his childhood watching the Commodores. But he didn't just enjoy the games as a fan, he remembered the players and paid close attention to every detail.

"You could pretty much ask him anything and he'd have the answer," said Commodores Board of Director's member Donna Curtis.

Irish was an encyclopedia derived from a life of solving puzzles, according to his eldest son. "He was in cryptography in World War II," said David. "For years, well into his 90s, he would do the cryptograms and the jumbles in the Cape Cod Times every day, successfully." Although these puzzles may not have helped his knowledge of baseball, they were part of what kept him young.

After his military involvement and various off-Cape endeavors, Irish and his wife Esther, moved their family to Falmouth in 1961, a place he hadn't lived since he was 18. He rekindled his love of Cape Cod baseball and shared his childhood passion with his sons. He taught them to play catch and took them to games, but he never asked them to adopt his love for the game for themselves. "A lot of people think of sportspeople as kind of rabid, [but] dad was a quiet sports fan," said David. "He never shoved it off on Brad or me. He appreciated it and he exposed us to it, but he wasn't somebody who was going to push you in a direction that you didn't want to go."



Irish retired in 1985 at the age of 66 and while many retirees struggle to find ways to keep busy, he took full advantage of the newfound free time.

"He had a lot of books, and we used to kiddingly buy him books and say, 'Dad, are you going to read these someday?'" David remembers. "Well, guess what? When he retired, he did. He was incredibly disciplined."

Besides reading, his love for the Commodores kept his summers full. He transitioned from a fan to a board member and began running the entrance gate for home games. Gary Rebesa joined Irish to help run the gate in the early 2000s and remembers him for his humor and his drive to stay young. "When he was 95, we were at the gate and he says 'guess what I did today,'" said Rebesa, quoting Irish. "'I went to renew my license today.' I said 'You did?... How'd you make out?' He said, 'when I got all done, they told me I'm good until I'm 100.'"

He stopped driving during year 97 when he moved into Atria Woodbriar assisted living, but that didn't stop him from his participation in Falmouth's baseball team. Commodores board members would pick him up and drive him wherever he needed to go, whether it was a game, a Commodores board meeting, or even a Hall of Fame advisory board meeting, for which he consulted because of his recall.

What made him different from most wasn't just his memory though, it was the way he handled himself. "It was not about him. It was about everyone else, and he showed that," said Sturtevant.

This showed in conversation as Brad acknowledged his father's ability to listen. He picked and chose when to input his thoughts, but when he did, they were well thought out. "If someone mentioned something that he knew he could add to the information about, he was extraordinary in the amount of detail he could offer to the conversation," said Brad.

When it came to remembering past players or memories, Irish never referred to his notes, in fact, he didn't have any notes. "One thing that really impressed me is my father would never write anything down. He'd say, 'I have it all up here,'" said David, pointing to his head. "But he never missed this trick. He never goofed up."

This kept Irish's brain active, leading to his sharpness in his later years, but his longevity and health were likely aided by how he took care of his body. His sons explained their father's stubbornness about eating unhealthy food. He never let them go to fast-food restaurants and only when he was out of town on business did they enjoy a pizza, courtesy of their mother.

Irish and Esther had an "incredible marriage," according to Brad. Even through their older years, the couple shared an evening ritual Brad says led to his Dad's lifespan. "They enjoyed going out for a nice evening walk. It was religious. I mean, as long as the weather was halfway decent," said Brad. "Dad was not a weekend warrior when it came to exercise, but he always got in his daily constitution in terms of walking."

Before Irish's death, Brad asked what his secret was to living a long and happy life. "He said 'moderation,'" Brad remembers. "Basically, he would engage in many things, but he wasn't one to overdo it, he had a lot of variety. In many ways, because he was low key about it, I think he was able to enjoy other people's successes and watch them enjoy it, I think gave him a lot."

Irish's dedication to the Commodores and the Cape League earned him the league's lifetime achievement award in 2007.