News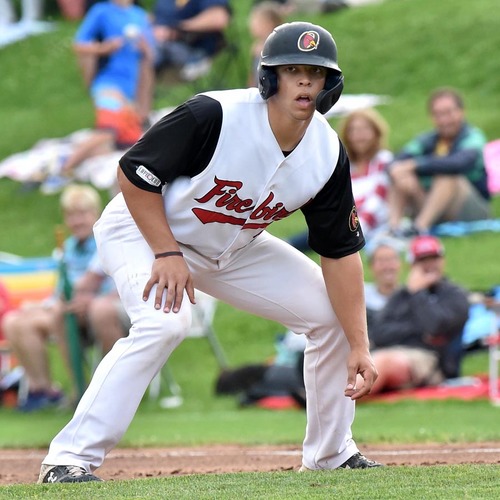 03/15/2021 2:48 PM
Article By: Taylor Viles


The majority of baseball players who come to play on Cape Cod hail from division one colleges. However, many of these athletes participate in the college playoffs in hopes of winning a championship with their team, forcing Cape League General Managers to fix the holes in their teams' lineups until the future stars arrive.

Team management creates temporary contacts for this scenario and gives them to players who aren't as high profile as other players who they hope arrive in July. Either they are from a less prominent division one school or a decent division two school. Temporary players stay an average of two to three weeks.

Max Troiani found himself in this position during the summer of 2019. He had just finished his junior season at Bentley University in Waltham, Mass, hitting .320 with nine home runs in 42 games, but he was at a division two school and not thinking about a future in baseball. "I had like no pro baseball desires," said Troiani. In fact, he was preparing to start the most important internship of his professional life.

"I'd worked my tail off to achieve the best banking internship in Boston. In February, I got the job," said Troiani. He explained how he was barely scouted to that point and was preparing for a life in the workforce which this internship would help him with.

He came to across his first decision of the summer when Kelly Nicholson, manager for the Orleans Firebirds, offered him the temp contract. Troiani called the bank to persuade them to let him take the two weeks on the Cape to "pursue his dream." The bank agreed to it but required him to make up the missed time beforehand.

He spent two weeks working 13 hours days, with a short lunch break, sitting inside in front of two computer monitors. The work was tedious and the only light exposure was from electricity.

"I left there, got to Orleans, and got settled in," he said. He picked up a single on the third pitch he saw in a Cape League uniform, he collected two more the next day, and two more the day after that.

Two weeks went by and he was about ready to pack up his gear and head back to Boston, but there was one issue; Troiani was leading the Cape League in batting average. "There's no way I should have done what I did, based on my prior experience," he said. "But I just scratched and clawed and I think it worked out."

It was on the Cape where he started to understand the keys to his success in the batter's box. Troiani explained how at Bentley and teams he's played on before, he was talented enough to just swing the bat and effectively guess at pitches. But Cape Cod allowed him to further his preparation which solidified his abilities. "When I got there, it was all "how do I get to the fastball,'" he said. "I really had a tough time, in the beginning, catching up to the fastball. I was living on offspeed [pitches]... That summer is when I learned how to actually hit as opposed to just going out there and swing."

He continued, "I was just a sponge. I was just soaking up everything I could because I was playing with such elite offenders and elite defenders. I was just like, 'tell me everything you know.'"

Troiani realized how it's not until an athlete is working to survive at their sport, do those important details make sense. He didn't face much adversity at a school where he was arguably the best baseball player. However, when he was thrown into a league where he needed to fight to get noticed, the hard work began to pay off.

"I've always had the work ethic. If I run into a problem, I'm going to work through it," he said. "It was just as easy as turning up the machine and training at that level. I'd never done that before."

After he learned how to hit on the Cape, the next problem facing Troiani was whether to continue playing on Cape Cod or return to his internship in the city.

This was not a decision to make lightly. "I probably talked to 30 to 50 people. My mom, my dad, old coaches, people in business, people who play baseball and are now in business...it was so back and forth on if I should go back to the bank or stay in Orleans."

Troiani said he made an initial decision to go back to the bank but when he told his former high coach of his decision, the coach didn't mince words. "He was like, 'absolutely not...I won't take that,'" Troiani remembers. "'You're going back to play baseball. You're gonna finish out the weeks. You have 50 years to go sit at a desk, you have six weeks left on the Cape.' That resonated with me," he said.

It was during the first half of a double-header against Wareham on June 23, just one day before his contract was up, when Troiani finally received the epiphany he'd been waiting for. He remembers standing in the outfield, feeling the warm Cape Cod sun beat down and his decision was suddenly apparent. "I was like, 'dude, do you really want to be sitting at a desk tomorrow for 13 hours wishing you're playing baseball?'" he remembers thinking.

At that point, Troiani didn't know if he had earned the full-time contract, despite his impressive play, but his realization prompted him to ask Nicholson. He was rewarded the contract and the Firebirds manager gave him a hug when he learned of Troiani's decision to stay.

"It was the best decision I've ever made in my life but the single hardest decision I've ever made," said Troiani. "It was the two pinnacle achievements that I was working for in my life [that I had to choose between]."

He finished the summer appearing in a team-high 41 games as well as leading the team in batting average (.345). He also was tied team lead in RBI's (19) with Louisville product Zach Britton. He was picked as an all-star in July and recorded a hit in the game in front of his closest friends who made the long drive from his hometown of Pittsford, NY.

At season's end, Troiani was awarded the Cape League's "sportsmanship award."

His loyalty to the Bentley program and his teammates was what kept Troiani from pursuing division one baseball following his summer on the Cape. Instead, he took what he learned during the summer and turned it into the highest average of his college career during the shortened 2020 senior season, hitting .358 in 14 games.

Following the season, Troiani quickly turned his focus to the MLB draft and signing subsequent period. He recognized the unlikelihood of being drafted as there were many more highly scouted options but looked to work out a deal after the draft.

"I expected to be signed as a free agent," he said. "I was just a dude who in his junior year, hit a roller coaster up and I was still living in that uptrend. I actually had got a call from an organization in the morning on free agent signing day. Long story short, they had offered me in the morning, and then [teams] all went into this lockdown because they all started to try to sign juniors instead of seniors...so I kind of got left out." He was told he was a high priority for many teams before the signing period but none of them followed through.

This left Troiani with only a college diploma and no idea where to turn next. He received advice from one of his former Bentley teammates' fathers, telling him to pursue a better education somewhere where he could further his baseball career. The only player he knew in division one baseball was a former Firebird teammate, Danny Serretti.

Troiani texted Serretti asking about openings on the North Carolina Baseball team. According to Troiani, 30 hours later, he had been signed and was ready to take full advantage of his extra year of eligibility.

"I'm just grateful to be in a program where I'm learning every day and everyone here is just elite. That's what you want," he said. "You just want competition every day."

Due to an injury in the fall of 2020, Troiani began the 2021 spring season on the bench but has since worked his way back up to a more impactful role. In six games, he is hitting .294 with two doubles.

As he continues to improve on his craft this year, one mantra continues to stay the same. "Always have the underdog mentality," he said. Troiani learned this trait on the Cape. It took him far then and he's banking on that it will do the same now.

Troiani is on the cusp of the baseball future that seemed out of reach less than two years ago, but it was because of a decision in Orleans near the end of June in 2019 that has allowed him to keep working towards his dream.