News
07/24/2009 1:20 PM
Article By:
24 July 2009
Second Time is Charm for Powers in Homerun Hitting Contest
By Jim Chandley, CCBL Intern
BOSTON, Mass.—Harwich's Connor Powers (Mississippi State) won the 2009 Cape League All-Star Home Run Hitting Contest at Fenway Park on Thursday. With six contestants from various Cape League teams, Powers was the only returning contestant.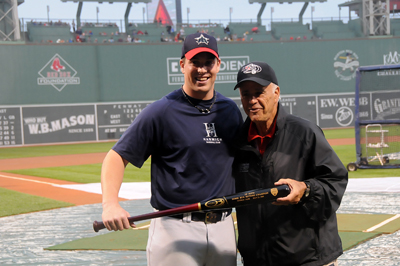 Connor Powers awarded homerun award by Sol Yas
CCBL photo by swilson
"I went through it last year," said Powers, who failed to escape the first round in the 2008 contest, won by Los Angeles Dodgers farmhand Angelo Songco (Orleans 2008). "I was a lot more relaxed which made it much easier to just hit."

Powers hit three homeruns in the first round, propelling him to a showdown with Cotuit's Cameron Rupp (Texas). Rupp also hit three in the first round. But he never made 10 outs. When he tied Powers for the league (because he was the final hitter) Cape League Deputy Commissioner Sol Yas declared the first round over.

"I may have had a couple more in me," said Rupp as he walked back to the West dugout. "But who knows? Plus they wouldn't have counted," said the Cotuit catcher after having just hit a ball over the bleacher bar in centerfield.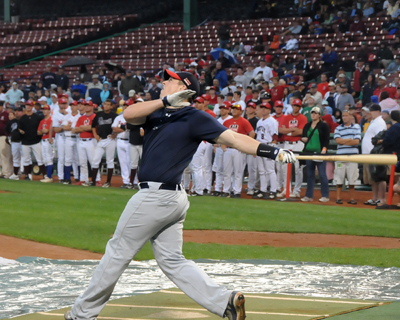 Connor Powers, Home Run Hitting contest winner
CCBL photo by swilson
As the first round was growing to a close, the major league feeling had begun to descend on Fenway Park. The seats had started to fill up, the crowd was getting into the action, and most importantly, the lights were on. Powers and Rupp did battle under the bright lights of Major League Baseball's most beloved ballpark.

Powers hit first in the final round and drove two balls over the Green Monster. One of them cleared the wall and the attached seats, landing somewhere between the House of Blues and the Cask and Flagon on Lansdowne Street. When Rupp came to the plate, he seemed slightly spent. One of his first swings sent a fly ball into the seats above the Green Monster. But he would finish with only the one homerun in the final round.

"It's a great feeling," said Powers after being presented with an engraved bat. "I never dreamed I would be out here playing and to win the homerun contest is something really special." As the derby wrapped up, the crews took to the field to get it ready for the contest between the East and West All-Star squads.

Jim Chandley can be reached at [email protected]

Interns: Chris Blake, James Chandley, Ashley Crosby, Phil Garceau, Michael Campbell, Katy Ann Fitzpatrick