News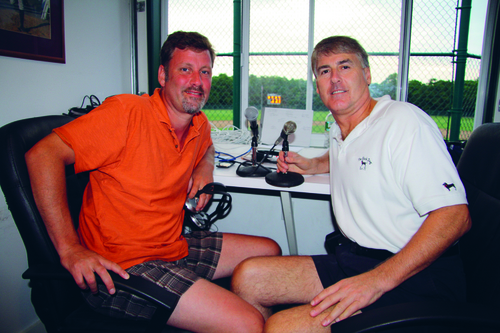 06/06/2021 6:22 PM
Article By: CCBL Public Relations Office
For the 10th straight season, Sports Radio 96.3 WEEI Cape Cod will broadcast a Cape League Game of the Week, beginning with Harwich at Wareham, Monday, June 21 at 6:30 pm.
Larry Egan and John Garner, who called games in 2002 on Cool 102, 2003-06 on PIXY 103 and 2008-09 on 95.1 WXTK, return as broadcasting duo for WEEI Cape Cod, the All-Sports radio station which also carries Red Sox, Celtics, sports talk radio and Fox Sports radio. Hallie Devore (Northwestern) and Chris Corso will add out-of-town scores and calls to the bullpen.
"The Cape League is one of our area's most precious jewels," said Kevin Matthews, VP/Programming, iHeartMedia - Cape Cod. "For generations, college athletes ventured to our ballparks showcasing best amateur talent in the country. With many CCBL alumni on Major League rosters, no doubt when you watch a game today, you'll see stars of tomorrow! iHeartMedia is proud, once again, to carry on this great tradition by broadcasting Cape League Game of the Week on Cape Cod's Sports Radio 96.3 with Larry Egan & John Garner. We look forward to partnering with league for many years to come!"
Two Cape League games will also be televised live on New England Sports Network (NESN), Channel 51 or 851 HD on Comcast Cable: Yarmouth-Dennis at Harwich July 8 and Cotuit at Wareham July 12, both at 7 p.m.
Cape League Updates with Devore and Corso will be broadcast on 95.1 WXTK every weekday morning during 7 a.m. newscasts.
All Cape Cod Baseball League regular season and playoff games are web cast by team internet broadcasters. To access team broadcasts, go to www.capecodbaseball.org
2021 Cape League Baseball Game of the Week on 96.3 WEEI
Monday, June 21
Falmouth at Wareham (BoSox off)
6:45 pm
Sunday, June 27
Bourne at Cotuit (Yankees at BoSox 1 or 7 ESPN)
5:00 pm
Friday, July 2
Y-D at Chatham (BoSox @ Oak 9:40 pm)
7 pm
Monday, July 12
Orleans at Falmouth (BoSox off)
6 pm
Tuesday, July 13
Bourne at Hyannis (MLB All-Star Game 8 pm)
6 pm
Wednesday, July 14
Orleans at Harwich (BoSox off)
6:30 pm
Sunday, July 18
Wareham at Brewster (Sox @ NY 7:10pm ESPN)
5 pm
Sunday, Aug. 1
Falmouth @ Cotuit (BoSox @ Tampa 1:10 pm)
4:30 pm
Monday, Aug. 2
Harwich @ Orleans (BoSox off)
7 pm
Sunday, Aug. 8
CCBL Playoffs (BoSox @ Toronto 1:07 pm)
TBA
Monday, Aug. 9
CCBL Playoff Championship (Sox off) after 6 pm TBA (lighted field)
2021 Cape League Game on NESN
Thursday, July 8
Yarmouth-Dennis at Harwich (BoSox off
7 pm
Monday, July 12
Cotuit at Wareham (BoSox off)
7 pm