News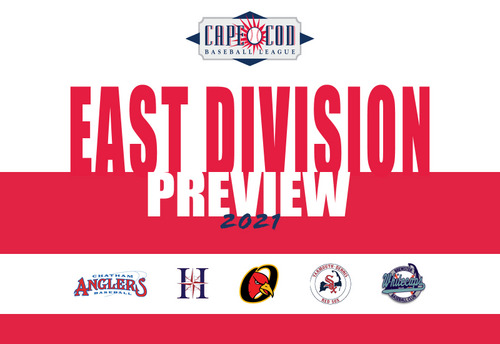 06/14/2021 4:22 AM
Article By: Ethan Kagno
BREWSTER WHITECAPS
Despite not having had a 2020 season due to the ongoing pandemic, the Cape Cod Baseball League is back! The 2019 Brewster Whitecaps just missed a playoff spot after going 18-22-4, and they're looking to getting back into the playoffs in 2021 with their revamped roster led by head coach, Jamie Shevchik. One player to watch will be 6'3" corner infielder, Alex Binelas (Louisville), who hit 18 home runs and had a .957 OPS for the Cardinals in 49 games played this season. Binelas ranks 70th among the top 150 MLB Draft prospects. Brewster will also get their first look at red-hot Gavin Cross (Virginia Tech) who batted a strong .345/.415/.621 slash line with the Hokies this spring. Pete Hansen (Texas) will bring a commanding precense on the mound. The freshman collected seven wins this spring for the Longhorns, and carried an impressive 1.80 earned-run average through 70 innings pitched. Parker Messick (Florida State) promises to be a dual threat for the Seminoles. He let up just 22 walks while collecting 114 K's through 79 innings pitched. He also collected nine hits, one of which left the park. Cal Conley (Texas Tech) will make his first appearance at Stony Brook Field this season, coming off a terrific spring season with 13 home runs and 52 runs-batted in, both ranked second for the #5 Red Raiders. Sluggers Colin Davis (Wofford), Jake Gustin (Bryant), and Kevin Madden (Virginia Tech) will also look to make an impact for the Whitecap's squad this season.
CHATHAM ANGLERS
The Catham Anglers clinched the East Division after posting a solid 24-18-2 record in 2019. They'll see a few returnees in college teammates Kolby Kubichek (Texas) and Dawson Merryman (Texas), as well as Austin Vernon (NC Central). During the 2019 season, Kubichek posted an impressive 0.90 ERA in 30 IP and struck out 34 on his way to a 2-2 record for the Anglers. Merryman appeared in a team-high 15 games as Chatham's closer, where he collected four saves over 15.1 innings of work. Vernon, the 6'7", 280 pound right-hander appeared in eight games for Chatham where he went 3-0 in eight games with a 3.91 ERA. The A's will also showcase North Andover, Massachusetts native Sebastian Keane (Northeastern). An additional player to keep your eye on is 82nd ranked prospect Trey Sweeney (Eastern Illinois). Sweeney led the Eastern Illinois Panthers in slugging percentage (.712), on-base percentage (.522), runs scored (52), hits (65), home runs (14), and runs batted in (58) this spring. With no shortage of talent, Tom Holliday and the Chatham Anglers will remain competitive in the East.
HARWICH MARINERS
In Harwich, Hal Hughes (Rice) is set to return to the CCBL after batting .318 with a home run and three RBI in six games during the 2019 Cape League Playoffs. The Boston native started all 52 games for Rice this spring, and collected an impressive 42 hits. 6'3" Sophomore Riley Tirotta (Dayton) is another returnee who briefly played for Harwich after starting the 2019 season with Yarmouth-Dennis. Tirotta is tied for second in the Atlantic 10 Conference with 14 home runs and is fourth in SLG% (.677). The speedy Max Marusak (Texas Tech), who stole 10 bases for Harwich in 2019, will likely be back at Whitehouse Field this summer too. The Mariners made it all the way to the CCBL championship in 2019, and Head Coach Steve Englert has another impressive roster this year.
ORLEANS FIREBIRDS
The 2019 CCBL season saw the Orleans Firebirds go 23-17-4, atop of the division with Chatham. Kelly Nicholson's team will include Peyton Wilson (Alabama), Nathan Hickey (Florida), and Jace Jung (Texas Tech). The switch-hitting Wilson is currently ranked as the 65rd overall prospect headed into this year's MLB Draft and has shined with the Crimson Tide this season. Wilson led 'Bama in runs scored (46), hits (68), stolen bases (10), at-bats (229), and total bases (110). Meanwhile, catcher Nathan Hickey has propelled the Gators to a 35-19 record, making them the 13th ranked team in the nation. The 135th ranked draft prospect impressed this season with a solid .311/.435/.512 slash line en route to eight home runs, and 47 ribbies across 209 at-bats. Texas Tech product Jace Jung has produced a robust .744 slugging percentage (1st in the B12) with 20 home runs and 65 runs-batted in this spring, which led the Big 12 Conference. It's safe to say the birds are ready to fire it up in 2021.
YARMOUTH-DENNIS RED SOX
The 2019 Yarmouth-Dennis Red Sox finished with a 22-19-3 record, good for third in the East Division. Wyatt Young (Pepperdine) will make his return with the Red Sox after collecting 16 multi-hit games in 2019, and ranking fifth in league batting average (.338). Young was also real threat on the basepaths, totalling nine stolen bases. Yarmouth-Dennis will add the 20th ranked MLB Draft prospect in Michael McGreevy (UC Santa Barbara) to the roster too. The 6'4" Gaucho has dominated this season in 14 appearances; going 8-1 with a 2.94 ERA. He has shown his ability to control the strike zone this spring, collecting 104 K's and just 10 walks. McGreevy has the chance to become the highest drafted pitcher out of UCSB since former Cape Leaguer Shane Bieber was selected by the Cleveland Indians in the fourth round of the 2016 MLB Draft. The team is led by longtime Manager Scott Pickler, who is a member of the 2020 CCBL Hall of Fame class.