News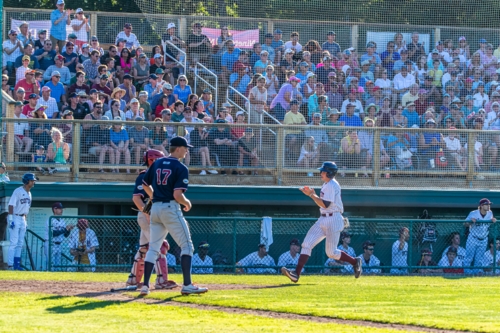 06/21/2021 4:00 AM
Article By: Taylor Viles
"At long last, Cape Cod baseball is back!" said Falmouth Commodores Public Address Announcer Eryk Jones over the loudspeaker before the first pitch at Guv Fuller Field on Sunday evening. It had been 685 days since the final out was recorded at Lowell Park in Cotuit to award the Kettleers the 2019 Cape League Championship trophy.

Opening day included all 10 teams and totaled five games on the picture-perfect Cape Cod day. Bourne, Falmouth, Cotuit, Yarmouth-Dennis, and Orleans each boasted the honor of hosting the return to play.

There were two nine-inning ties recorded, a new addition to the rulebook incorporated this season to increase the speed of the game, a shutout pitched by Bourne, a slugfest won by Cotuit, and an offensive outburst by the Firebirds bats. But the gameplay wasn't the only thing of note from opening night.

The crowd size was a welcome sight as the average attendance from opening night games was 2,161 people. Approximately 10,808 fans saw at least one pitch of the first games of summer. In perspective, the average attendance from opening night in 2019 was about 965, over 1,000 fewer people than in 2021 openers.

Here is are the exact numbers according to Pointstreak (poinstreak.com):

Location: 2021 home opener attendance (2019 home opener attendance)

Doran Park: 1,704 (980)
Lowell Park: 2,021 (1,310)
Guv Fuller Field: 1,750 (957)
Eldredge Park: 2,533 (437)
Red Wilson Field: 2,800 (888)

Total Attendance: 10,808 at 2021 opening day, 4,828 at 2019 opening day

One Falmouth fan said during opening night, "I have never seen so many people at one of these games in my life." The Commodores have experienced high attendance nights such as that one before, but that fan had no idea exactly how right she was when examining previous opening nights.

Not only was it greater than in 2019, but 2021 was the best-attended opening night since the Cape League began keeping track of the stat through Pointstreak, reflecting the importance summer baseball has on Cape Cod communities. The opening night attendance numbers seen this year reflect mid-summer Cape League games.

With all the struggles the world has endured since Cotuit hoisted the trophy almost two years ago, the 2021 season is set to be the perfect therapy to help bring the Cape League faithful back to a normal summer mood. As attendance figures are already high, expect the popularity and excitement of Cape League games to increase as the weather warms and summer vacations commence.
Last Night's Scores:
Orleans 8 Harwich 1
Falmouth 7 Chatham 7
Bourne 3 Hyannis 0
Brewster 5 Yarmouth-Dennis 5
Cotuit 8 Wareham 5