News
07/21/2008 10:13 AM
Article By:
21 July 2008
Cape League Taps Star Pitchers of Past
As Honorary Captains for All-Star Game
CHATHAM, Mass. – It was June 15, 1958, and Cape Cod's summer baseball season was just getting under way. The Orleans Town Team had brought in a couple of pitchers from Dartmouth College and manager Laurin "Pete" Peterson was hopeful that his club would be strong enough to challenge for the Lower Cape League pennant, perhaps even a berth in the finals on Labor Day weekend against the Upper Cape League champion.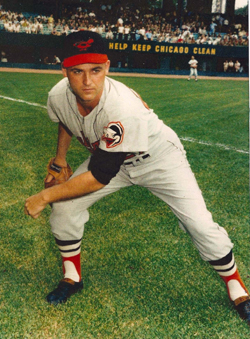 Art Quirk (Baltimore Orioles / 1962)
One of those Dartmouth imports, left-hander Artie Quirk, was a little nervous as he took the mound for his Cape debut against Dennis. Quirk had earned just about every honor possible as a baseball star at Dartmouth, but this was the Cape, where even in 1958 the competition was tough. Would he measure up?

The answer came quickly. In that first game, the 5-10, 170-pound hurler struck out 17 and went 3-for-5 at the plate to prove that he not only belonged at that level of competition, he could dominate it. The Cape Cod Standard-Times reported the next day that Quirk's curveball "had the Dennis hitters muttering to themselves."

Yes, Art Quirk had arrived on Cape Cod. And his opening-game performance was only the beginning of what was to become an incredible summer of achievements, both on the mound and at the plate, for the little lefty from South Kingstown, R.I. Two weeks later, he threw a three-hitter in which he struck out 15. Although he was sidelined briefly with a late-season leg injury, Quirk wound up with a 9-0 record, a 1.12 earned run average and a league-leading .475 batting average – statistics that convinced the Baltimore Orioles to sign him to a professional contract the following spring.

Now, 50 years later, Quirk returns to Cape Cod to be honored by the Cape Cod Baseball League as the East Division's honorary captain in the annual Under Armour-Cape League All-Star Game Saturday at Veterans Field in Chatham.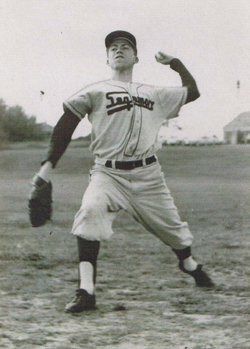 Noel Kinski (Sagamore 1965)
Across the diamond, the West Division's honorary captain will be Cape League Hall of Famer Noel Kinski, who like Quirk is a former Rhode Islander. Kinski pitched for three All-Star seasons in the mid-1960s, first at Bourne, then at Sagamore and finally at Falmouth.

Although they never played with or against each other, Quirk and Kinski have a common bond in the person of Dave Gavitt, a former Cape League player and manager who is best known as one of the nation's leading college basketball figures.

As an assistant to Joe Mullaney at Providence, Gavitt coached Kinski in basketball. In fact, Noel was co-captain of the hardwood Friars in his senior year.

Quirk was a baseball and basketball teammate of Gavitt at Dartmouth and Gavitt was the "other" Dartmouth pitcher in 1958 at Orleans, where he and Quirk were roommates.

After graduating from PC, Kinski settled on Cape Cod and spent nearly four decades as a coach and educator. He now lives quietly in Brewster.

Kinski's best season came in 1965 when he pitched Sagamore to the Cape League championship, the last one ever won by a Bourne-based franchise. The shortstop on that team was another CCBL Hall of Fame member, 2007 inductee Bob Schaefer, now Joe Torre's bench coach with the Los Angeles Dodgers. And Sagamore's manager was Noel's assistant baseball coach at PC, 22-year-old Lou Lamoriello, who has gone on to achieve remarkable success as president and general manager of the National Hockey League's three-time Stanley Cup winning New Jersey Devils.

Kinski's total of 10 wins in 1965 is second all-time in Cape League history. He lost just once while carving out a 1.91 ERA and pitching 11 complete games to earn the league's Most Outstanding Pitcher award. On Aug. 15, 1965, he struck out a season-high 12 batters in Harwich to notch his 10th victory. As the starting pitcher for the Upper Division in both the 1965 and 1966 All-Star Games, Kinski worked a total of six innings, allowing only one hit and striking out eight batters.

Quirk's one All-Star Game appearance was equally impressive. Although his Lower Cape squad fell to the Upper Cape, 5-3, in 10 innings, Quirk pitched four innings in which he struck out eight batters. The game was played at the Ezra Baker School Field in West Dennis.

In one stretch of five games between July 21 and Aug. 7, Quirk kept up his torrid hitting while notching consecutive strikeout totals of six, eight, eight, nine and 10. In Orleans' pennant-clinching 17-0 romp over Chatham on Aug. 10, Quirk had two hits as a position player.

It's doubtful that any player ever had a more dominant season on Cape Cod than Quirk in that magical 1958 campaign.

Now a resident of Stonington, Conn., Art has nothing but fond memories of his short-lived baseball career. He toiled in the Orioles' minor league system for three years, finally getting serious notice from the big club when he pitched a no-hitter and struck out 17 for Rochester against Syracuse in the Triple-A International League. He was called up to Baltimore in 1962, posting a 2-2 record that year, and in 1963 he was 1-0 for the Washington Senators before retiring at the end of that season.

Saturday's All-Star Game will mark the second time that Quirk is honored for achievements on Cape Cod in 1958. As luck would have it, when the Senators visited Boston on Sunday, May 12, 1963, for a double-header against the Red Sox, it happened to be Cape Cod Day, an annual event at Fenway Park during the early and mid-'60s. Pre-game ceremonies presided over by Sox broadcaster Curt Gowdy included a presentation by U.S. Sen. Edward M. Kennedy (D-Mass.) to manager Johnny Pesky and a presentation of an engraved Hamilton wristwatch to Quirk by U.S. Rep. Joseph W. Martin Jr. (D-Mass.) on behalf of the town of Orleans.

Photos of the presentation, taken by legendary Times photographer Lou La Prade, show a very somber Quirk. "I don't remember why I wasn't smiling," Art says today. "Maybe I didn't like the watch," he says in jest, then adds, "Actually, it's one of my prized possessions."

On Saturday, however, it's a good bet that there'll be a wide grin on his face when he walks to home plate for the exchange of lineup cards.
Joe Sherman, CCBL Public Relations Staff ([email protected])

Interns: Chris Blake, James Chandley, Ashley Crosby, Phil Garceau, Stefanie Marini, Laura Rasmussen