News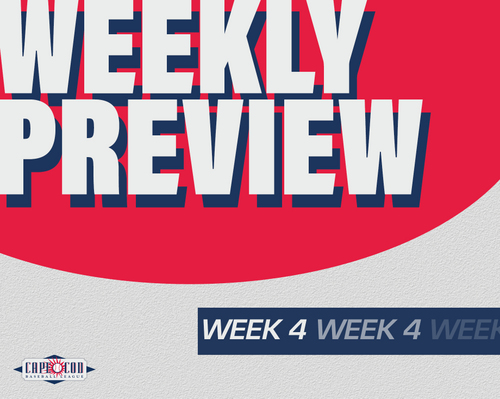 07/12/2021 9:09 AM
Article By: Ethan Kagno and Taylor Viles



During a week strewn with stormy conditions, it's a miracle that only five games were unable to be played during the week starting on Independence Day. The 2021 season is unlike years past due to canceled games not being rescheduled, therefore shortening the season for both fans and players. As mid-July nears so does the midpoint of the season. Team's are beginning to solidify their spots in the East and West Division, respectively. However, playoff spots are still up for grabs which should make for a compelling second half. Week four should continue a stretch of exciting offense and dominant defense seen so far during 2021.

Storylines to consider:

Whitecaps heat with the weather
Over the last 10 games, Brewster is 6-3-1, after its mediocre 2-3-1 start. The team's recent stretch has put them in first place in a crowded East Division. Offensively, Colin Davis is leading the way. The Wofford College senior has hit .500 over the last week with a home run and four RBI. In fact, five of the Whitecaps starting nine have hit at least .300 during that stretch. Defensively, Brewster only allowed 11 runs over the week, leading to a 3.16 ERA. The standings as seen today won't be the same in a week as teams have been leap-frogging each other every night in the East. But, if the Whitecaps continue their impressive stretch, they will be a hard team to overtake come the end of the regular season.

Starting pitchers digging deep
Fourteen starting pitchers on the Cape still have an ERA below 2.00, spanning seven different franchises. Although the innings pitched for most are still lower than what is considered enough to prove a pitcher's worth on the mound, this number is still impressive considering the overall offensive numbers. Over the last five seasons, the combined overall ERA of league pitchers has gradually increased. So far this season, the combined ERA is 4.00, a slight decrease from 4.20 in 2019. In comparison, 2015 saw a combined ERA of only 3.20. Five years before that, it was 3.05. Offensive players have been benefiting from better preparation and what was once a pitchers league has turned into a league with higher scoring games. This season however, the lower ERA can be attributed to the fantastic continued pitching performances from those fourteen.

Player to watch:

Jake Thompson, Brewster Whitecaps, Infielder, Oklahoma State University
Thompson has helped the Whitecaps' impressive week tremendously by hitting two home runs and driving in six. He batted .375 during the week. It was towards the end of the week where he heated up offensively driving in all six runs and hitting both home runs during the last two games. So far this season, the Whitecap is hitting .295. This should allow for significant carryover for this upcoming week as Thompson looks to continue his hot stretch.

Must watch games:

Cotuit @ Wareham - July 12, 6:45 pm

The Gatemen (6-6-4) and Kettleers (7-8-0) will meet again as both teams battle it out for second place in the West Division. Cotuit travels to Spillane Field down two points in the standings to a retooled Wareham squad that just added Mississippi State's Kamren James and Kellum Clark ahead of this week's games. The two Bulldogs should contribute sooner than later to a team that has already been efficient on both sides of the ball. For the Kettleers, after taking an 8-5 victory in their first meeting of the season back on Opening Day, Cotuit dropped their last outing against the Gatemen 5-2 last week. In the previous two matchups so far this year, each team has scored 10 runs and have seen home runs from Eric Brown (2; Coastal Carolina), Owen Diodati (1; Alabama), and Justin Williams (1; Penn State).

Yarmouth-Dennis @ Brewster - July 13, 5:00 pm

Another matchup featuring the top two teams in the East Division. Tied with 18 points, Yarmouth-Dennis (7-5-4) and Brewster (8-5-2) are looking to separate from each other with a win on Tuesday. Y-D has cooled off with losses in each of their last two games however are 4-3-3 in their last 10. The Red Sox have seen catcher Kody Huff (Stanford) really emerge on both sides of the plate batting .300 and has seven assists behind the dish. Meanwhile, Brewster has been led by Colin Davis (Wofford) who leads the league in stolen bases (13), hits, (21), and slashes .420/.508/.540.

Falmouth @ Harwich - July 17, 5:45 pm

On Saturday, the Mariners (7-6-2) and winners of two straight, will host the Commodores (5-7-2) in an inter-divisional matchup at Whitehouse Field. Falmouth is faced by Jace Bohrofen (Oklahoma) who leads the Cape League with 15 RBI, and the 'Dores have scored 83 runs as a team, best in the West Division. On the other side is a Harwich team that is 5-3-2 in their last 10 games. Their ace, Trey Dombroski (Monmouth) is tied for second league-wide in strikeouts (22) and Brock Wilken (Wake Forest) is the Cape League double's leader with six.