News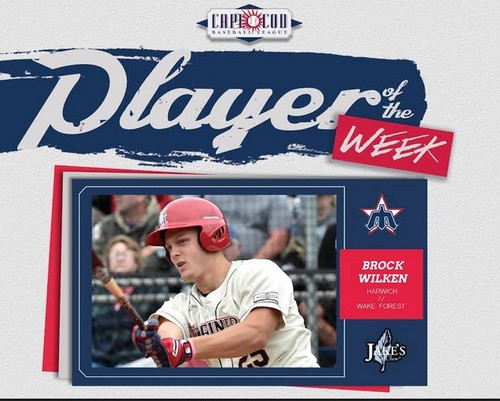 07/13/2021 4:55 AM
Article By: Ethan Kagno
Player of the Week: Brock Wilken (Harwich Mariners, Wake Forest)

Following a strong week, Brock Wilken was named Player of the Week for the first time. Wilken slashed .438/.591/.875 and was eyeing extra bases as soon as he left the batter's box. He had a double in four consecutive games out of the five he played, now making him the double's leader on the Cape with six. The Demon Deacon showed some power at the plate as he clubbed a solo home run, his third of the season. Wilken also drew six walks including three in a 5-3 victory against Yarmouth-Dennis. The "Brockstar" helped Harwich go 3-1-1 on the week and the team improved to 8-7-2; just four points shy of Brewster for first place in the East.
"Try Jake's Mint Chew today for a healthy alternative to tobacco. Visit www.jakesmintchew.com for more information and use promo code "cape cod" for 15% off your first order.
Chew Healthy, Chew Jake's!