News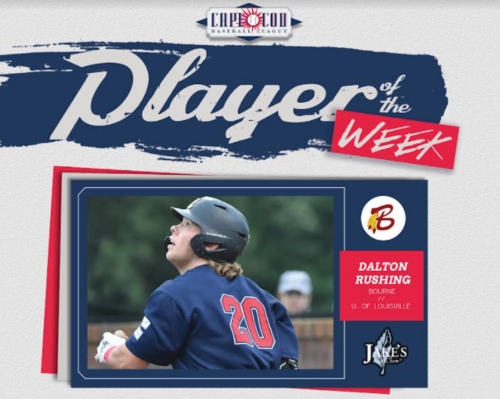 07/20/2021 4:54 AM
Article By: Ethan Kagno
.
Player of the Week: Dalton Rushing (Bourne Braves, University of Louisville)
Dalton Rushing was phenomenal this past week for the Bourne Braves, who currently own the best record on the Cape (17-2-3), winning their last six games in a row. The Louisville first baseman/catcher led the CCBL with 10 hits last week and batted an even .400 with a pair of doubles, home runs, and five walks at the plate, good enough for a .500 OBP. As of Monday prior to games, Rushing is slashing .324/.410/.559 with a .969 OPS. The first-place Bravos have been a really tough team to beat this season, and have outscored their opponents 110-56 (+54) en route to an 8-1-1 record in their last ten games.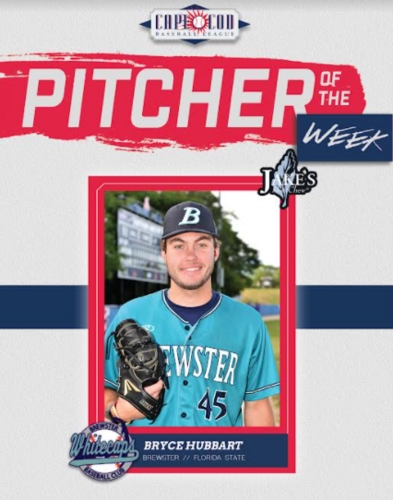 Pitcher of the Week: Bryce Hubbart (Brewster Whitecaps, Florida State University)
As mentioned in the Weekly Recap story for week four, Bryce Hubbart has been one of the best pitchers on the Cape this season. In his last start, the Windermere, Florida native whirled six shutout innings, allowing just a couple base knocks on his way to striking out 10 in a 5-1 victory over Yarmouth-Dennis. It was his second straight win of the season as he improves to 2-1 with a 1.35 ERA and 0.80 WHIP across 20 innings pitched for the Whitecaps. The pitcher from FSU currently leads the Cape League in strikeouts, with 32. Brewster currently leads the East Division as of Monday afternoon with a 13-7-3 record thanks to rattling off three straight wins
"Try Jake's Mint Chew today for a healthy alternative to tobacco. Visit www.jakesmintchew.com for more information and use promo code "cape cod" for 15% off your first order.
Chew Healthy, Chew Jake's