News
08/03/2007 10:48 AM
Article By:
3 August 2007
Cape Cod League's 2007 All-Stars
Get Red-Carpet Treatment at Fenway Park


BOSTON, Mass. -- Most nights, when Cape Cod Baseball League players step onto a ball field, they are the centers of attention. But when the 45 CCBL East Division and West Division All-Stars lined up along the first and third base lines prior to the Boston Red Sox-Baltimore Orioles game at Fenway Park Wednesday night, they were the ones in awe.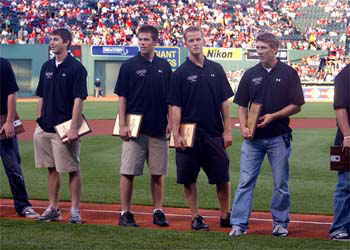 Cape League All Stars recognized at home plate
SportsPix / 2007
Prior to the August 1 game, the Red Sox organization hosted the 2007 Cape League All-Stars for a day and night they surely will never forget. The players were escorted from right field, along the warning track at the base of the Green Monster and right up to home plate for the pre-game festivities, which included a ceremonial first pitch from the newest member of the Boston Celtics, Kevin Garnett.

Each All-Star, as well as all 10 East and West Division managers, was individually introduced over the Fenway public address system. In recognition of their accomplishments, they were awarded plaques by former Cape Leaguers and current Red Sox Eric Hinske (Hyannis '97) and Doug Mirabelli (Hyannis '90), who, coincidentally, hit back-to-back homers in Thursday's Sox win over the Orioles.

Earlier in the day, the All-Stars were treated to a catered lunch in the Players Club at Fenway, and then they had the opportunity to watch the likes of Manny Ramirez, David Ortiz, Kevin Youkilis (Bourne '00) and Jason Varitek (Hyannis '91, '93) take batting practice.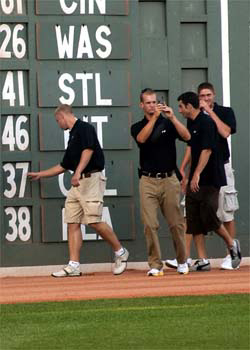 Before the game, a "Walk in the Park"
SportsPix / 2007
Cotuit field manager Mike Roberts enjoyed the experience of seeing his players and himself honored at one of the best venues in baseball, but he and his wife were even more pleased at having the opportunity to spend time with their son, Brian Roberts (Chatham '98), now the Orioles' starting second baseman.

After the pre-game ceremonies, the Cape League delegation got to watch a very well-played ball game from their seats in center field as the Red Sox came back from a 3-1 deficit to beat the Orioles, 5-4.

Former Cape Leaguers Kyle Snyder (Chatham '98) and Javier Lopez (Falmouth '97) both pitched well in relief, while Kevin Youkilis (Bourne '00) was one of the hitting stars for Boston.
Roberts accounted for the first Baltimore run with an RBI double.

Other Cape League graduates on the two teams' rosters include Boston's Mike Lowell (Chatham '94) and Baltimore's Kevin Millar (Harwich '92) and Jay Payton (Orleans '92, '93).

Accompanying the CCBL All-Star players, managers and coaching staff were a delegation of league and team officials. They all stayed for the entire four-hour game and did not get home until early the next morning. Public relations director John Garner, always an early riser, reported arriving at his West Yarmouth home around 2 a.m. But given their first-class treatment by the Red Sox organization, nobody was complaining about their long day at Fenway.

Kevin Wolfe, CCBL intern ([email protected])