News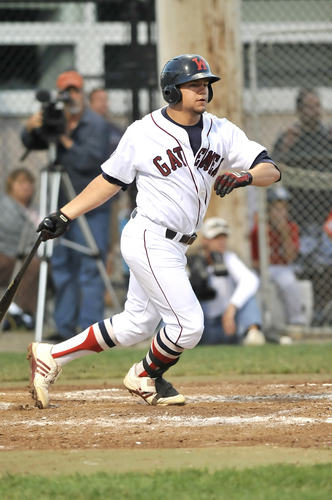 01/15/2022 11:00 AM
Article By: Joe Koetters
Although Kyle Schwarber only spent half a season in Boston, after signing a one-year deal with the Washington Nationals before the start of the season, Schwarber was a fan favorite for the Red Sox. The Wareham Gateman alum slashed .291/.435/.522 in just 41 games for the Red Sox before entering free agency at the age of 28. Schwarber had an eerily similar stat line in the Cape where, in 44 regular season games, he slashed .343/.432/.564 and posted a .276/.333/.586 slash line in his 7 playoff appearances. Let's check out some possible fits for the All-Star corner outfielder.
Staying in New England
As mentioned above, Schwarber had a positive stint in Boston that could entice the Red Sox to offer him a larger contract than the rental price they paid for him in 2021. With JD Martinez getting closer to the end of his career, Schwarber could look to take over the everyday left field spot. Along with being a good player, Schwarber was able to poke fun at himself after an easy play following an error in the ALDS against Tampa Bay.
Short Porch
This may be the selling point for every left-handed hitter that is a free agent but the short porch in right field at Yankee Stadium fits Schwarber perfectly. He is still at the age where he can hit 40 home runs in pinstripes and would instantly be a fan favorite. Another positive is that although the Yankees outfield is loaded with talent, there is an opening at first base where Schwarber could slide into nicely while also DHing.
City of Brotherly Love
Another team with a vacant outfield position is the Philadelphia Phillies. Andrew McCutchen is inching closer to retirement every year and it is time for someone else to take the reins in left field for the Phils. Schwarber would fit in nicely batting somewhere in the middle of Bryce Harper, Rhys Hoskins and J.T. Realmuto. Along with a stacked lineup that could easily sway Kyle Schwarber is hitting coach Kyle Long. Long spent the past 4 seasons in Washington as their hitting coach and while Schwarber was only there for a half season, it may be enough to help convince the lefty to join the city of brotherly love.
Schwarber looks to receive around $15 million a year when the lockout ends and whoever is able to sign the lefty is sure to benefit tremendously.