News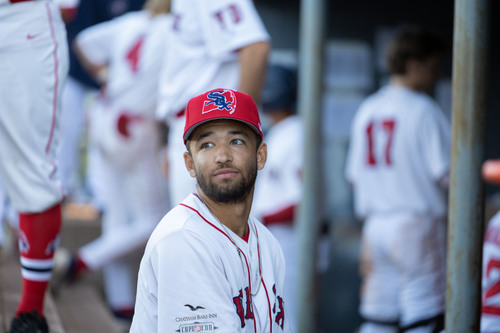 06/18/2022 5:00 AM
Article By: Kayla Gregoire
Having a prominent father in baseball can have its ups and downs, but for Cole Roberts he embraces all the lessons his father has given him.

Dave Roberts, Cole's father, has been in Major League Baseball since 1999. An average baseball fan may know Dave as the manager of the Los Angeles Dodgers. Anyone from Massachusetts may think back to game four of the 2004 ALCS when Dave stole a base to bring in the tying run in the ninth inning.

Cole understands that his last name comes with many connections to his father. Despite this, Cole has started to make his own name for himself in baseball. As a junior at Loyola Marymount University, he put up a .265 batting average and is currently preparing for the 2022 MLB Draft. Cole is currently an everyday player for the Yarmouth-Dennis Red Sox as an infielder.

"It's talked about for sure," Cole said about being Dave's son. "I think as I've gotten older people have cared less and less about it because people separate family from baseball. I've appreciated that from the people I've played with and the people I've played against. They give me the opportunity to have my own identity and step away from that for a little bit."

With being born into having a baseball family it might be expected that Cole was forced into playing baseball, but it was the opposite for him. Dave never forced Cole to start baseball, he made the choice himself to play the sport. Cole has been able to have Dave's support as a father, while also having the help that a coach would give him.

"He's very influential," Cole said. "He's given me the out multiple times and has asked me 'Are you sure this is what you really want to do? It's a lot of hard work, but if this is what you want to do then I am here to help you achieve whatever you want to do the best I can while being a father and also a coach on the baseball side to help you reach your goal.'"

Cole was born in 2000 so most of his memories of when his dad was still playing were towards the end of his career. Cole's fondest memories are from 2008 when his dad was with the San Francisco Giants.

Cole does know that his father would take him to the field when Dave became the San Diego Padres first base coach in 2010. Now as the Dodgers manager, Dave continues to take Cole to the field early to hit ground balls and allow him to take batting practice.

"He still takes time to help me out as best he can, "Cole said.

With both Cole and Dave in-season, it means that Dave cannot always watch Cole's games. When Dave has a day off from his job he makes sure to catch a live stream of Cole's game. During days that Dave does have to go out to do his job, he attempts to watch as much of Cole's game as he can, even if that means just watching the first inning.

Cole always knows that his father supports him, despite him not always being able to catch a game. They keep in touch with phone calls so they can keep updated on what's going on in each other's lives.

"It's tough, him not being able to watch," Cole said. "I know he wishes he could be at every game if he could."

Dave enjoys golfing, so Cole has picked up golfing for some "father-son bonding" when they both have off days. Despite not being able to be together on Father's Day, Cole and Dave will still be supporting each other from over 3,000 miles away.