News
06/19/2022 6:06 AM
Article By: Brian Butler
It has been an exciting first week for the Cape Cod Baseball League. There have already been several walk-off victories to go alongside some incredible opening week performances around the league. While the new season is still in its infancy, it's time to take a look at some players who have gotten out to hot starts for their respective teams.

Bourne Braves (3-2-1): Jack Duffy, CF/1B, University of Houston

Jack Duffy put together an impressive first week for the Braves. The Bourne outfielder slashed .409/.480/.500 on the week, and currently ranks second in the league in hits with nine. Through his first six games, Duffy has racked up four multi-hit performances, highlighted by his Opening Day performance in which he went 3-3 with 2 RBI, a run scored, and a stolen base to help lead the Braves to victory.

Brewster Whitecaps (4-2-0): Brennan Milone, 3B/2B, University of Oregon

Brewster has gotten out to a good start thanks in no small part to the contributions of Brennan Milone. The Whitecap infielder has put together an OPS of 1.008 through his first six games, and has struck out just once through his first 24 plate appearances. Milone has also posted an impressive .458 OBP through the league's first week.

Chatham Anglers (1-3-1): Nate Nankil, OF, Cal State Fullerton

Nate Nankil has performed well for the Anglers to start off the season. Through his first ten at-bats, the Chatham outfielder is hitting .400, good for fourth throughout the Cape so far, and has added two steals to his resume as well. Nankil has also made his presence felt for the Anglers as a pinch runner. The Cal State Fullerton product will be looking to keep swinging a hot bat for the Anglers in their upcoming games.
Cotuit Kettleers (5-0-0): Ryan Ritter, SS/3B, University of Kentucky

The Kettleers have gotten off to a scorching start, making it nearly impossible to pick a single standout player for the week. While the pitching has also been incredible, posting a 0.60 ERA and holding opponents to a .147 batting average, Ryan Ritter has been simply outstanding. Ritter is currently leading the league in batting average (.444) and runs created (6.81) and is tied for the league lead in RBI with 5. The Cotuit infielder has hit safely in three straight games, including a 4-4 performance against Hyannis in which he recorded 4 RBI and was a triple shy of the cycle.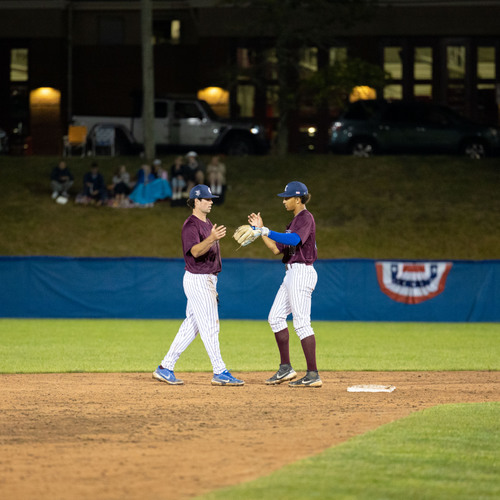 Falmouth Commodores (2-4-0): Brayden Taylor, 2B, Texas Christian University

Brayden Taylor joined the Commodores partway through the opening week, but he quickly made up for lost time. In his three games so far with Falmouth, Taylor is 4-9, has posted two home runs to tie him for the league lead through the first week, and has already walked four times in just 14 plate appearances, giving him a triple slash line of .444/.571/1.111. Taylor has also hit safely in each of his three games, and has reached base at least twice in each outing as well.

Harwich Mariners (3-3-0): Nick Goodwin, INF, Kansas State University

Nick Goodwin has helped propel Harwich to a solid start though the first week. The Mariner infielder is currently slashing .381/.440/.571, and is tied for the league lead in RBI with five. Goodwin had an impressive Opening Day performance, going 3-6 with a homer and a double, scoring three times and driving in three in the process. The Kansas State Wildcat has also reached base safely in each of the first six games for the Mariners so far.

Hyannis Harbor Hawks (2-3-1): Brody McCullough, RHP, Wingate University

It's hard to be much better than Brody McCullough was in his opening start of the year for Hyannis. The Wingate Bulldog carried on his impressive collegiate performance to completely shut down Wareham at Spillane Field. On Opening Day, McCullough tossed five perfect innings for the Harbor Hawks to go alongside five strikeouts. While he ultimately received a no decision, McCullough's debut performance was nothing short of sensational.

Orleans Firebirds (1-4-1): Travis Honeyman, OF, Boston College

Travis Honeyman has gotten off to a flaming start for the Firebirds. The Orleans outfielder is currently batting .368, and is riding a four game hitting streak to end the week, with the last two being multi-hit performances. The majority of Honeyman's hits have been of the extra-base variety, as he's recorded two home runs and two doubles as part of his seven total knocks on the year. Honeyman has also only struck out once through 20 plate appearances in the campaign.

Wareham Gatemen (3-2-1): Jonathan Brand, RHP, Auburn University

Jonathan Brand has only made one start so far this summer, but it was certainly a good one. The Wareham right-hander recorded five innings of one-hit work against Bourne on Monday night, ultimately facing the minimum number of hitters while striking out five. Despite receiving a no decision for the performance, Brand has an impressive start to build off of for the rest of the summer.

Yarmouth-Dennis Red Sox (2-3-1): Cole Carrigg, C/INF, San Diego State University

Cole Carrigg has absolutely taken the Cape by storm in his first week with Y-D. Through his first six games, Carigg leads the league in hits with ten, and his .417 batting average ranks third. The Turlock, California native has also put together four multi-hit games, highlighted by two 3-5 performances. Carrigg has also recorded a home run and has swiped three bags to go along with an OPS of 1.004 through his spectacular first week.