News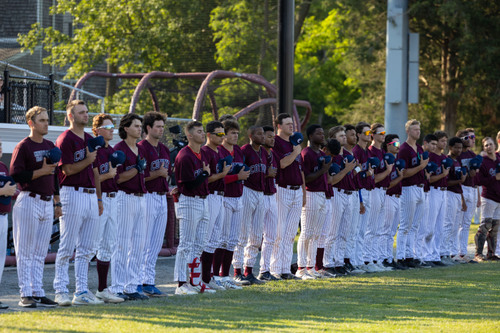 06/20/2022 6:35 AM
Article By: Ethan Kagno
After an exciting first week of Cape League action that saw fans, scouts, and interns flocking back to watch the highest level of summer ball talent in the world, week two offers just as much excitement with numerous headlines, players, and matchups to focus on.
Headlines
Heat Up The Brass Kettle
The Cotuit Kettleers are back to their winning ways, following an 18-17-1 2021 season, where they missed out on the championship round by one game. At the helm for the Kettleers is Head Coach Mike Roberts, who is entering his 19th season with Cotuit. Their dominant 7-0-0 start has the kettles whistling, scoring 36 runs while allowing just six, good for the best run differential in the league (+30). Plenty of scouts migrated over to Lowell Park to watch 17-year-old Cam Collier, who hit .333 and walked three times in 12 plate appearances before heading over to the MLB Draft combine. The Chipola Junior College standout will be a name to monitor early on within the first round of next month's MLB Draft. After Monday's off-day, Cotuit crosses the bridge to Wareham on Tuesday to battle the second-place Gatemen at 6pm.
A Swing and a Miss (Quite a Few Actually)
Falmouth (.174), Hyannis (.188), Brewster (.192), and Chatham (.193) all have team batting averages below .200. However, this shouldn't be expected to maintain over the next couple weeks, as last year's lowest team average were the Brewster Whitecaps (.219), who were also the Arnold Mycock Championship trophy winners. On the flip side, 22 pitchers with at least three innings pitched this season, have not allowed an earned-run. Again, surely to change but could this be an early precursor of what's to come? Perhaps the Year of the Pitcher? Stay tuned.
Player To Watch
Cash Mooney
Alex Mooney has been…well…cash money up the middle infield for the Falmouth Commodores. The Duke freshman won't pull a "one-and-done" to the pros like countless Blue Devil basketball stars have in recent years, but he will be a name to consider following for the remainder of his time on the Cape. Mooney is third among shortstops in putouts (eight) and tied for second in assists (16). On the offensive side, he's started out somewhat slowly to start the season, but still has a few doubles, four walks, a stolen base, and drove in his first RBI Saturday night against Wareham. A .292 hitter at Duke last season, look for Mooney to produce even more as the season goes on for the 2-5-0 'Dores.
Marquee Matchups
En garde!: Wareham vs Chatham - June 20, 4:00pm at Veterans Field
Michael Sansone and Carson Whisenhunt. If you like a pitcher's duel, this one's for you. Rescheduled from last night, highly touted pitching prospect Carson Whisenhunt will toe the rubber in pinstripes for the home-side A's (1-3-1), as they look to get out of the basement in the East against Wareham. A southpaw from East Carolina, Whisenhunt is the 36th ranked 2022 MLB Draft prospect. Although he was knocked around in his first start on opening day against Cotuit, the ECU Pirate has one of, if not the best changeup among draft eligible pitchers. While you can expect plenty of scouts to look for a bounceback performance from Whisenhunt, former Bourne Brave (2021) Michael Sansone will hope to steal some eyes away from the potential first-rounder. The 5'8" southpaw from the Stags dazzled in his first start of the summer, tossing 4.0 IP, 2 H, 0 ER, 6 K in a 2-1 victory over Hyannis. However, he did not factor into the decision and will attempt to add his first win tonight after amassing four last summer.
Do I Hear Eight Straight?: Cotuit vs Wareham - June 21, 6:00pm at Spillane Field
The top two teams in the West face off Tuesday night at Spillane Field. The Kettleers are winners of seven straight (7-0-0) and put their streak on the line against second place Wareham (3-2-1). This has the potential to be a high scoring game with both teams currently first and second in runs scored through the first week of the season. Wareham will look to snap Cotuit's unbeaten record and improve in the win column to start the second week of action. Ryan Ritter (Kentucky) the de facto leader of Mike Roberts' Cotuit squad has started the summer off hot, slashing .375/.464/.625. The Wildcat enjoyed a 4-for-4 night in Hyannis on Saturday and clubbed his first homer of the season.