News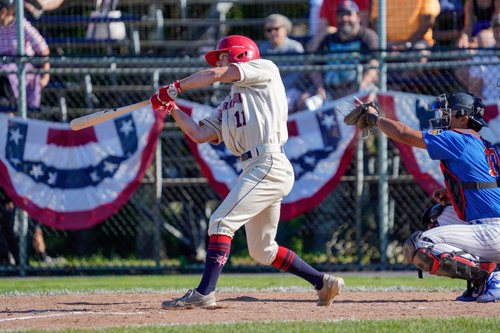 06/25/2022 7:08 AM
Article By: Daniel Fox
The Harwich Mariners 2022 lineup reads like a who's-who of big name colleges. Shortstop Nick Goodwin attends Kansas State. Catcher Tatem Levins is from Pitt. Right fielder Tommy Seidl is from Alabama, and left fielder Gino Groover attends NC State. In all, five of the nine starters for the Mariners on Opening Day were from Power 5 schools, and eight of the nine were from Division I colleges.

The one notable exception to this was Ryan McCarty. The Penn St. Abington alum is coming off a historic 2022 campaign, one that resulted in a National Division III player of the year award and a Golden Spikes Award nomination, the first Division III player to do so since 2016.

It's been a long road for McCarty to get to this point of national acclaim. Ashe prepared to embark on his college career, he found his options limited due to his lack of height. At 5'9, McCarty is well below the average for a Division I baseball player, and as a result, many of the best baseball programs were out of the question.

"Out of high school, I really wasn't the biggest guy," McCarty said. "I started to bloom in my late senior year of high school, so Division III was the only route I could take. My big decision to go to Penn St. Abington was to end up playing on the big campus but I ended up loving the environment at Abington."

Over his first four years of his college career, McCarty was frequently among the league leaders in hitting, but wasn't dominant enough to garner national recognition. Going into his fifth year, McCarty continued to work hard in the weight room, but paid special focus to his mental approach.

"I think the biggest success came from a mental change in my game," McCarty said. "Playing with a lot more freedom, approaching each game like it was opening day, it allowed me to have a lot more fun and enjoy it a lot more."

The result of this changed approach was one of the best seasons in college baseball history. McCarty slashed .529/.591/1.164 and hit 29 home runs, more than double the amount of long balls he had for his career entering the season. Along with that league-leaded home run and average total, McCarty also led the league with 91 RBIs and set Division III single-season records with 89 runs scored and 220 total bases. To top it all off, he stole 22 bases in 26 tries and appeared in 13 games on the hill.

Besides garnering national recognition, McCarty's performance also caught the attention of Harwich Mariners manager Steve Englert.

"(McCarty's) coach at Penn St. Abington (David Miller) is a close friend of mine, and he always calls when he's got a guy," Englert said. "I trust him, and he told me this kid can play, and he was spot on with his assessment."
The fact that McCarty didn't play Division I baseball didn't deter Englert from bringing him on board.

"I don't care what division you're in," he said. "Regardless of what division you're in, if you can hold your own up here, obviously you're going to open some eyes."

Despite the early season struggles, McCarty is still keeping that same mental approach that gave him so much success at Penn St. Abington.

"If someone goes 1-10 and is in a long-ugly streak, it's really hard mentally on yourself," he said. "So if you could continue to work on (the mental side) and apply it to every game each and every day, you'll continue to get better and start to enjoy the game and see it as a team sport more than an individual one."

"The bat speed is there. It's definitely Division I bat speed and power," Englert said. "I mean, the kid's a baseball player. He can play all over the field, he's an athletic type of kid, and his IQ is off the charts."

Though he may have the backing of his manager, McCarty knows there may be some who may dismiss him because he didn't play big time college baseball.

"I think it's a hard question for scouts, and I understand that," McCarty said. "We're not facing 97 every weekend. Buf if you can excel enough in D3 and you can get yourself here it makes just as much of a statement as the DIs."