News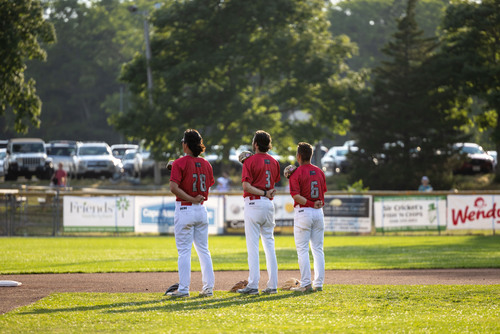 07/02/2022 7:25 AM
Article By: Kayla Gregoire
It seems fitting that Fourth of July weekend was kicked-off with a Red Shirt Friday across the Cape Cod Baseball League.

Red Shirt Friday is celebrated every Friday on the CCBL and is a day that honors Military and First Responders for the sacrifices they make every day. On this day, every home team wears a specially designed red jersey along with a camouflage hat.

During the game, the teams honor a Mass. State Lottery Hero of the Game. For each team the Hero of the Game is unique to their community.

The Chatham Anglers honored their Hero of the Game during the fourth inning against the Bourne Braves. On the third base side, the Hero of the Game stood alongside Anglers General Manager, Mike Geylin.

The Hero of the Game was John Newton, the former owner of Short N' Sweet Ice Cream. Newton and his wife Jan handed off the store to his daughter and son in-law, who now proudly serve the Chatham Anglers. The family continues to provide Anglers players with free ice cream whenever they come in.

Newton was in the Marine Corps when he enlisted in 1966. He enlisted in the 40th officer's candidate class in Quantico, Va, where he was commissioned as a second lieutenant. After he completed his infantry training, he served as infantry platoon commander in Vietnam. Newton later went on to serve as an assistant platoon operations officer. He returned to Quantico in 1968 where he was assigned to Officer Candidate School as a platoon commander. His duties there were to oversee the training of officer candidates. Newton left active duty as a captain in 1969.

John was given a red, white, and blue hat from the Anglers, gifted by Geylin. At the end of the ceremony, John was given a big round of applause for all he has done for the community.

All 10 teams around the CCBL will continue to honor the Mass. State Lottery Hero of the Game throughout the season. Home players will also continue to wear the red jerseys to honor what Military and First Responders continue to do every day.