News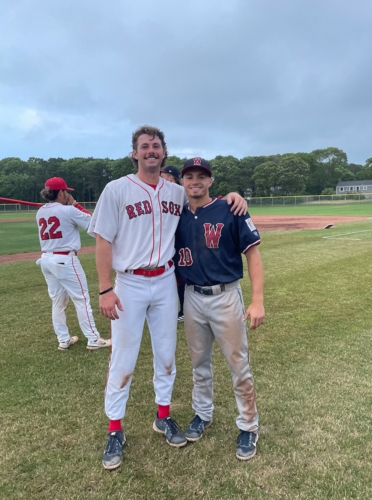 07/07/2022 8:04 PM
Article By: Brian Butler
As teammates at Xavier University in Cincinnati, Ohio, Yarmouth-Dennis outfielder Luke Franzoni and Wareham infielder/outfielder Jack Housinger have argued for years over who would make the better pitcher. Franzoni made one collegiate appearance on the mound, pitching two-thirds of an inning in what he described as "a boat race of a game where we just ran out of pitchers", while Housinger claims his last outing came in a junior varsity game sometime in his high school career. However, the lack of appearances never stopped the two from dreaming, as they could often be found throwing short-box bullpens to each other before games or debating over dinner who had better stuff. One night, the debate grew so heated that they went to the team facility to face off, a battle that they both claim only furthered their dispute. Franzoni rode the back of his collegiate mound appearance, in which he retired two players who later went on to careers in professional baseball, to cement his place as the better pitcher, while Housinger was adamant that he could put in a better performance. While neither could convince their coach to give them another shot on the mound at school, over the course of back-to-back nights over the weekend, Housinger and Franzoni both got a chance to put their money where their mouth is.

Jack's opportunity came first, pitching the top of the ninth inning for the Gatemen on Friday night against Hyannis. Housinger proved himself worthy of the opportunity, setting down the three Harbor Hawks he faced in order, inducing two groundouts and a popout into foul territory. He also became the first player in the pitcher spot to record a hit in the Cape League this summer, slapping a single to left in his at-bat the following half-inning. Upon being asked to enter the game, Housinger says his heart began to race, but there was only one answer in his mind: "Yes, sir".

The following night in Y-D, Franzoni got his shot, taking the mound for the Red Sox in the top of the ninth. He got out to a strong start, sandwiching two flyouts around a single before allowing two runs on back-to-back two-out hits to bring up a familiar opponent: Jack Housinger. Housinger slapped a first-pitch double over the left fielder's head, and could be seen beaming all over the park. Franzoni quickly retired the following hitter to complete the inning. Following the game, Franzoni said the pitching coach came to the dugout and asked if anyone could go in and he instantly volunteered.

Before Saturday night's game, Franzoni and Housinger continued their tradition of pre-game short-boxes, then took the field for their respective teams. Once the game ended, the two Musketeers met behind home plate and shared a hug, both smiling from ear to ear. "Dude, that was the best thing ever", said Housinger while walking over to Franzoni. Franzoni claims that, had he had his changeup working, he would have retired Housinger. Housinger jokingly said Franzoni left his fastball over the plate to help him avoid going 0-4 on the day. While the two may never truly settle the debate of who the better pitcher is, this weekend will definitely be one that they won't soon forget.