News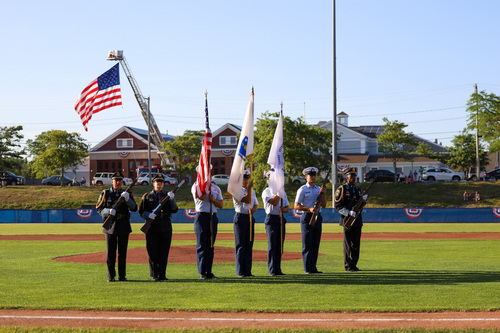 07/10/2022 4:09 PM
Article By: Kayla Gregoire
When headed to Veterans Field on Saturday, it was likely that you were to run into a First Responder or Coast Guard throughout the game.

This is because the Anglers honored those who protect and serve the community on a daily basis in a special pregame ceremony.

The ceremony started off with the Anglers announcer asking everyone who was being honored to "please take their positions". The first to take the field was the United States Coast Guard, led by Captain Richard J. Schultz. Schultz is from the Admirals office in Boston.

Then Law Enforcement and the Chatham Fire Department were called to the field. Among the Firefighters were Deputy Chief Justin Tavano, Tim Hunter, and Bill Delande. The Fire Department can be seen from the seats at Veterans Field close to right field. The day crew were honored close to right field, including Captain Mark Higgins and Lieutenant Ryan Holmes. The big flag that can be seen in right field is also provided by the Chatham Fire Department and Honor Guard.

Once everyone was on the field, the Anglers started off with a blessing. The blessing included a thank you to everyone being honored at the ceremony, while also honoring those who have fallen while in service.

After the National Anthem, the Air Station Cape Cod was introduced for a flyover. The Air Station Cape Cod is a MH-60T JayHawk. The ASCC is responsible for looking over the waters of New Jersey all the way to the Canadian Border. The Helicopter hovered over Veterans Field as everyone waved to the two pilots.

When the Air Station Cape Cod was finished with the flyover, there were three ceremonial first pitches. From the U.S. Coast Guard, Clint Prindle from Woods Hole. Next was Police Chief Mike Anderson and lastly, Firefighter Tim Hunter.

The ceremony was finished by Chatham thanking all the First Responders and Coast Guard that came out to the event.

The ceremony was not the only special event happening in Chatham. Dan D'Uva and Guy Benson came back to the Anglers broadcast booth to commentate a game. D'Uva and Benson first broadcasted an Anglers game 20 years ago.

D'Uva and Benson are childhood friends and became the first Cape League team to broadcast their games in 2003.

Despite now being a broadcaster for the Las Vegas Golden Knights, D'Uva continues to come back to Chatham during the summer. He mentors the next generation of sports broadcasters with his Angers' broadcasting internship program. Benson is now an American columnist and commentator.