News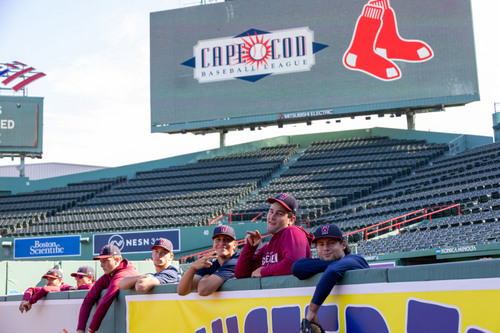 07/13/2022 9:49 AM
Article By: Kayla Gregoire
Anytime someone steps into Fenway Park it is special, but for the Cape Cod Baseball League it was extra special on Monday.

On Monday, Fenway hosted the CCBL for a day. When headed towards the field, the CCBL logo was next to the Red Sox logo on the screen. On the green monster the words "CCBL" were put across it.

On the day each CCBL team had a time slot to field balls, take infield, batting practice and throw the ball around. Scouts lined up on the field and in the stands to watch players practice around the field.

Around the ballpark were many familiar faces. Chaim Bloom, Red Sox GM, walked around to watch players. Red Sox players currently on rehab assignments that played on the Cape, including Garrett Whitlock and Christian Arroyo could be seen. Peter Gammons, a well-respected sportswriter, sat in the stands and the field. Many other prominent names in baseball came for CCBL day.

Players took advantage of their time slots on the field, taking in every moment. A handful of players on a CCBL roster grew up in Massachusetts and have memories of going to Fenway as a fan.

Jay Driver, pitcher for Hyannis, grew up in Wellesley, MA. A short drive from Fenway, Driver stayed in Massachusetts to play baseball at Harvard. Being able to walk around the historic park was very special for him. Driver has been to plenty of games at Fenway as fan but has never been able to step on the field.

"I've been just walking around the field like a kid in a candy shop," Driver said. "I've sat in the stands for probably 30 games, but being on the actual grass, it's a dream come true really."

Evan Sleight, outfielder for the Bourne Braves has enjoyed every moment while playing for the CCBL. Being born in Framingham, only a 30-minute drive to Fenway, Sleight enjoyed playing for the CCBL a little extra on Monday.

"Being on the Cape Cod League in the first place is unreal, so I've been really enjoying it," Sleight said. "Being at Fenway Park, somewhere I've been my whole life is just so cool."

CCBL day was not Sleight's first time being able to play a sport at Fenway. Sleight also played hockey on top of baseball and had a chance to play on the ice for his high school team. Sleight also had a chance to play at Fenway while playing for his high school team, Belmont Hill.

Also on the Bourne Braves, Matt Shaw, grew up a little farther from Fenway in Western Mass. Shaw took a different approach when stepping on the field, knowing how special Fenway is, but also taking it as any other field.

"It's awesome," Shaw said. "I'm glad to be here. Once you get out here you realize it's just another baseball field. It's awesome to be out here, it feels beautiful, surface is awesome, the balls are flying, so you can't complain."

Shaw has many memories from watching Red Sox games in the stands. Being able to step on the field for him gives him motivation to one day be able to step on the field as a big leaguer.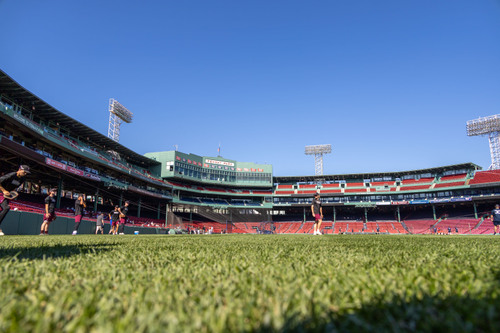 Many of the players from Massachusetts have been going to Fenway Park for years. They have watched Red Sox players from the stands, dreaming one day of being in their position.

"I remember my first game I ever came to, my favorite tradition is singing 'Sweet Caroline'," Driver said. "I remember I sat on the monster one time and had a great memory up there. Being able to sit in center field and look at all the stands and seats is really cool."

CCBL players have continued to look up to current and past players on the Red Sox. From watching them live in action at Fenway or keeping up with players through social media. Rafael Devers was the most popular choice for players.

"I mean [Devers] is a stud," Sleight said. "I really like the whole Red Sox team, they're all great players. Throughout the Red Sox, David Ortiz, Manny Ramirez, tons of players."

Driver got to see one of his favorite pitchers, Whitlock, throwing for his rehab assignment on Monday.

"I love Xander Bogaerts since he's been on the team," Driver said. "Devers is a fan favorite right now. For pitchers, I'm a big fan of Tanner Houck and Whitlock. Whitlock was out there throwing earlier, and it was cool. I throw a little bit like him."

Joe Vetrano and Travis Honeyman both play for Boston College but grew in New York as Yankees fans. The Yankees had played the Red Sox the night before at Fenway which made the experience for Vetrano and Honeyman even better.

"Amazing," Vetrano said about not playing far from his college. "It feels like my hometown kind of. It's great to be back here and just enjoying it. [Yankees] just got out of town, so it's awesome to be here now after they just leave so it's pretty awesome."

BC has played a few games at Fenway, but the players have never taken batting practice and take in the ballpark.

While the players were practicing, the interns were also able to take some time and enjoy Fenway. Interns got the chance to step on the field and sit in the dugouts. They also got to talk and network with many prominent names in baseball. From a handshake with the GM of the Red Sox to talking baseball with scouts, interns had a chance to take advantage of Fenway day.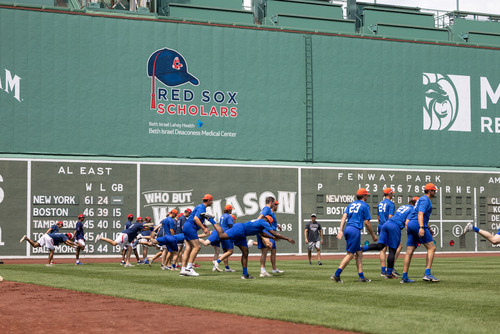 When watching interns step onto the field, many of their faces lit up when walking on a field that is so historic. Throughout the CCBL season they have gone to Red Sox games but have not been able to enjoy walking on the field until Monday. A handful of CCBL interns are from Massachusetts and grew up rooting for the Red Sox. For most of them it was their first-time exploring Fenway.

"It was really cool," Sara Goulart, a graphic design and photography intern said. "I grew up going to Cape League games because I grew up on the Cape my whole life. It was really awesome to see players shine in Fenway. It was a childhood dream to step on the field. It was a really cool experience that not many people get to do."

Brian Butler, a content, and utility intern grew up in Ohio, but as a baseball fan has always seen Fenway on TV. Butler also has family from Boston and has gone to Fenway on a few occasions.

"It was a bucket list moment," Butler said. "You see Fenway Park and you know all the glory surrounding it but getting to experience going on the field and witnessing all of that history. I still have some dirt on my shoes, and I'm still hyped up."

Fenway Day was not only a cool experience, but it also shows how prominent the CCBL has become in baseball. Being able to have most of the day to watch players and having people connected to the MLB come out for the day was special.

"It's a great endorsement for the league that [Fenway] was willing to have us out there and have players take the field for the day," Butler said. "I know tons of teams had scouts there. All these MLB scouts coming down to watch our players on an MLB field all day was really cool.