News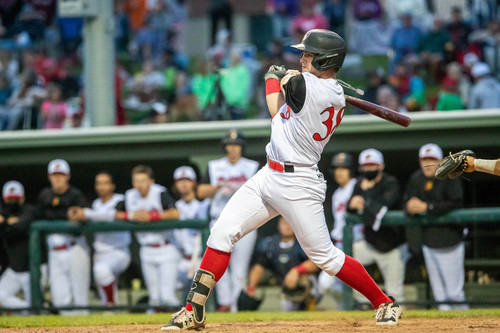 07/18/2022 8:10 PM
Article By: Daniel Fox
With over 300 former Cape Cod Baseball League players on Major League rosters in 2022, it's common to see the MLB draft littered with CCBL alumni. This year's draft was no different, as after a run of high school prospects kicked off the festivities in Los Angeles, former Cape League stars began flying off the board. That included a run in the middle of the first round where five Cape League alumni were taken in a span of six picks.

That stretch began with the Minnesota Twins taking Brooks Lee, one of the Cape League's biggest stars of 2021, with the eighth overall pick. The switch-hitting Cal Poly shortstop slashed .405/.432/.667 with six home runs for the Yarmouth-Dennis Red Sox, then won Big West player of the year for the second straight year by slashing .357/.462/.664 this spring. It's no surprise that scouts gave Lee a 65 hit tool on the 20-80 scale, and he projects to be a middle-of-the order hitter for the Twins in the coming years.

The Kansas City Royals had the next pick, and like their division rivals, they selected a former Cape League player. Virginia Tech outfielder Gavin Cross played for the Brewster Whitecaps in 2021, and while he batted just .086, both of his hits left the ballpark. Cross displayed the same kind of power at Virginia Tech by blasting 17 home runs, but he added a .328 batting average and stole 12 bases in as many chances. Scouts rave about Cross's elite bat-to-ball skills, and the rest of his tools rate as average-to-above-average.

After the Colorado Rockies took Gonzaga pitcher Gabriel Hughes with the tenth overall pick, the Mets continued the run of Cape League players by taking former Chatham Angler catcher Kevin Parada 11th overall. Parada hit .250 in a short stint with the Cape last summer, but he truly made his mark at Georgia Tech this spring, setting a school record with 26 home runs. MLB.com projects him as a future .280 hitter with 25 home run power, and he will now compete with top Mets prospect Fransisco Alvarez for the future of the Mets catching position.

Texas Tech second baseman and former Orleans Firebird Jace Jung was the next off the board, going to the Detroit Tigers at pick 12. If that name sounds familiar, it's because his brother Josh is a top prospect in the Texas Rangers system. Jace has a similar profile to his brother. He walked more than he struck out in all three years of college, and scouts believe he could be a .300 hitter with 30 home run power in the majors.

Rounding out the run of former Cape League stars was former Brewster Whitecap shortstop Zach Neto, who went 13th overall to the Los Angeles Angels. Neto put his skills on full display in the Cape last summer, earning an Eastern Division All-Star nod with a .304/.439/.587 slash line. Neto improved his stock further with a monster season at Campbell, slashing .407/.514/.769 with 15 home runs and converting on 19 of 20 stolen base attempts. Neto generates plus-power with a massive leg kick, and projects to have enough defensive chops to remain at shortstop long-term.

Though the run of five Cape League alumni in six picks would end with Neto, it would not be the end of the night for former CCBL stars. In all, there were 12 former Cape Leaguers selected in the first 39 picks.