News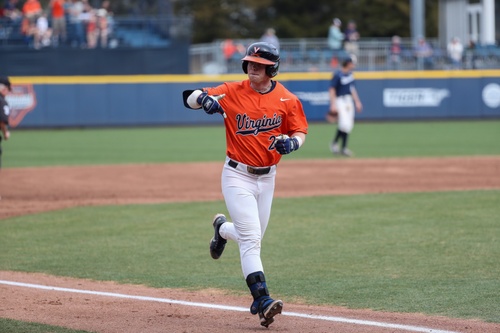 11/03/2022 9:37 PM
Article By: Ben Sinins
As we slowly inch towards 2023, Cape League fans are getting excited to see what new players their favorite teams will have. The Harwich Mariners will not disappoint fans with the recent addition of the University of Virginia's 19-year-old, switch-hitting 1B/C, Ethan Anderson.

Anderson's journey to the top ranks of college baseball was not typical. After his junior year at Frank W. Cox High School in Virginia, he decided to forego his senior year and attend UVA a year early. Anderson felt like it would better his development and help him get one step closer to his Major League Baseball dreams. It was a bold move, given the sheer size, strength and speed expected of blue-chip collegiate players. Yet Anderson's confidence, and existing massive size, have served him well.

Things did get off to a rough start due to illness. When he first stepped onto UVA's campus, Anderson described feeling a bit overwhelmed and a little uncertain. Dealing with some illness drained him a bit and added to what would have been a stressful first semester, even for a rookie who was not a year younger than his youngest teammates.

Anderson certainly did not lack any physical gifts, and he put them to good use. Coming into college at 6'2", 210 lbs. Anderson was already one of the biggest players on the UVA roster. What the young colt needed was experience. Grinding through fall ball as a freshman, Anderson remarkably earned the everyday starter role at 1B and DH with some occasional appearances behind the dish. This came no less amidst competition on one of the nation's premiere rosters, with stiff competition for all spots. A case in point is Anderson's limited opportunity at catcher: the Cavaliers also boast All-American Kyle Teel at that spot.

Things seemed bright as Anderson was off to a great start to the spring 2022 season as well. Just 10 games into the season, Anderson's thumb bent backwards while catching. This painful injury restricted his motion and impacted play. Anderson thought his season would surely be over. He even questioned whether going to college early was the right decision. This uncertainty lasted less than 2 weeks. The marvelous UVA trainers designed a mechanism permitting Anderson to play with less pain. Gutting it out and playing through the pain, Anderson returned to practice. Anderson at first had to ease back into it by taking light rounds of batting practice and fielding ground balls. He would have to earn his starting job back again. Anderson got opportunities to pinch-hit late in games and made the most of these chances. He soon took back his starting job.

Such resilience for an abnormally young freshman is remarkable. Yet knowing Anderson, one of the nation's most dedicated players and a fierce competitor, this was hardly a surprise. He also comes by this grittiness: Anderson's father, a veteran, instilled from a young age his mental toughness, work ethic and discipline. His father's military background also resulted in the family moving around a lot. As a result, Anderson spent time in Florida, Massachusetts and Virginia as a youth.

These experiences of adapting and perseverance are driving forces in Ethan Anderson's career today and will continue to show as he plays this season for UVA, this summer for the Harwich Mariners and, hopefully, one day in the Major Leagues. Anderson's talent is simply ridiculous, as seen below. We can't wait to see Ethan perform in Harwich next summer!
THIS TIME IT CLEARS IT!!! Ethan Anderson deposits one into the bullpen to give UVA a 3-1 lead in the 4th!

📺: ACCNX | #GoHoos pic.twitter.com/Z9oAKyE375

— Virginia Baseball (@UVABaseball) May 16, 2022
The first years go BACK-TO-BACK!!! Ethan Anderson lifts the first pitch he sees over the wall in left!

9-3 UVA!!

📺: @accnetwork | #GoHoos pic.twitter.com/e6kkDr1O7M

— Virginia Baseball (@UVABaseball) May 20, 2022