News
07/12/2000 12:36 PM
Article By:
This week in Baseball
12 July 2000
Carly Simon steals the show
at McKeon Field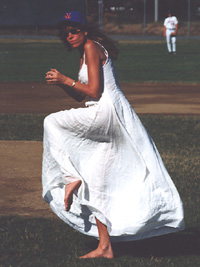 Photo by Sean Walsh
Donning an official Hyannis Mets' cap, internationally acclaimed recording star Carly Simon goes into the wind-up for the ceremonial first pitch at the July 11 Mets-Whitecaps game at McKeon Field.
While head coach Mike Roberts' Wareham Gatemen were busy securing a lock on first place in the Cape League's West Division this week and all five East Division squads were neck and neck for first place honors, world-renowned recording star and Martha's Vineyard resident Carly Simon was busy knocking 'em dead at McKeon Field.
Simon, in Hyannis for a brief stop while promoting her new album Bedroom Tapes, dropped in on the Hyannis Mets and Brewster Whitecaps for their July 11 game, much to the delight of hundreds of local baseball fans.
After Simon donned her own fitted Hyannis Mets cap and sauntered out to the pitcher's mound for the ceremonial first pitch, she was congratulated by Mets' catcher Mike Rabelo and then received an honorary wooden Cape League bat from Mets vice president Peter Scarafile. She then nestled in for four innings of good, old-fashioned Cape League ball, seated behind the backstop with Cape League president Judy Walden Scarafile and league vice president Dick Sullivan.
Around the league, however, Cape League sluggers were busy trying to make a name for themselves as hard-hitting Chatham A's rightfielder Todd Linden paced the A's to a 5-2, home victory over Wareham, going 2-4 with one RBI.
Linden, who slid past Harwich Mariner leadoff man and centerfielder Adam Stern for the league batting lead this week, was hitting a rock solid .372 as of July 11. Stern, the runner-up league batting leader, fell to .354 on the season after going 0-2 in a 5-2 loss to Orleans (July 11).
While the full slate of East Division teams continued to duke it out for first-place bragging rights through the week and while Wareham seemed to hold a lock on the top slot in the West, head coach Tom O'Connell's Hyannis Mets seemed to be scrapping for everything they could get and Mets Brian Stavisky paved the way as the league's third top slugger at .330.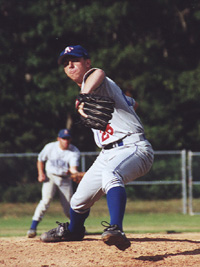 Photo by Sean Walsh
Chatham A's righty hurler Bobby Korecky brings the juice versus Cotuit.
The Falmouth Commodore dynamic duo of Doc Brooks and Luke Scott, meanwhile, were both busy rocketing bombs out of Cape League ballparks, with both sluggers tied at six apiece by mid-week. No slouch in the RBI department, either, Scott was tied (as of July 11) with fellow Commodore batsman David Mattle for the league lead at 19 apiece, while Hyannis Mets' Brendan Harris remained steady with 17 and Stavisky followed close behind with 16.
As of July 11, Wareham had the best record in the Cape League at 16-9-0 (32 points), with Falmouth lagging behind a bit in the West Division standings at 13-12-0 (26 points). In the East, head coach John Schiffner's Chatham A's were in a deceptive last place at 12-12-1, but still boasted two of the league's top riflemen in Michigan's Bobby Korecky (2-2, 1.25 ERA) and Fairfield's Danny Krines (5-0, 1.91 ERA). With league-leading slugger Linden continuing his torrid pace at the plate, it may be only a matter of time before Chatham breaks out and beyond the .500 mark.
Still, Harwich remained atop first place in the East at 13-10-2 (28 points), with Brewster (14-11-0), Orleans (12-11-1) and Yarmouth-Dennis (13-12-0) following very closely behind, respectively.

The Cape League's 10 field managers are scheduled to meet Saturday, July 15, to decide who will represent the Cape League in both the East and West Divisions for the July 22 Sprint PCS All-Star game at Brewster Whitecaps Field/Cape Cod Tech in Harwich. Look at this web site Sunday, July 16 for a full roster of both teams.
While she may not have received much attention when Carly Simon came to Hyannis Tuesday, July 11, longtime Hyannis Mets' fan and Cape Cod Chamber of Commerce VIP Lynn Poyant played an instrumental role in getting the recording star to come to McKeon Field to throw out the ceremonial first pitch before the July 11 Mets-Whitecaps game. Hats off to Ms. Poyant for her efforts.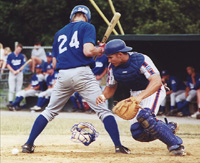 Photo by Sean Walsh
Hyannis Mets backstop Mike Rabelo darts after the loose ball while Chatham A's utility man Ryan Braun stands his ground.
The Cape League 2000 Official yearbook was released last Friday, complete with all 10 team rosters, a list of Cape League alumni now playing in the majors, an article on Cape League umpires by acclaimed baseball writer Tom Yankus, 1999 award winners and more. On the cover of this year's yearbook appears Cotuit Kettleer Matt Longo, but with a twist: Longo played for the Wareham Gatemen last year, but this year returned at the last minute before final rosters were due, landing a spot with the Kettleers. Check the league's Publications section for ordering information. The yearbooks are free at all Cape League ballparks, but if you'd like one mailed, please include $5 for shipping and handling.
Manning the helm for the Cape League All-Stars versus Team USA game on July 29 are Dick Sullivan and league publicist Missy Ilg Alaimo. By all accounts, both are doing a splendid job in a busy, busy summer. This year's game -- with any luck, it will become a tradition -- is being generously sponsored by Cape Cod 5 and Cape Cod Bank & Trust Company and will be held at Veterans Field in Chatham.
Coaching the Cape League All-Stars will be none other than Cotuit Kettleer field manager Mike Coutts, a full-time Mashpee resident.
Coutts will handpick his squad from both the East and West Division Cape League All-Star teams, but may have his hands full as the CCBL boys will have to face a Team USA squad boasting seven former Cape Leaguers, including: Patrick Boyd (Chatham A's), Dewon Brazelton (Harwich), Ryan Budde (Orleans), Jake Gautreau (Brewster), Mike Gosling (Orleans), Kirk Saarloos (Cotuit) and Georgia Tech's Mark Teixeira (Orleans).
In last year's Cape League All-Star Game at Wareham, it was Teixeira who started things off for the East Division team when he jacked an opposite field home run to right off West Division starter Pat Pinkman. Perhaps there'll be a rematch come July 29.


Photo by Sean Walsh

Wareham Gatemen centerfielder Nick Swisher belts one at McKeon Field.


Photo by Sean Walsh

Hyannis Mets leadoff man Greg Miller slaps one up the middle as Wareham catcher Brian Lentz and umpire Eddie Crowley follow the ball's path.
The Coke Hitter of the Week (July 2-8) was Chatham's Todd Linden, who went 10-21 with four extra-base hits (two home runs) and five RBI on the week.
The Coke Pitcher of the Week was Orleans Cardinal Matt Incinelli, who plays ball at North Florida and who went 2-0 in two starts for the contending men in red. All totaled, Incinelli scattered six hits, allowed just one earned run, walked two and struck out 13 for a two-game ERA of 0.60.
The Cape Cod Baseball League Home Run Hitter of the Week was fellow Cardinal Jason Basil. The Georgia Tech player got things movin' with two deep blasts on the week.
-- Sean Walsh