News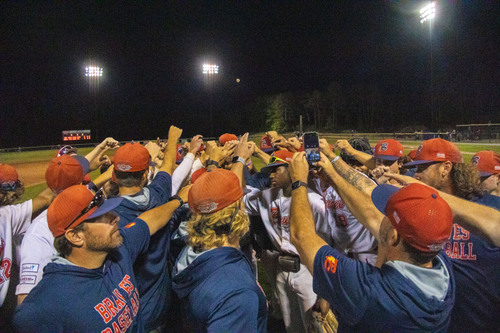 05/22/2023 3:36 PM
Article By: CCBL Public Relations Office
The Bourne Braves home opener will be June 13th, when they take on the Cotuit Kettleers. The Braves and their fans will celebrate their 2022 CCBL Championship that night, displaying their second championship banner in franchise history. It will be the first game played at Doran Park since Game 1 of the CCBL Championship, which the Braves won 3-0.
Fans will notice a few changes at Doran Park this summer. Bourne installed an upgraded scoreboard panel this offseason, in addition to improving the netting on the first base side of the field.
How about a little scoreboard upgrade for the 2023 season!? 😎 pic.twitter.com/cRx3fkTrOb

— Bourne Braves (@BourneBraves) May 22, 2023
In the dugout, Scott Landers returns for his second year as Bourne's manager. Landers is joined by an assistant coaching staff highlighted by 2013 World Series Champion Jarrod Saltalamacchia.
On the field, Bryce Eblin, Bryce Cunningham, Kade Grundy, Joshua Kuroda-Grauer, and Matt Duffy are tentatively expected to return from last year's championship team. Eblin was named the CCBL Playoff MVP last summer, hitting .458 throughout the postseason and .625 in the championship series.
Bourne will run their youth clinics the following weeks this summer: June 26 - June 29, July 10 - July 13, July 17 - July 20, and July 24 - July 27. Their youth clinics are for boys and girls ages 5 - 12. There will also be a special clinic the week of July 17 - July 20 for players ages 12 - 15. You can learn more information about the youth clinics, or register your children for this summer, by clicking here.
The Bourne Braves will remember Stanley "Froggy" Eldridge prior to their home game on June 17th. Stanley was a longtime board member of the Bourne Braves Athletic Association, volunteering his time to maintain the field. Over the years, Stanley housed numerous Bourne Braves players, including Kevin Youkilis in 2000.
A few other notable special events at Doran Park this summer include: Heroes in Transition Night on June 23rd, Autograph Nights on June 28th and July 20th, and Bourne Substance Free Coalition Night on July 13th. View a full list of special events at Doran Park by clicking here.