News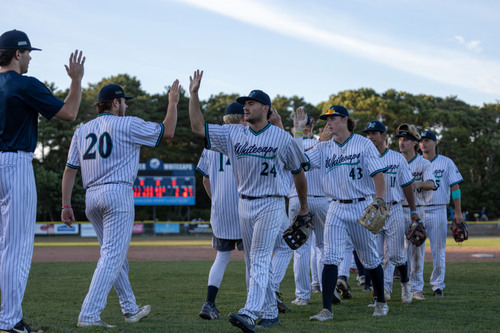 05/30/2023 11:54 AM
Article By: CCBL Public Relations Office
The Brewster Whitecaps home opener will be June 10th, when they take on the Bourne Braves. If history continues to repeat itself, the Opening Day matchup could serve as a preview for the 2023 Cape League Championship. Brewster and Bourne have met in each of the last two Cape League Championships, with Brewster coming out on top in 2021.
Fans will notice a new souvenir store building at Stony Brook Field this summer, which will be open on Opening Day for fans to get all their Whitecaps gear!
In the dugout, Jamie Shevchik returns for his eighth year as Brewster's manager. Shevchik's coaching tree has impressive roots, with former assistants Scott Landers and Ryan Smyth both managing for other teams in the Cape League.
On the field, Davis Diaz is one the few Whitecaps from last summer's team expected to return this summer. Diaz was named a Cape League All-Star last summer, before returning to Vanderbilt this spring. D'Angelo Ortiz, son of Red Sox legend David Ortiz, is expected to play for the Whitecaps this summer.
Brewster will run their youth clinics the following weeks this summer: June 26 - June 30, July 3 - July 7, July 10 - July 14, July 17 - July 21, and July 24 - July 28. Their youth clinics are for boys and girls ages 5 - 13. There will also be a special free youth clinic on Saturday, June 24th. You can learn more information about the youth clinics, or register your children for this summer, by clicking here.
The Brewster Whitecaps will be hosting a Whitecaps Summer Gala on June 29th at Ocean Edge Resort & Golf Club. A few other notable events for the Whitecaps this summer include: a CCBL 100-Year Anniversary night on June 13th, Meet the Whitecaps day on July 8th, and First Responders night on July 21st. View a full calendar of special events at Stony Brook Field by clicking here.
All of Brewster's home games are played at Stony Brook Field, located behind Stony Brook Elementary School. The field's address is 384 Underpass Road in Brewster, MA.