News
11/12/2000 12:29 PM
Article By:
This week in Baseball
12 November 2000
Cape League star Linden heads South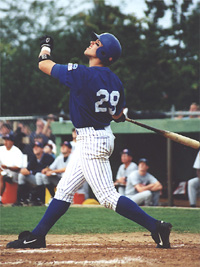 Photo by S.Walsh
Former Chatham A's star Todd Linden will leave Washington University following the fall semester and head for the deep South and one of the best college baseball programs in America at Louisiana State University, according to published reports and Cape League officials.
The 2000 Cape League star was a league leader in virtually every offensive category last summer and helped lead the Chatham A's past the Orleans Cardinals in a bid for the playoffs. Linden finished the summer with a .323 batting average, four home runs and 25 runs batted in.
Linden apparently selected perennial College World Series powerhouse LSU because of its baseball reputation, and did so in spite of a full scholarship offer from Miami. Linden joins 2000 Cape League MVP Mike Fontenot (Wareham) and fellow CCBL all-star Ryan Theriot for the Tigers next spring. Linden is expected to compete for the starting centerfielder's position and if he achieves that, he will give LSU a rock solid defense up the middle as Fontenot and Theriot combine to make one of the best double-play combos in amateur baseball.
A fan favorite in Chatham last summer, Linden was ranked by Baseball America as the top pro prospect in the CCBL by editor Jim Callis, but Major League scouts gave the nod to Falmouth Commodores' ace Bob Brownlie (Rutgers) who is expected to return to the Cape next summer.
According to published reports and league officials, Linden may have had a falling out at Washington after the Huskies' trip to Cuba. Nevertheless, Linden remains a probable first round draft choice in 2001 and will more than likely make LSU and even tougher club to beat next spring.
During CCBL all-star games last July, Linden was the go-to guy for local kids seeking autographs of their favorite Cape League players and was always quick to flash his trademark smile just as quick as he was to come through in the clutch for the A's.


-- Sean Walsh