News
05/16/2001 12:03 PM
Article By:
For immediate release: 16 May, 2001
Cape League All-Stars will head north to play NECBL top squad
KEENE, NH -- In lieu of another mid-summer classic against TEAM USA, the 2001 Sprint PCS Cape League All-Star Team will be traveling on July 28 to play the all-stars from the New England Collegiate Baseball League in front of an expected crowd of 5,000-6,000 fans.
For some time, the burgeoning NECBL has prodded Cape League officials for a match-up but it wasn't until this past winter that CCBL officials opted to make the trek to Keene, NH to stage a match-up between the two leagues' best players.
Slated for July 28, 2001 at Alumni Field in Keene (NH), the Cape League All-Stars will face off against collegiate-level all-stars culled from 10 NECBL franchises spread across Connecticut, Rhode Island, Massachusetts and New Hampshire.
Interestingly, TEAM USA this season could not fit another match-up against the CCBL stars in what would have been a rubber match following the 2000 game at Veterans Field in Chatham. In front of 10,000 fans, the CCBL's best talent staged a 2-2, 12-inning battle versus some of the top collegiate amateurs in the nation. Instead, according to the NECBL, TEAM USA will be playing 4 exhibition games versus NECBL teams this summer.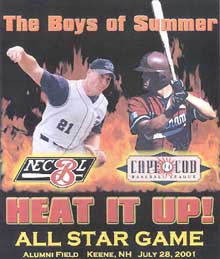 CCBL photo by Sean Walsh
Nevertheless, the CCBL All-Stars versus the NECBL All-Stars - dubbed "The Boys of Summer - Heat It Up!" Game - promises to be a fun-filled event.Tickets for the event will be $8 and $2 for students. The following is a schedule of the day's events:
-- 1:00 pm Players arrive at Alumni Field
-- 1:30-2:45 pm BBQ Banquet
-- 3:00 pm Gates open to the public
-- 3:00-4 pm Batting practice (NECBL 3-3:30 pm; CCBL 3:30-4 pm)
-- 4:00-5:15 pm Home Run Derby
-- 5:15-5:45 pm Infield practice (NECBL 5:15-5:30 pm; CCBL 5:30-5:45 pm)
-- 5:45-6 pm Field preparation
-- 6:00 pm First pitch
· Preceding the game will be a fireworks display produced by the world-renowned Atlas Pyrotechnics
· Players will sign autographs during batting practice, the Home Run Derby and Pre-game infield warm-ups
· Most Valuable Players of the game will be selected by the Major League Baseball Scouting Bureau prior to the fireworks display
Press inquiries may be directed to:

Vicki Bacon
CCBL / NECBL All Star Game Chairperson
603-357-2578,

[email protected]


and
Missy Alaimo
CCBL publicist
508-945-1981,

[email protected]