News
06/06/2001 12:26 PM
Article By:
This week in Baseball
6 June 2001
Cape League Cleans House in Draft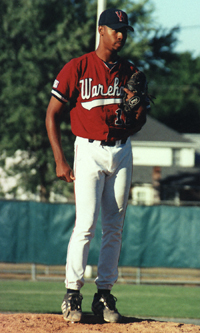 Former Wareham Gatemen righty Kenny Baugh (Rice) was taken 11th overall in the First Round of Major League Baseball's First-Year Player Draft Tuesday afternoon by the Detroit Tigers
Photo by S.Walsh
Manhattan, NY -- The 2001 version of Major League Baseball's First-Year Player Draft wound up more like a Who's Who of former Cape League players.

Yesterday, Day One of the Draft, no less than 68 out of the first 350 players selected by Big League ball clubs were former Cape League all-stars, stand-outs or top players. For every five players picked, one of them was a Cape Leaguer, topping the one-in-six player ratio for current Major League players who played in the Cape League.

Middle Tennessee State's Dewon Brazelton, who went 2-3 for the Harwich Mariners in 1999 and played last summer for Team USA, was the top former Cape Leaguer picked at number three in Round One by the Tampa Bay Devil Rays. Brazelton's selection virtually guarantees he will be made a multi-millionaire upon signing a Major League contract with the expansion team

Following close behind Brazelton was the highly regarded Mark Teixeira, who also played for Team USA last summer but who first shined brightly with the Orleans Cardinals in 1999. In '99, Teixeira was a First Team CCBL All-Star selection, hit one out in the All-Star game and collected 26 RBI on 7 home runs for the season for Orleans. The Texas Rangers picked him fifth overall in the first round. Speculation has it that Texas may ultimately ship the Georgia Tech third baseman directly to The Show to begin developing a stronger infield around superstar shortstop Alex Rodriguez.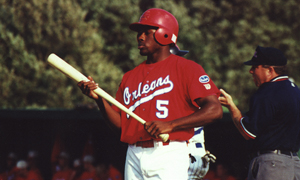 The second baseman for the Orleans Cardinals last summer, Michael Woods (Southern A&M University) was picked 32nd overall in the supplemental category of the first round of the draft.
Photo by S.Walsh

Behind Teixeira, the Baltimore Orioles selected former Falmouth Commodore southpaw Chris Smith who transferred from Florida State to Cumberland University. The Wantagh, New York native had but one appearance and one save for the Commodores in 1999, but played 22 games in left field.

Long-heralded by Wareham Gatemen General Manager John Wylde and the draft experts at Baseball America, Rice University flame throwing righty Kenny Baugh was taken 11th overall by the Detroit Tigers with the Tigers' first pick in the draft. Though his numbers with the Gatemen in the summer of 1999 did not foreshadow an 11th overall selection - he went 1-1 overall - Baugh's performance at Rice this season did: the lanky albeit well-built 6'4" right-armer led Rice to the NCAA Regionals with a 12-2 record, 1.82 ERA and 135 Ks/40 walks in 119 innings pitched.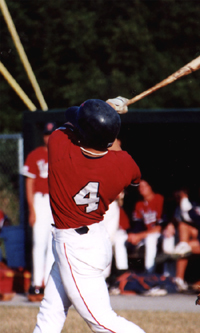 2000 Cape League MVP Mike Fontenot (Wareham/LSU) was selected 19th overall by
the Baltimore Orioles
Photo by S.Walsh

While Baugh was picked in the fifth round by Oakland last June, Baugh opted to return for his senior year of school. In so doing, he became one of 10 college pitchers in NCAA history to amass 40 lifetime college wins and have 400-plus Ks. Baugh is the all-time strikeout king at Rice with 419 lifetime whiffs.
Perhaps the most surprising thing about Baugh's early first round pick, though, was not that he was taken with the Tigers' first overall pick, but that six of the team's first 11 picks in the top 20 rounds were all former Cape Leaguers.

Right behind Baugh, picked 14th overall was Tulane star slugger Jake Gautreau, most recently a hero in the College World Series, but in 1999 a star with the Brewster Whitecaps. Behind Gautreau came 2000 Cape League MVP Mike Fontenot (LSU/Wareham). In the first round supplemental section came Orleans Cardinals second baseman Mike Woods (Southern A&M University), followed by former Falmouth Commodore hurler Preston Larrison (Evansville), Hyannis Mets ace Matt Coenen (Charleston Southern), Mets catcher Mike Rabelo ( U Tampa) and Falmouth Commodore Dave Mattle. All totaled, the Tigers took some of the best talent the CCBL had to offer last summer

Other selections of note in the first 10 rounds included the first pick of the Boston Red Sox in former Harwich Mariner Kelly Shoppach, a right-handed hitting backstop from Baylor who hit .228 in 26 games for the upstart Whitehouse Field gang in 2000.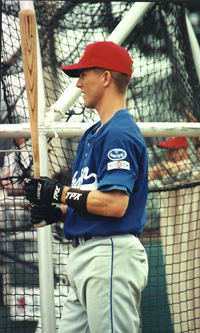 Former Chatham A's all-star Seth Davidson (USC) went much higher in the draft this time around: from 1,350th to 314th in the 10th round.
Photo by S.Walsh

Other Bosox picks of note included CCBL All-Star Ben Crockett (Harvard) who signed a letter of commitment to return to the Wareham Gatemen in 2001 after a stellar West Division campaign in 2000.

In 61 innings pitched last summer for the record-breaking Gatemen, Crockett struck out 66, accumulated a stingy 2.95 ERA and went 5-1 before watching his club fall in the playoffs. The Red Sox selected Crockett 303rd overall in the 10th round.

Far before Crockett was ultimately picked by the Bosox, though, were dozens of former Cape League stars of note, including Fontenot's Wareham and LSU double-play combo partner and fellow 2000 CCBL all-star Ryan Theriot who went 78th overall, second pick in the third round by the Chicago Cubs. Former Cotuit Kettleer Kirk Saarloos (Cal State) -- who helped Manager Mike Coutts and his boys to their stellar 1999 Cape League Championship -- was picked 86th overall by the Houston Astros.

The highest early pick for the Y-D Red Sox came with Oakland's selection of J.T. Stotts (Cal State - Northridge), a 2000 Cape League all-star who batted .286 in 41 games for coach Scott Pickler's club.



Standing in the threshhold of the Ted Williams Room at Fenway Park last July, little did Falmouth Commodore stars (from left) Vinnie Serafina, Doc Brooks, Dave Mattle and Bob Brownlie know what lay ahead in this year's draft..
Photo by S.Walsh

Sneaking in behind Stotts was Harwich top hitter Adam Stern (Nebraska), another CCBL all-star who helped lead the way for the Mariners solid 2000 season. Stern capped off the third round of picks at the 105th overall by the Atlanta Braves.

Cal State Northridge star J.T. Stotts was the Y-D Red Sox top dog in this year's draft after a fine season in 2000 for coach Scott Pickler.
Photo by S.Walsh





As if pondering his future, Hyannis Mets ace Matt Coenen (Charleston Southern) walks off the McKeon Field diamond one last time last summer before being drafted 65th overall in Round 2 of the draft by the Detroit Tigers.
Photo by S.Walsh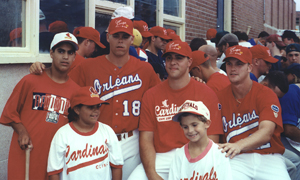 Former Orleans slugger Mark Teixeira (Georgia Tech, center) was the fifth overall pick in the draft by the Texas Rangers, while Cardinals teammate Bryan Prince (Georgia Tech) followed soon behind. Seated to the right is former Cape League MVP Lance Niekro, drafted in the first round last year by the San Francisco Giants.
Photo by S.Walsh

2000 Chatham A's all-star slugger Todd Linden (LSU) went 41st overall, taken by the San Francisco Giants.
Photo by S.Walsh






2000 Cape League MVP Mike Fontenot shares a less stressful moment with his all-star pals at Veterans Field before taking on Team USA.
Photo by S.Walsh
Other Notes from the first 20 rounds:
The Boston Red Sox also chose 2000 Bourne Braves all-star Kevin Youkilis (Cincinnati), in the 8th round with the 243rd overall pick
Top Cape League Prop Prospects Brian Stavisky (Notre Dame/Hyannis Mets 2000) and Bob Brownlie (Rutgers/Falmouth 2000) were not drafted in the first 20 rounds yesterday: Brownlie has already committed to Team USA while Stavisky is expected to return to the Hyannis Mets this summer.
Former Falmouth Commodore and CCBL Home Run King Doc Brooks (Georgia) was picked in the 7th round by the San Diego Padres, 210th overall.
All of Falmouth's all-stars - Dave Mattle, Vinnie Serafini, and Brooks - were drafted in the top 10 rounds, except for Brownlie, last summer top CCBL Pro Prospect.
In the first 10 rounds of last year's draft, 56 of the first 310 players chosen were former Cape Leaguers, three less than this season.
Chatham A's former All-Star Seth Davidson (USC) went from the 1,350th pick last year (46th round, Kansas City) to the 314th overall pick this year (St. Louis, 10th round)
-- Sean Walsh story and photos