News
06/12/2001 12:25 PM
Article By:
This week in Baseball
12 June 2001
Cape League Leads-off the 2001 Campaign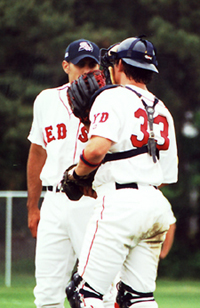 Can't keep a secret -- Y-D Red Sox right Chuck Bechtel discusses strategy on Opening Day with backstop John Baker. Photo by S.Walsh
SOUTH YARMOUTH - Surrounded by the splendor of a revitalized and sparkling Red Wilson Field, the Y-D Red Sox nevertheless could not muster the run support to make a comeback against a visiting Hyannis Mets team Tuesday, (June 12) on CCBL Opening Day 2001.
Miles away at a jam-packed Lowell Park, it was much the same for the Cotuit Kettleers who led in their Opening Day game early on - 1-0 - only to find themselves on the back end of a Bourne Braves, 3-1 edge.
With gray skies threatening rain overhead, returning Mets hurler Justin Taylor (1-4, 3.50 ERA in 2000) pitched a phenomenally strong eight innings to pick up his first win of the 2001 season. Backed by an early five-run lead, Taylor (Baylor) performed at ease, scattering five hits and striking out three.
Mets' leftfielder L.J. Biernbaum (Florida Atlantic) was the big hitter of the day, going 4-5 and scoring three of Hyannis' five runs. Joining Biernbaum for Hyannis was centerfielder Mike Brown (Willaim & Mary) who went 3-5 with two RBI and third baseman Jayme Dorr (Trinity) who went 2-4.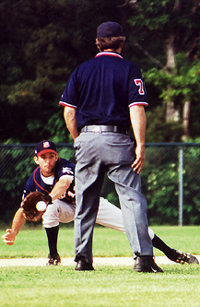 Bourne Braves shortstop Garett Renner takes the throw a little late, but not too late to win the game as Bourne beat Cotuit 3-1 at Lowell Park to start off 2001. Photo by S.Walsh
Perhaps the brightest moment for Y-D was the strong performance handed in by relief pitcher Chuck Bechtel (Marist) who had not pitched in game action in a year, according to Y-D Manager Scott Pickler (Cypress JC).Turning in a solid day behind the plate for the Red Sox was UC-Berkeley backstop John Baker. Baker threw out one runner stealing and went 2-4 while handling three different pitchers. Notre Dame's Andrew Bushey, Y-D's man at the hot corner, went 1-4, driving in the Sox' sole run late in the game. He tough-luck loser was former Chatham A's star hurler Bobby Korecky (0-1).
Bourne 3, Cotuit 1
LOWELL PARK, COTUIT -- First-year head coach Spencer Graham (VMI) got a pleasant induction into the Cape League when his feisty Braves paid little heed to the near-1,000 Lowell Park fans and staged a comeback against the home team Kettleers.
But it was the Cotuit team that drew first-blood.
Following a frozen rope single in the first inning by Cotuit's Ryan Russ (Navarro JC), the fleet-footed leftfielder quickly stole second base, was moved to third on a fielder's choice by first baseman Scott Edwardsen (Le Moyne) and then scored on a double down the line by clean-up man A.J. Porfirio (Rice).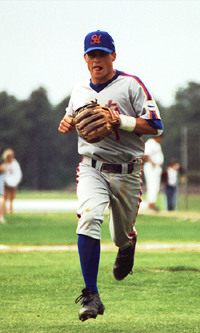 Leaps and bounds -- Hyannis Mets third baseman Jayme Dorr (Trinity) shows that a little hustle can go a long way, as exemplified by the Mets 5-1 Opening Day victory over host Y-D Red Sox.
Photo by S.Walsh
That was all the slack Bourne was willing to give, however, as Coach Graham's pitchers Joe Blanton (Kentucky), Matt Brown (UC-Berkeley), Mike Dennison (Wichita State) and Ryan Speier (Radford) combined to close the door on Cotuit's chances. Brown (1-0), a righty, notched the win.
Credited with clutch hitting and the game-winner was Braves designated hitter Jesse Collins (North Florida) who went 2-4 with one RBI. Collins drove home the game-winner in the top of the ninth.
Chatham 5, Harwich 2
WHITEHOUSE FIELD, HARWICH - While eight weeks from now longtime Chatham A's skipper John Schiffner will be portrayed in Hollywood by movie star Brian Dennehy, on Opening Day coach "Schiff" was busy delivering Harwich a 5-2 loss.
Led in the first by returning shortstop Drew Meyer (South Carolina) when Meyer scored the first Chatham run on a Mike McCoy (San Diego) single, it was all uphill for the perennial playoff contender A's. Three runs later and Chatham had itself a 4-0 lead.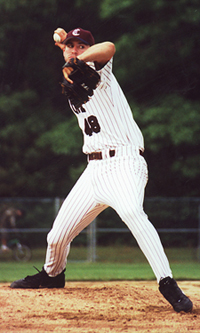 Righty Ace Returns -- Cotuit Kettleer all-star hurler Ryan Combs may be wearing a different number this summer, but he's still got his eye on perfection. Combs threw 6 scorless innings against Bourne, but the Braves took advantage of Combs' absence and won it in the ninth. Photo by S.Walsh
While Buddy Custer's Mariners sparked a two-run rally in the fifth led by a Burney Hutchinson (Mississippi) double, Chatham plated an insurance run in the ninth on a Bobby Malek (Michigan State) double.
Montclair State's Corey Hamman (1-0) picked up the win for the A's, while Virginia Tech's Joe Saunders got stuck with the loss.
Orleans 8, Brewster 6
ELDREDGE PARK, ORLEANS - Over 700 fans crowded around the perimeter of Eldredge Park on Opening Day, but for a while it looked as if the home team was going to fall to the defending Cape League Champion Brewster Whitecaps.
With return southpaw all-star Mike Weel (Austin Peay) on the hill, and a Championship still fresh in his memory from last August, Weel held the host Red Birds relatively at bay and left the game after hurling six innings with three Ks, allowing just two runs. The Whitecaps had a 6-2 lead going to the eighth inning until the Cardinals sparked a six-run rally and maintained their home field pride.
Falmouth 2, Wareham 1
GUV FULLER FIELD, DOWNTOWN FALMOUTH - For almost six innings straight it was righty prowess versus righty prowess. Standing on hallowed Falmouth turf, South Alabama's 6'5" Clark Girardeau (Wareham) faced Falmouth's 6'4" Gary Hogan Jr. (Arkansas). By the time the two had tired of a 1-1 deadlock, it was the bottom of the ninth inning.
In what heretofore had been a battle of horsehide, head coach Jeff Trundy's troops decided to end it with wood.
With a runner on second, Texas Christian's Erick Macha drove in the winning run to make it a 2-1 final.

Notre Dame's Andrew Bushey takes a hack versus Hyannis Mets right Justin Taylor (Baylor) on Opening Day at Red Wilson Field. Photo by S.Walsh


Cotuit Kettleer Ryan Russ prepares to score his team's sole run of the day, as Bourne's Conor Jackson (Cal-Berkeley) creeps in behind on the hot corner.
Photo by S.Walsh
-- Sean Walsh, CCBL Web Editor