News
07/14/2001 12:20 PM
Article By:
This week in Baseball
14 July 2001
Falmouth Hits Mid-Season Stride
Y-D Maintains First Place Post in East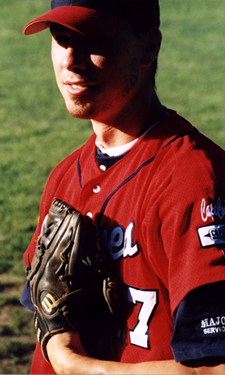 Bourne Braves' all-time top closer Ryan Speier (Radford) notched his 14th save of the season Wednesday (July 11) when he struck out two in the ninth in a 4-2 win over the Hyannis Mets.
Sean Walsh/CCBL 2001

BOURNE - The timing couldn't have been better for the Falmouth Commodores. Faced with 29 2/3 consecutive scoreless innings against the first place Bourne Braves Friday night (July 13) at Coady Field, the Commodores' line-up decided it was time to snap in and let the horsehide fly. After being shut out by the Braves in the two teams' previous three meetings, and with the all-star squads set to be selected Saturday morning, Manager Jeff Trundy's boys opted this time to turn it on.

Backed by a 2-4 performance at the plate by hot stick Val Majewski (Rutgers), a 2-5, RBI job by Steve Ghutzman (Wake Forest) and a ninth inning, bases-clearing triple by Wade Robinson (LSU), the Commodores wrapped up the week in third place (As of Friday, July 13) one point behind the tough-to-beat Wareham Gatemen. At 15-11-1, Falmouth trailed the 16-11 Gatemen and the first place Braves, who finished the week at 17-9-1, three points ahead of Wareham.

But it was Commodore righty Steven Herce (Rice) who earned himself an all-star nod with a stellar pitching performance to shut down the Braves, 9-0. Striking out five and walking none in his complete-game shutout, Herce lowered his earned run average to 0.99 and evened his record at 2-2. Herce allowed just two hits throughout the affair.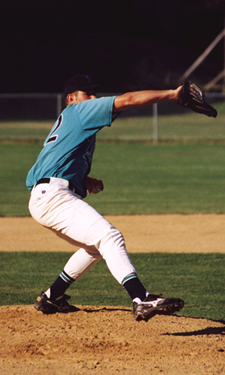 Stanford southpaw Ryan Gloger, in his second season with the Whitecaps, lets Falmouth have a little dose of his heat.
Sean Walsh/CCBL 2001

While Herce may have helped Falmouth pick up key ground in the fight for a playoff spot in the West with Wareham, and possibly a run at the divisional title if Bourne doesn't hold on, it the Falmouth and Wareham collective batting orders that warmed considerably to Cape League pitching this week. All totaled, Wareham and Falmouth had seven of the league's top 10 hitters, with the Gatemen holding the edge, 5-2. Commodore shortstop Hunter Brown (Rice) led the league through Friday (July 13) with a .351 batting average, overtaking last week's leader Aaron Hill (Wareham/LSU). Following Brown was Wareham's Matt Murton (Georgia Tech) at .338, Falmouth's Jarrod Schmidt (Clemson) at .330, Wareham's Eric Reed (Texas A&M) at .319, Wareham's Aaron Hill (LSU) at .314, Orleans' Troy Caradonna (Duke) at .306, Wareham's Keith Butler (Liberty) at .300, Orleans' Russ Adams (UNC) at .288, Chatham's Mike McCoy (San Diego) at .284 and Wareham's Mike Huggins (Baylor) at .284.

Bourne was 4-6 in its last 10 games, with Wareham just behind at 5-5 and Falmouth on a hot streak at 7-3 in its last 10 games.

In the East, though, it was the Yarmouth-Dennis Red Sox who again maintained its grip on the first place slot in the division, with Manager Scott Pickler's (Cypress JC) boys going 6-4 over the last 10 games. Chatham and Orleans finished the week neck and neck for second place, with both teams at 14-13 on the summer.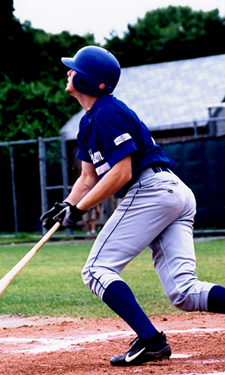 Chatham A's slugger Jeremy Cleveland kept on a hot pace at the plate this week.
Sean Walsh/CCBL 2001

Credit Y-D's well-maintained pitching staff with the team's continued success. Named to this season's East Division all-stars were four Yarmouth-Dennis hurlers, all with respectable numbers thus far this season. They included: Missouri righty Drew Endicott (2-1, 0.96 ERA), Auburn relief ace Brandon Luna (2-0, 1.00 ERA), Michigan's Jim Brauer (1-2, 1.11 ERA) and Texas A&M southpaw Steve Ponder (3-1, 2.67 ERA).

In fact, it was Brauer and Luna who combined Friday night to hold the reigns on a fight-to-the-end Brewster club Friday night (July 13). Brauer went 6 2/3 innings allowing one run and scattering seven hits, while Luna went 2 1/3 innings in relief and struck out three, allowing no runs. Luna notched the victory for his efforts.

Going for the CCBL Record - There was little question when the coaches from the East and West convened at Commissioner Bob Stead's office Saturday (July 14) morning that included on this year's Cape League all-star roster had to be Bourne Braves relief ace Ryan Speier (Radford). The 6'7" righty notched his 14th save this week in 17 appearances, and still maintained his 0.00 ERA. In 17 innings pitched, Speier had a total of 32 Ks and just five walks. Speier now holds the Bourne Braves All-Time saves record and if he keeps it up will soon be headed for the Cape League record of 15 set by Derrick DePriest of the Chatham A's in 1999.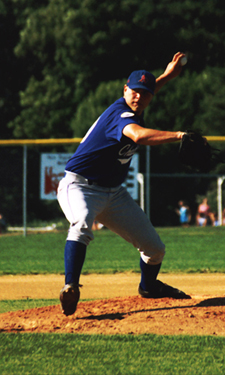 A's lefty Corey Hamman (Montclair State) lets one fly versus Y-D.
Sean Walsh/CCBL 2001

Joining Speier to represent the Braves on this year's West Division all-star squad will be Jacksonville's Casey Shumaker who was among the league leaders in hurling this week at 4-1 with a 0.96 ERA. Shumaker's last big win came when he spun seven scoreless innings (4 H, 3 BB, 3 SO) in a 2-0 win at Whitehouse Field, July 6. He was 3-0 with a 0.56 ERA in three games June 26-July 4. The University of Jacksonville product, who was tied for first in the league with four wins, allowed just one run and seven hits while issuing one walk and striking out 18 batters in 16 innings over that span.

Viva Las Vegas - UNLV righty Courtney Hall went 3-0 and allowed just seven earned runs in his first five starts through July 6 (31 2/3 IP, 26 H, 10 R, 9 BB, 21 SO), helping the Brewster Whitecaps stay afloat at 12-14-1 and 6-4 in the team's last 10 games. Whitecaps fellow right-hander Stephen Copeland (Oregon State) yielded just four hits and struck out four batters without issuing a walk over seven scoreless innings to get the win in a 1-0 victory over Chatham on July 2. The next night, LHP Ryan Olsen followed up
Copeland's outing by pitching seven scoreless innings of his own, allowing just three hits and three walks to get the win in a 14-0 triumph over East Division top dogs, the Y-D Red Sox. Whitecap starters were not yet finished, though, as second-year southpaw Ryan Gloger, an eighth-round pick of the Devil Rays in 1999 who chose to attend Stanford University, allowed just four hits and a walk while striking out six batters over six shutout innings in a 6-3 triumph over Harwich on Independence Day.

Just Like the Old Days - Selected 109th overall (4th Round) by the Tampa Bay Devil Rays in this year's Major League Draft, Chatham's A's second-year relief ace David Bush did not allow an earned run in his first nine relief appearances for the A's this season. He now stands at 1-1 with a 0.59 earned run average after allowing one earned run in an 11-10 loss on July 10 to Y-D. Bush did not allow an earned run in his senior year at Conestoga (PA) High School and signed with Wake Forest University as a catcher before turning into one of the top relievers in the ACC.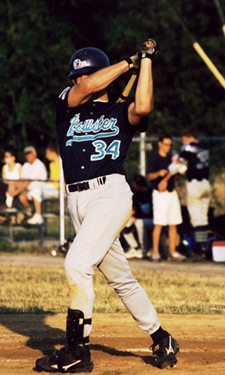 By week's end, big Jay Garthwaite (Washington) of the Whitecaps led the Cape League in home runs with five.
Sean Walsh/CCBL 2001

Hello, Ohio -- A's third sacker Jeremy Cleveland (UNC) doubled, homered and knocked in five runs on July 4 in a 10-2 victory at Orleans. He had 14 RBI in his first 18 games. Cleveland now leads the league in RBI with 17, tied with Hyannis Mets' all-star Ryan Barthelemy. A's southpaw Daniel Moore, who was a 23rd-round pick of the Marlins in the 2000 draft but elected to attend the University of North Carolina, upped his record to 3-2 Friday night (July 13) with a brilliant performance against a largely left-handed-hitting Hyannis Mets team. Moore went eight innings, allowing just two hits, striking out 11 batters. His ERA now stands at 1.45. He was also selected to represent Chatham on this year's East Division all-star squad.

Falmouth Bats on Fire -- Ben King (Texas) had six RBI and first baseman Jarrod Schmidt (Clemson) hit a pair of home runs and also knocked in six runs on July 6 in an 18-6 victory over Hyannis. It was the highest single-game scoring output for Falmouth thus far this season. Up to that point, Falmouth had scored as many as five runs in a game just five times in its first 22 games through July 8. Commodores' lefty Pat Misch (Western Michigan) allowed two earned runs or fewer over three consecutive starts June 23-July 6 (1-1, 15 1/3 IP, 13 H, 6 R, 4 ER, 4 BB, 12 SO), going 1-1. Val Majewski (Rutgers) started the month of July by going 6-for-16 with 10 RBI in his first five games. Majewski finished this week tied for second in he league in RBI (16) with Wareham's Mike Huggins. Commodore shortstop Hunter Brown (Rice) hit .417 (20-48, 3 2B, 8 RBI, 3 SB) in 15 games (June 20-July 6). He led the league in on-base percentage (.452) and was second in batting (.344) through July 8. Second baseman Erik Schindewolf (Texas A&M) was leading the league with 16 runs scored.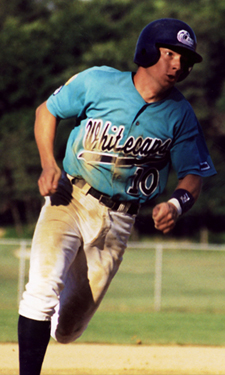 Jonathan Schuerholz (Auburn) turns the corner at third base versus Falmouth this week. He was safe at the plate.
Sean Walsh/CCBL 2001

Southpaw Dynamic Duo -- Harwich Mariners' lefty tag team of Matt Lynch (Florida State) and all-star starting pitcher Joe Saunders (Virginia Tech) had and excellent beginning to the month of July. Lynch struck out 13 batters and allowed just two runs and two hits over seven innings to get the win in a 3-2 victory at Chatham on July 7. Lynch went just 1-2 but had yet to surrender more than two runs in any of his first four starts through July 7 (26 IP, 17 H, 8 R, 6 ER, 4 BB, 37 SO). Joe Saunders pitched eight scoreless innings (3 H, 1 BB, 9 SO) in a 3-0 win at Hyannis July 2. Joining the two Mariners' southpaws in mound success for the last place Mariners was all-star righty Luke Robertson (Kansas State) who fanned 12 batters and allowed just three runs over eight innings in a 3-2 loss to Falmouth.

Hyannis Hot Hand, Hot Bat -- RHP Travis Teeter struck out 10 batters and allowed just one run and three hits over 6 1/3 innings to get the win in a 13-6 triumph at Chatham on July 3. Florida State's Ryan Barthelemy, now a two-time Cape League All-Star, went 3-for-5 with a pair of doubles, a home run and five RBI on July 5 in a 10-5 victory over Wareham. He went 19-for-45 with seven doubles, a triple, four homers and 16 RBI in 10 games June 26-July 6. Barthelemy wrapped up this week tied for the league lead in RBI (17) with Chatham's Jeremy Cleveland.

Steve Jackson (Clemson) of the Falmouth Commodores pitched considerably well versus host Brewster this week, but got stuck with a no decision after six innings of work.
Sean Walsh/CCBL 2001


Val Majewski (Rutgers) settled in at first for Falmouth this week and kept up his torrid hitting streak.
Sean Walsh/CCBL 2001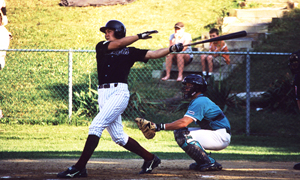 By week's end, Falmouth's Hunter Brown (Rice) led the Cape League in batting with a .351 clip.
Sean Walsh/CCBL 2001

Speedy Adams -- Orleans Cardinals all-star second baseman Russ Adams (UNC) wrapped up the week atop the league leaders in base thefts with 17, three ahead of Wareham's Eric Reed (Texas A&M). Cardinals' backstop Troy Caradonna, also named to the East Division all-star team this week, ended as just one of two East Division players among the top 10 in batting at .306, and as one of seven players total batting over .300 in the minimum number of required plate appearances to be listed. Adams was third in the league with 30 hits and tops in runs scored with 18.
--
Special Thanks to Josh Goldfine of Sportsticker.com for adding to this week's report
-- Sean Walsh