News
07/19/2001 12:35 PM
Article By:
This week in Baseball
19 July 2000

Cape League All-Stars feted at Fenway Park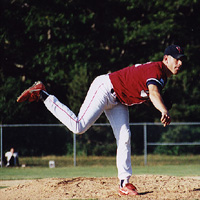 Photo by S.Walsh
Wareham ace Ben Crockett was selected to start Saturday, July 22's Sprint PCS Cape League All-Star Game.
The 2000 Sprint PCS Cape League All-Stars were honored at Fenway Park Tuesday, July 18, as the Boston Red Sox recognized the players' accomplishments and introduced them to some of the Major League stars who once graced the Cape League diamonds.
Players arrived at Fenway's Ted Williams' Room for an informal lunch and then toured the grounds made famous by such all-time greats as Babe Ruth, Jimmie Foxx, the Splendid Splinter himself, Carl Yastrzemski and many more.
Former Orleans Cardinals' shortstop and 1993 Cape League All-Star Nomar Garciaparra made a brief appearance and chatted with current Cape Leaguers, as did stalwart Sox backstop and former Hyannis Mets' catcher Jason Varitek.
Some Cape League stars struck up conversations with pitchers in the visitor's bullpen, while others walked up and down the grandstands taking in the scenery and tradition that defined Boston baseball in the 20th century. As game time neared between the Boston Red Sox and Montreal Expos, all 40 Cape League All-Stars gathered along the third and first base baselines before being introduced to Red Sox fans and given plaques honoring their Cape League accomplishments. The stars then nestled into the right centerfield bleachers for a great game pitched by Pedro Martinez.
Meanwhile, back on Cape Cod, the 2000 Sprint PCS Cape League All-Star
Game Committee made its final preparations for Saturday, July 22's big event
at Brewster Whitecaps Field and the final schedule was released.The following
is the time frame for the Sprint PCS classic.
12:30 p.m. Batting Practice West/autographs East
1:15 p.m. Batting Practice East/autographs West
2:00 p.m. Home Run Hitting Contest
2:35 p.m. infield, West Division
2:50 p.m. infield, East Division
3:05 p.m. Second Autograph Session
3:40 p.m. Introduction of Teams
3:50 p.m. National Anthem
3:55 p.m. Ceremonial First Pitch
4:00 p.m. Play Ball!


Each manager from the 10 Cape League franchises selected the following players for the 2000 Sprint PCS Cape League All-Star Game:
East Starters
C Paul O'Toole, Brewster, Lakewood, OH / Notre Dame
1B Josh Persell, Brewster, Sherman Oaks, CA / USC
2B J.T. Stotts, Y-D, Valencia, CA / Cal St Northridge
3B Ryan Stegall, Harwich, Liberty, MO / Missouri
SS Jason Bartlett, Harwich, Lodi, CA / Oklahoma
LF Adam Stern, Harwich, London, ONT / Nebraska
CF Cory Sullivan, Y-D, Evanston, WY / Wake Forest
RF Todd Linden, Chatham, Bremerton, WA / Washington
DH Steve Stanley, Brewster, Columbus, OH / Notre Dame
P Dan Krines, Chatham, Huntington, NY / Fairfield
Reserves
C Bryan Prince, Orleans, Ft. Oglethorp, GA / Georgia Tech
IF Chad Tracy, Orleans, Charlotte, NC / East Carolina
OF Brad Stockton, Orleans, Marietta, GA / Georgia Tech
P Mike Weel, Brewster, Schaumburg, IL / Austin Peay
P Matt Incinelli, Orleans, Orlando, FL / North Florida
P Brandon Luna, Y-D, Lampoc, CA / Cypress JC
P Jake Gann, Y-D, Okanogan, WA / Edmonds CC
P Rob Moravek, Harwich, Alpharetta, GA / Georgia
P David Bush, Chatham, Devon, PA / Wake Forest
P Taft Cable, Orleans, Browns Summit, NC / UNC-Greensboro

West Starters
C Tyler Parker, Wareham, Marietta, GA / Georgia Tech
1B Ryan Barthelemy, Hyannis, Miami, FL / Florida State
2B Mike Fontenot, Wareham, Slidell, LA / LSU
3B Kevin Youkilis, Bourne, Cincinatti, OH / Cincinnati
SS Ryan Theriot, Wareham,Baton Rouge, LA / LSU
LF Doc Brooks, Falmouth, Phenix City, AL / Georgia
CF Dave Mattle, Falmouth, Baberton, OH / Kent
RF Brian Stavisky, Hyannis. Port Alleghany, PA / Notre Dame
DH Mike Prochaska, Wareham, Raleigh, NC / NC State
P Ben Crockett, Wareham, Topsfield, MA / Harvard
West Reserves
C Darren Welch, Bourne, Hattiesburg, MS / Southern Miss
IF Brendan Harris, Hyannis, Queensbury, NY / William & Mary
OF Daylan Holt, Cotuit, Mesquite, TX / Texas A&M
P Bob Brownlie, Falmouth, Edison, NJ / Rutgers
P Ryan Combs,Cotuit, Raleigh, NC / NC State
P Josh Brey, Bourne, Allentown, PA / Liberty
P Luke DeBold, Bourne, Dyer, IN / Miami
P Nick Glaser,Cotuit, Aberdeen, WA / Clemson
P Matt Coenen, Hyannis,St. Michaels, MD / Charleston South
P Vince Serafini, Falmouth, Lockport, IL / Evansville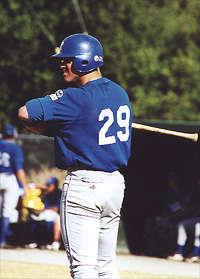 Photo by Sean Walsh

Chatham A's slugger and starting East Division all-star Todd Linden took over the race for the 2000 Cape League batting crown this week.
He's baaack...Orleans' Brad Stockton and Bryan Prince are the only second year All Stars this season. Stockton, who played for Cotuit in '99, was 1-for-2.
And it's outta here...Doc Brooks returns to defend his Home Run title - this year as a first team West Division All Star.
Who's on first...The head coach for the All Star game is determined by the previous season's top point-getting team in each division. Thus, the East All Star team's head coach will be Chatham's John Schiffner while the West will be guided by Cotuit's Mike Coutts.














Photo by Sean Walsh

Hyannis Mets' and Charleston South southpaw Matt Coenan warms up this week, prior to being selected as a West Division All-Star.


Photo by Sean Walsh

Brewster Whitecaps and USC slugger Josh Persell waits on a fastball before crushing it to to the opposite field at home versus Falmouth. Persell was selected as the first team first baseman for the East Division All-Stars this week.
Team USA is coming to town...Thanks to the generosity of two Cape banks, Cape Cod Bank and Trust and Cape Cod Five, the Team USA vs the CCBL All Stars Game is ready to go on July 29th. The game will be played at Chatham's Veterans Field at 6:00 p.m.
Game Day Schedule
2:15 p.m. Players report to Veterans Field
2:30-3:15 Batting Practice - USA/Autographs - CCBL
3:15-4:00 Batting Practice - CCBL/Autographs - USA
4:00-4:15 USA Infield
4:15-4:30 CCBL Infield
4:30-5:15 Home Run Hitting Contest (3 on 3)
5:30 Pregame Introductions
5:59 F-15 Jet Flyover by the 102nd Fighter Wing
6:00 Play Ball!

Orleans to host Team USA vs Chinese Taipei game...The Orleans Cardinals organization is also hosting a game of, well, international proportions. Infield practice for both teams is tentatively scheduled for 6:15 with the first pitch at 7:30 p.m.
It's all relative...Wareham's Nick Swisher (Columbus, OH/Ohio State) is the
son of former major leaguer, Steve Swisher.
The Cape League is pleased to announce the Coke Hitter and Pitcher and the
Home Run Hero for the week of July 9-July 15.
The Coke hitter is Cotuit's Chris Russ (Comfort, TX/Texas A&M). On the week, Russ hit .500 (8-for-16) with 4 RBI, 1 home run, 5 runs scored and 5 stolen bases.
The Coke pitcher is Harwich's Rob Moravek. Moravek (Alpharetta, GA/Georgia), a CCBL 2000 All Star, helped Harwich hold on to a tie for first place in the East. On July 13, he hurled 7 innings of 4-hit ball, allowing just one run (unearned), striking out 11 and walking just 2.
The league's home run hitter is Orleans' Bryan Prince, another CCBL All Star. The second year player for the Cardinals cranked out 2 roundtrippers on the week. He hails from Fort Oglethorpe, GA and plays college ball at Georgia Tech.



-- Sean Walsh/Missy Ilg Alaimo