News
08/02/2001 11:46 AM
Article By:
For immediate release: 1 August, 2001
Schiffner and His Chatham A's Reach Milestone and Playoffs

CHATHAM -- Leave it longtime Chatham A's Field Manager John Schiffner to cram more excitement in a seven-day-stretch than most Cape League coaches do in a career.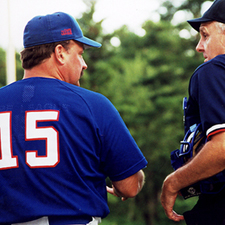 Chatham A's Manager John Schiffner discusses the ground rules with the homeplate umpire at the CCBL versus NECBL ALL-Star Game in Keene, NH on July 28.
Sean Walsh/CCBL 2001

Last Saturday night at Alumni Field in Keene, NH, Schiffner managed a contingent of Cape League All-Stars to a 5-2 victory over the all-star challengers of the New England Collegiate Baseball League, chalking up a major coup for the ever-increasing Cape League reputation. While Saturday's feat took all day, nine innings was all it took for Schiffner and his Chatham A's to notch the organization's 900th all-time victory, a guaranteed slot in the East Division playoffs and on a more personal level, Schiffner's 200th lifetime victory.

A former Cape League player, Schiffner stands atop the Most Wins list among active Cape League managers while his illustrious A's can now say they've reached the playoffs each season except two since 1989. Schiffner's A's have made the CCBL playoffs every year since 1995, won the Cape League title in 1992, 1996 and 1998 and have been East Division Champions in 1991, 1992, 1993, 1996, 1997 and 1999.

But to top it all off, Schiffner's likeness will be portrayed, albeit more rotundly, by Hollywood actor Brian Dennehy in the upcoming Warner Brothers' feature film Summer Catch, to be shown at a special benefit screening at Hoyts Cinemas at the Cape Cod Mall Thursday, Aug. 2.


Dan Moore (UNC) upped his record to 5-2 Tuesday over the Commodores, and in so doing helped Chatham notch its 900th franchise victory and Manager John Schiffner, his 200th carrer win.
Sean Walsh/CCBL 2001

David Bush (Wake Forest) struck out the side on 11 pitches Saturday to close the door on the NECBL and Tuesday again shined for Chatham A's manager John Schiffner when he struck out two in the eighth in a 2-0 win over Falmouth, a win that gave Schiffner his 200th career victory.
Sean Walsh/CCBL 2001
Helping Schiffner and the A's clinch a playoff spot and reach both milestones (Tuesday, July 31) was UNC southpaw Dan Moore. Moore picked up his fifth win of the season (5-2) by going seven innings against the visiting Falmouth Commodores, striking out eight batters and scattering three hits. Combining with Moore on the 2-0 shutout was hard-throwing righty relief ace David Bush (Wake Forest) who struck out two batters in a scoreless inning of work in the eighth, lowering his ERA to 0.39 on the summer; fellow righty Zane Carlson (Baylor) struck out one in the ninth to notch his 10th save.

-- Sean Walsh/CCBL 2001