News
08/05/2001 12:14 PM
Article By:
This week in Baseball
5 August 2001
Bourne Braves Pull Proverbial Rabbit Out of the Hat

WAREHAM - With a little help from the Falmouth Commodores, the Bourne Braves snatched the final West Division playoff spot from the fast-closing jaws of defeat.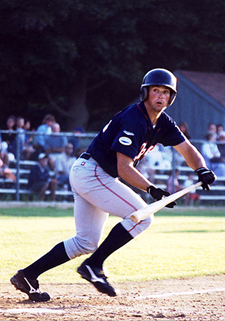 Randy Walter (Wichita State) and the Bourne Braves pulled it out in the final hour, defeating Wareham twice in two days and getting some help from Falmouth to earn a playoff spot in the West Division.
Sean Walsh/CCBL 2001
Down by one point and in third place in the West behind Falmouth and first place Wareham, the Braves began the day on the verge of being eliminated from the playoffs by any combination of potential outcomes. Had Falmouth won just one of its two games slated for Sunday (Aug. 5) it would have eliminated Bourne altogether, even with a Bourne victory.

Down 2-1 in the fifth inning at Spillane Field, Bourne came back to defeat the Wareham Gatemen, 5-2. Falmouth? Falmouth fell 1-0 to last-place Harwich (East) earlier in the day and then ventured to Red Wilson Field to play first place (East) Y-D. The Y-D Red Sox served to eliminate the Commodores from the playoffs with a 3-0 defeat. (More details were unavailable as of 8:30 p.m., including the results of the Chatham/Orleans game at Veterans Field).

The Braves will head to Wareham Tuesday (Aug. 7) at 7 p.m. to face the 25-18-1 Gatemen at Spillane Field. The second game of the best-out-of three West Division playoffs will be held at Bourne's Coady Field at 3 p.m., Wednesday, Aug. 8. The Gatemen finish as West Division Regular Season Champions. The Braves, who defeated Wareham twice in two days (Aug. 4 & 5), finish the regular season at 23-18-3.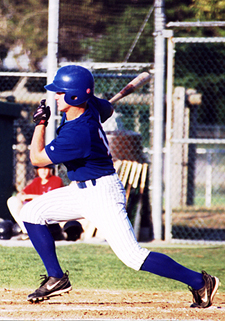 Chatham A's second-year rightfielder Kris Cox (Ole Miss) hits a frozen rope versus the Bourne Braves at Veterans Field (Aug. 1).
Sean Walsh/CCBL 2001
The Chatham A's wrapped up the season on the heels of a brilliant 7-3 run but fell to Orleans 6-1 at Veterans Field Sunday (Aug. 5). With Y-D's win over Falmouth Sunday night, the A's and Red Sox finished tied for first place at 25-19. Both will share regular season East Division Champion honors.
In spite of Chatham's loss, the A's had an incredible week, on Tuesday (July 31) simultaneously winning the franchise's 900th victory (since the modern inception of the league in 1963) and Field Manager John Schiffner's 200th career victory. That victory also clinched a playoff spot for the A's, a 2-0 shutout of the Commodores.
The A's will host the Y-D Red Sox at Veterans Field at 7 p.m. Tuesday night, Aug. 7. The Y-D Red Sox will host the A's at Merrill "Red" Wilson Field, Wednesday, Aug. 8 at 3 p.m. In the event that a third game is necessary in either divisional series, the time and date of those games will be announced. Should the A's and Red Sox split the first two games of the series, the third and final game will be held at Veterans Field on Thursday, Aug. 9, at 7 p.m. Should the Braves and Gatemen split the first two games of their divisional series, the third and final game will be held at Wareham's Spillane Field at 7 p.m. on Thursday, Aug. 9.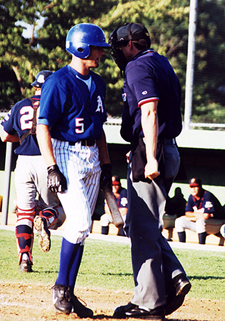 Chatham DH Bobby Malek (Michigan State) has a few choice words for the home plate ump after a called strike three versus Bourne.
Sean Walsh/CCBL 2001
The Cotuit Kettleers closed out the season with a 10-1 record in the team's last 11 games, coming just a hair's breadth away from making the West Division race even more interesting than it was. In Field Manager Mike Coutts' final game as a CCBL manager, the Kettleers hosted the Hyannis Mets Sunday night (Aug. 5) at Lowell Park, walking away with an 8-4 victory. While the Mets made things interesting with a four-run bid in the eighth, two-year veteran righty Ryan Combs (NC State) had kept the door shut long enough in the early innings and had received enough run support to garner the win. Combs, a 2000 CCBL all-star, finished 2-3 on the season with a lifetime CCBL record of 4-7. The Kettleers finished at an even .500 at 20-20-4. The Mets finished at 17-27. Villanova righty Tom Kandybowicz notched the loss to finish with a 2-4 record on the summer.

Slugger Had Two Incredible Summers on Cape -- Hyannis Mets third baseman Ryan Barthelemy (Florida State), a two-time CCBL all-star, finished the season red hot for the last-place Mets but went home without a Major League contract as he had hoped for. A top-10 Cape League hitter in both 2000 and 2001, Barthelemy had received an offer earlier in the summer from the St. Louis Cardinals but the left-handed hitting slugger held out and returned home to Miami, FL to play for the Seminoles in two weeks.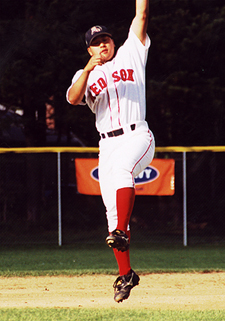 All-Star Hyung Cho (Houston) gets up for a line-drive as his East Division Champion Y-D Red Sox get fired up for the playoffs versus the Chatham A's, slated for Tuesday, Aug. 7.
Sean Walsh/CCBL 2001
Wareham Notches Another Top Dog -- There must be something in the water in Wareham and at Texas A&M. For the sixth time since Chuck Knoblauch hit .361 for the Gatemen in 1988, Wareham added yet another CCBL Batting Champion to its credit. Hitting .368 as of Aug. 4 with one game left to play, Texas A&M's Eric Reed was ahead of the closest challenger (teammate Matt Murton/Georgia Tech) by a healthy .037 points. Reed joins fellow Texas A&M former stars Mike Hickey and Knoblauch as the third Texas A&M and Wareham player to take the CCBL Batting Crown. Hickey hit .366 in 1991 and Knoblauch hit .361 in 1988.

Kaplan and Robertson Garner Top Weekly Honors -- Falmouth Commodore outfielder Jon Kaplan (Tulane) wrapped up the 2001 season in fine fashion, hitting .423 (11-for-26) with two doubles, one triple, one home run and four RBI. He also had a slugging percentage of .692 and two stolen bases. For his efforts, Kaplan was honored with the final Coca Cola Cape League Player of the Week honors.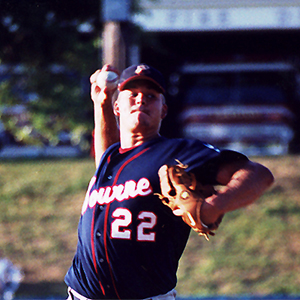 Kentucky's Big Joe Blanton struck out six Chatham A's Tuesday to improve his record to 4-2 and lower his ERA to 2.44.
Sean Walsh/CCBL 2001
Earning the nod on the mound as the Coca-Cola Pitcher of the Week was Harwich Mariner righty ace Luke Robertson. A 2001 Cape League all-star, Robertson closed out a fine season (3-3/1.46 ERA) by hurling a complete-game, one-hitter versus the first place Y-D Red Sox. He walked one and struck out nine. He had 59 Ks in 55.1 innings pitched (nine appearances) this summer.

Cape League Goes Major League -- The CCBL will once again be featured as part of "This Week in Major League Baseball" on August 18. Major League Baseball sent a film production crew to Chatham on Wednesday (Aug. 8) to cover some of the Summer Catch festivities. When they were here, interviews were tape-recorded of Chatham A's players Rick McGuire (Delaware) and Zane Carlson (Baylor) and Bourne Braves' manager Spencer Graham and righty pitcher Rob Read (Florida State) during the game between the A's and Braves, Aug. 1.

Peavey Goes Out In Style -- CCBL Commissioner Bob Stead presented Cotuit first baseman Bill Peavey (USC) with the 2001 Daniel J. Silva Sportsmanship Award. Peavey finished the season hitting .280 for the Kettleers with five (5) homers and 22 RBI.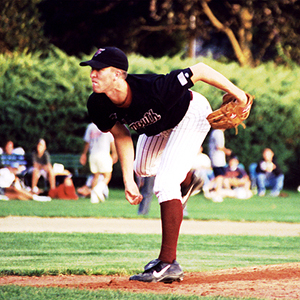 Commodore righty Ray Clark (Texas) upped his record this week to 3-1 and lowered his ERA to 1.31.
Sean Walsh/CCBL 2001
No Surprise in the Relief Department -- This past Saturday Bourne's Ryan Speier was presented with the Russ Ford Outstanding Relief Award. Speier, who set a new league record in saves (16) signed with the Colorado Rockies late in the season. In 20 games and 20 innings pitched, he allowed just one run (unearned), walked six and struck out 35.

Top Pro Prospect -- Orleans Cardinals all-star second baseman Russ Adams (UNC) received the 2001 Robert A. McNeese Award as the league's Outstanding Pro Prospect Saturday evening prior to the Brewster-Orleans match-up at Eldredge Park. With one game left, the resident of Laurinburg, NC was hitting .287 with five doubles and 22 stolen bases.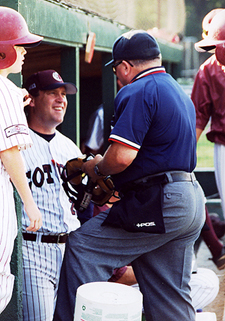 Cotuit Kettleer Field Manager Mike Coutts (left) called it quits this week, announcing he would leave the franchise he took to two CCBL championships in 1995 and 1999.
Sean Walsh/CCBL 2001
Coutts to Hand Over Reins to Assistant -- Mike Coutts has announced that he will be stepping down as Cotuit's field manager after the season. He will continue his association with the team as a member of the Board of Directors. Coutts won championships in `95 and `99 for the Kettleers in five seasons. Garrett Quinn will take over in '02. Quinn is the pitching coach for St. Thomas University and played for Falmouth in 1995.
A Home Run in Spite of Weather -- The Hyannis Mets held the team's first-ever Home Run Derby at McKeon Field Saturday, Aug. 4, in spite of consistent rain. Eventually, lightning caused the two dozen or so participants to head for shelter. Mets Field Manager and former Cape League all-star Mike Juhl and Mets Pitching Coach Keith Stohr both participated while Holy Cross outfielder/pitcher Jay Carberry, an intern for the Mets this summer, won the event with his sole, water-logged bomb. Yes, after one or two contestants all the baseballs were wet. Nevertheless, George Bent Jr. of Centerville and Olivia Stohr of Mashpee both won the children's level. Stohr hit three home runs while Bent hit four, each winning a gift certificate.

Wareham first baseman Mike Huggins (Baylor) continued his torrid hitting pace this week for the West Division Champion Gatemen.
Sean Walsh/CCBL 2001


Little Keegan Colmer sings the National Anthem prior to a game at Red Wilson Field as the umpires and players pay their due respects.
Sean Walsh/CCBL 2001

-- Sean Walsh