News
08/07/2001 12:13 PM
Article By:
This week in Baseball
Division Playoffs
7 August 2001

Wareham Blanks Bourne, Chatham Downs Y-D
WAREHAM -- As the game grew late, Wareham Gatemen Field Manager Cooper Ferris (Mississippi Gulf Coast CC) paced back and forth in front of his team's dugout, rubbing his forehead in angst and spitting sunflower seeds a mile a minute. Still up 3-0 in the top of the eighth, the Bourne Braves had bases loaded with one out and righty flamethrower Ben Crockett had gone over 100 pitches. Ferris motioned to the bullpen to hurry along. Removing his cap to run his fingers through his hair, the 2001 Cape Cod Baseball League Manager of the Year could mutter but a few words out loud. "This is amazing," he said to no one in particular. "Amazing."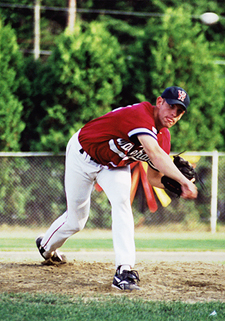 Wareham Gatemen all-star righty Ben Crockett brought his "A" game to the playoffs and struck out 11 to beat Bourne 3-0. See accompanying story for more playoff news and pics and 2001 Award Winners.
Sean Walsh/CCBL 2001
Indeed. Even as the Bourne Braves scrapped and meted out every baserunner possible, Crockett bore down and reached deep for one final notch in his heavily marked strikeout belt. With Braves speedster Brian Burgamy (Wichita State) up at bat, one down and the bases juiced, Crockett pumped it up one final time. Burgamy went down looking for out number two and the Harvard ace was done. Ferris gave the signal and submarine fireballer Pat Neshek (Butler) came in to finish the job, striking out the hard-hitting DH Chad Oliva (Jacksonville) to put a damper on Bourne's last and arguably best run-scoring opportunity of the day. Neshek notched a save for his efforts.
All totalled, the Braves could muster but two hits off winning pitcher Crockett as he struck out 11 and walked only two (one a hit batsmen) on the evening. Braves righty Robby Read (Florida State) struck out one and went 6 1/3 innings before giving way to reliever Grant Gregg (Abilene Christian). Gregg allowed no runs while Read allowed three, including an opposite field home run to 2001 Cape League MVP Matt Murton (Georgia Tech) in the bottom of the seventh. Gregg struck out two Gatemen to close out the seventh and was virtually flawless through the final frame, but to no avail. Some outstanding defensive play was put forth by Braves third baseman Conor Jackson (UC-Berkeley) while Wareham catcher Rusty Meyer (Texas A&M) played tremendously behind the plate. The Braves host Wareham in the second game of the best-out-of-three series, starting at 3 p.m. at Coady Field in Bourne. Should the Braves win today's game (Aug. 8), a third and final game in the West Divisional Series will be played Thursday night (Aug. 9) at Clem Spillane Field in Wareham at 7 p.m. Should Wareham win, the Gatemen will face the winner of the Chatham-Y-D East Divisional Playoffs.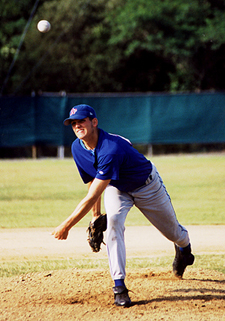 A's lefty Daniel Moore (UNC) was hot enough to shut the door on Y-D and picked up the win in the first game of the East Division playoffs Tuesday night (Aug. 7) at Veterans Field.
Sean Walsh/CCBL 2001
In Chatham Tuesday night, A's southpaw gun Daniel Moore (UNC) notched the win in a 5-2 effort over the Yarmouth-Dennis Red Sox at Veterans Field. Wake Forest righty relief ace Dave Bush picked up the save. The Y-D Red Sox were up 1-0 before Chatham came back to tie it at 1-1, then the A's went ahead with four more runs in the seventh to take home victory number one of the 2001 East Division Playoffs. Y-D lefty Steve Ponder (Texas A&M) picked up the loss. The Y-D Red Sox host the Chatham A's at 3 p.m. today (Aug. 8) at Merrill "Red" Wilson Field. Should Chatham win, the A's would face the winner of the Bourne-Wareham series either Thursday or Friday night. Should Y-D win, the Sox and A's return to Veterans Field Thursday (Aug. 9) for a 7 p.m. finale.
Cape Cod Baseball League President Judy Scarafile, Commissioner Bob Stead and Wareham Gatemen Vice President Dottie Tamagini dished out trophies and plaques prior to the start of the Bourne-Wareham playoff game Tuesday night at Spillane Field. Garnering CCBL 2001 Most Valuable Player honors (Pat Sorenti MVP Award) was Gatemen all-star outfielder Matt Murton (Georgia Tech). Murton, who flaunted his bat speed, smooth swing and raw power before Major League scouts at the Sprint PCS All-Star Game in Falmouth, wrapped up the season hitting .324 with 47 hits and a league-leading 28 RBI. He also collected 19 stolen bases and amassed a .399 on base percentage.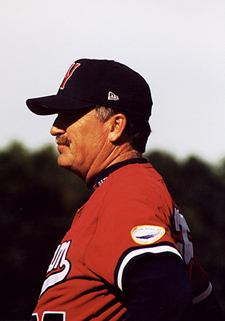 Wareham's Cooper Ferris picked up Manager of the Year honors after a 25-18-1 regular season.
Sean Walsh/CCBL 2001
Ahead of Murton in the hitting category was Wareham lead-off man Eric Reed (Texas A&M). Reed, who led the league with 61 hits and 29 runs scored, also swiped 19 bases on the season. More importantly, Reed hit .365 to garner the 2001 Thurman Munson Batting Champion Award. But Wareham was far from finished in collecting its hardware. Wareham gatemen first-year Manager Cooper Ferris was named the Mike Curran Manager of the Year after capturing the regular-season West Division Crown with a 25-18-1 record. Miami of Ohio lefty Chris Leonard, who started the all-star game for the West Division squad, picked up the 2001 B.F.C. Whitehouse Outstanding Pitcher of the Year Award. Leonard went 6-0 on the season with 0.98 ERA (tops among starting hurlers) and struck out 64 in 55 innings of work. And while fellow all-star Ben Crockett (Harvard) went a deceptive 1-6 on the season, he nevertheless struck out 75 in 59.1 innings pitched and walked just nine. He finished the regular season with a 1.67 ERA ans was thus named the first-ever recipient of the John Claffey Memorial New England Player of the Year Award. The recipient of the Manny Robello 10th Player Award will be announced prior to the start of the Chatham-Y-D game at 3 p.m. at Red Wilson Field.

Wareham's Chris Leonard (Miami of Ohio) picked up CCBL Pitcher of the Year honors after a 6-0 record and 0.98 ERA.
Sean Walsh/CCBL 2001


Gatemen lead-off man Eric Reed (Texas A&M) won the CCBL Batting Crown with a .365 average.
Sean Walsh/CCBL 2001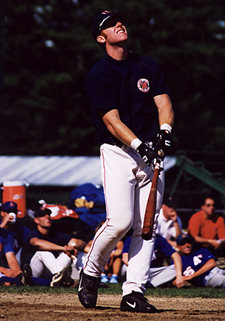 Wareham's Matt Murton (Georgia Tech) was named the 2001 Cape League MVP.
Sean Walsh/CCBL 2001
-- Sean Walsh