News
08/08/2001 12:12 PM
Article By:
This week in Baseball
Division Playoffs
8 August 2001
A's To Square Off Versus Gatemen
For CCBL Championship Title

YARMOUTH - When the pitching is as good as it has been the past two days in the Cape League Divisional Playoff Series, scoring runs means getting men on base and moving them around any way a team can.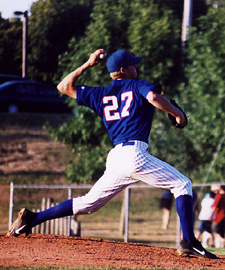 Chatham southpaw Rich Hill (Michigan) notched the win versus Y-D as the Amazing A's head to tonight's Championship Series at Wareham at 7 p.m.
Sean Walsh/CCBL 2001

Stagnant but in the lead, 2-1, versus the host Yarmouth-Dennis Red Sox, the Chatham A's finally got to the hard-throwing Isaac Pavlik (Seton Hall) in the top of the eighth inning, picking up three runs and a lead the Lower Cape nine would not relinquish. Ahead by four runs heading into the bottom of the ninth, 5-1, the A's gave the nod to righty closer Zane Carlson (Baylor) who got Hyung Cho (Houston) to ground out before striking out Ryan Klocksein (Kansas) and Brian Hall (Stanford) to retire the side and capture the East Division Playoff Title.

But it was Michigan lefty Rich Hill who struck out five, walked one and allowed just one run in 5 2/3 innings pitched who held the Y-D bats at bay for the large portion of the second and last game in the best-out-of-three series. It was also Hill who picked up the win. Michigan teammate, right-hander Jim Brauer, went 2 1/3 innings and allowed two runs. Brauer notched the loss for the Red Sox, gave up eight hits, walked one and struck out four. All totaled, Y-D collected six hits off Hill, David Bush (Wake Forest) and Carlson, while Chatham racked up 13 hits off Brauer, Pavlik and J.D Wilcox who tossed a perfect ninth. Second-year A's outfielder Kris Cox (Ole Miss) was 3-5 with two runs scored and one stolen base. A's right fielder Bobby Malek (Michigan State) went 2-4 with a double. Klocksein had a double for the Red Sox.
There were 2,159 fans in attendance for the 3 p.m. game at Merrill "Red" Wilson Field.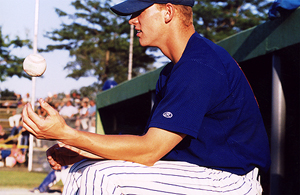 Chatham A's catcher Luke Carlin (Northeastern) takes a mid-inning breather and went 3-4 in game one versus Y-D.
Sean Walsh/CCBL 2001

The Chatham A's face the Wareham Gatemen tonight (Aug. 9) at Clem Spillane Field in downtown Wareham at 7 p.m. for the first game in the best-of-three Cape League Title Series. Game two will be Friday night in Chatham at Veterans Field, also at 7 p.m. Should the two teams split the first two games, the third and last game of the 2001 Cape League season will be played at Wareham at 7 p.m., Saturday, Aug. 11.

But things weren't looking so great for the Gatemen for nine innings of play Wednesday (Aug. 8) afternoon at Coady Field, home of the Bourne Braves.
Staked with a 1-0 lead in the bottom of the first inning after a two-out solo shot by first baseman Chad Oliva (Jacksonville), Bourne seemed poised for redemption following the prior evening's 3-0 loss to the Gatemen in Game One of the West Division Playoffs.

Braves' righty Mike Dennison (Wichita State) - who pitched all nine innings - had stellar control through out the affair, striking out nine and walking just one batter in the top of the ninth. All totaled, Wareham mustered just five hits compared to 11 the night before. Heading into the top of the ninth, Dennison had thrown an amazingly low 89 pitches. He had a 1-0 lead.

The first batter in the ninth to face Dennison was CCBL MVP Matt Murton (Georgia Tech), who up to that point was 0-3 on the afternoon. Murton singled and advanced to second on a passed ball by Oliva. Oliva had to switch to catcher after Braves backstop Kenny Riley (Arizona) was injured sliding earlier in the game. With Murton in scoring position, Dennison bore down and struck out all-star infielder Aaron Hill (LSU). He then got first baseman Mike Huggins to pop it up to the right fielder. Two down, one to go.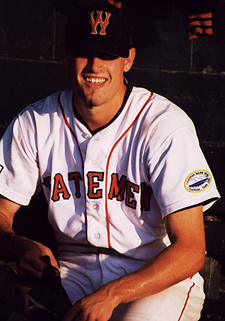 Wareham righty closer Pat Neshek (Butler) was pure money in West Division Playoff games one and two.
Sean Walsh/CCBL 2001

Pinch-hitting for Tyler Parker (Georgia Tech) Miami of Ohio's Russ Bayer then walked to put the potential go ahead run on first base. With runners on first and second and two outs, Dennison turned to attempt a pick-off on Murton at second base only to watch his throw sail into centerfield. Both runners advanced and were in scoring position.

Third baseman Mike Galloway (Central Michigan) then stepped into the batter's box. All eyes in the crowd of 1,107 were upon him. Having suffered a separated shoulder taking batting practice early in the season in June, Galloway had gone through intense rehab to come back to play for Wareham just weeks later. In his first game back in July, the St. Thomas, Ontario native suffered the same injury again while batting during a game. Last night at Clem Spillane Field, Galloway made what very well may have been the best catch by a Cape League infielder of the summer when he leaped a good four feet in the air to snare a frozen rope hit down the line by Oliva.

In essence, Galloway had hero written all over him and for the Wareham nine, it was Galloway who produced once again. With just four hits amongst the entire Wareham line-up through 8 2/3 innings, Galloway stroked a single up the middle to bring home Murton and pinch runner Mark Mager (Harvard) and make the score, 2-1, Wareham.

Facing righty relief ace Pat Neshek (Butler), the Braves posted two outs before putting two men on the bottom of the ninth, but it was too little, too late as first baseman Andy Jarvis put one in the air to centerfield to end it and give Wareham bragging rights to the West Division Playoff Crown.

Pitching brilliantly through eight complete innings for the Gatemen was CCBL Pitcher of the Year Chris Leonard (Miami of Ohio) who struck out nine and walked just two. Leonard allowed one earned run (solo home run) and scattered four hits total. Neshek picked up the save, his second in two days.
CCBL Divisional Playoffs Notebook
-- Prior to the start of Game Two in the East Division Playoffs at Red Wilson Field, Y-D Red Sox all-star outfielder Adam Bourassa (Kishwaukee) was honored as the recipient of the 2001 Manny Robello 10th Player Award. First signed to play for the Sox as a temporary player, Bourassa earned his way into the Y-D starting line-up by June 25 and one month later found himself on the East Division all-star team. Bourassa would make the most of the chances given him, going 2-5 in the all-star game and over the course of 44 games played during the regular season for the Red Sox, committed just one error. The left-handed hitter collected 42 hits total on the summer, batting .282 with six stolen bases in eight attempts.
-- A Bourne Braves' fan was struck in the face with a sharp line drive foul in the late innings of Tuesday night's first game in the West Division Playoffs. She suffered a fractured cheekbone and was taken by ambulance to the hospital.
-- In two games played, Wareham scored five runs while Bourne scored one, while Chatham scored 10 runs to Y-D's two. In four playoff games total, there were 34 strikeouts and 30 hits between four teams.
-- Bourne Braves righty Mike Dennison was the only CCBL pitcher in the Divisional Playoffs to hurl a complete game. Ironically, Dennison's stellar effort - nine Ks, one walk - went for a loss.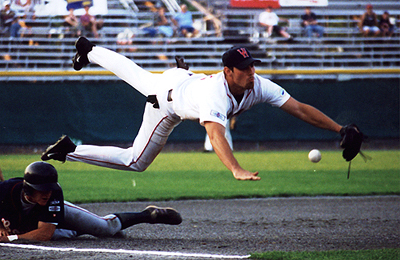 Wareham third baseman Mike Galloway (Central Michigan) leaps to knock down a throw from the outfield as Bourne's Brian Anderson (Arizona) slides in safely in Game One of the West Division Playoffs. Sean Walsh/CCBL 2001
-- Sean Walsh