News
08/11/2001 12:08 PM
Article By:
This week in Baseball
Championship Series
11 August 2001
Chatham Takes Championship Series to the Wire

CHATHAM - Neither the rain nor the one-game suspension of their manager could hold back the Chatham A's from fighting to the finish and pulling out a huge win in Game Two of the 2001 Cape League Championship Series. The final score: Chatham 2, Wareham 1.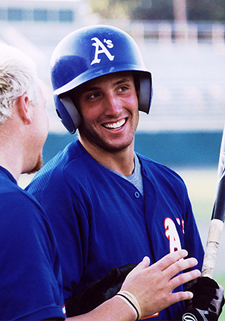 Chatham A's slugger Bobby Malek (Michigan State) had plenty to smile about in Game Two of the CCBL Championships Series after he belted a solo home run to tie the game.
Sean Walsh/CCBL 2001

The Chatham victory means a third and final game in the best-of-three series, scheduled to be held at 5 p.m. tonight, Sunday, Aug. 12, at Clem Spillane Field in downtown Wareham. With the series now even at one apiece (1-1), the winner of tomorrow's game will be crowned the 2001 Cape League Champion.

Although the Gatemen collected five hits to Chatham's four and had several chances throughout the game to tie it, the A's had but one opportunity to go ahead and made the most of it.

Down 1-0 in the bottom of the second inning, A's right fielder Bobby Malek (Michigan State) drilled a lead-off home run onto the hill in right field to knot the score at 1-1. A's third baseman Mike Moon (USC) then ripped the first pitch thrown to him by Wareham righty Clark Girardeau (South Alabama) for a single. Moved over to second base by Karl Nonemaker (Vanderbilt), Moon then scored on an RBI-single by catcher John Schneider (Delaware). The A's would have but one more base runner for the entire remainder of the game.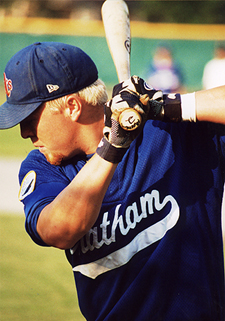 Chatham A's third baseman Mike Moon, seen here getting loose before Game One of the 2001 CCBL Championship Series at Wareham, hit a single in the second inning and would eventually score the game-winning run on John Schneider's basehit.
Sean Walsh/CCBL 2001

Girardeau, who had a 1-2-3 inning in the first, would wind up striking out nine batters, walking none and retired the side in succession in the third, fourth, fifth, sixth and eighth innings. Nonemaker's single in the bottom of the seventh was Chatham's sole base runner in innings three through eight.

Chatham's pitching was not much less than Girardeau's stellar display.
Starting pitcher and game winner Frasier Dizard (USC) may have given up two hits, one run and a walk in the top of the first inning, but he also struck out three batters. He would allow one more walk but strike out a total of eight batters in 6 2/3 innings pitched. Wareham stranded runners on base in the second, sixth and seventh innings and in the latter two frames, left men in scoring position. The best opportunity Wareham had to tie the game came in the sixth when CCBL MVP Matt Murton (Georgia Tech) hit a single and advanced to second base on a throwing error. He then moved to third when Aaron Hill (LSU) struck out but had to be thrown out at first when the ball hit the dirt. Another low ball scooted by Schneider behind the plate but ricocheted perfectly off the backstop directly back to the catcher who underhanded it to Dizard who was covering the plate. Murton was called out to end the inning.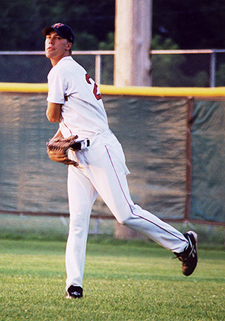 Wareham's Dave Murphy (Baylor), seen here in Game One of the 2001 CCBL Championship Series, made a brilliant, on-the-run diving catch in the first inning of Game Two to rob Chatham first baseman Ryan Johnson (Delaware) of a double.
Sean Walsh/CCBL 2001

In the seventh inning, Dizard rang up Wareham third baseman Mike Galloway (Central Michigan) for his third strike out of the evening and then gave up a single to right fielder Dave Murphy (Baylor). The hard-throwing Chatham ace David Bush (Wake Forest) then came in to close things out by getting lead-off man and CCBL batting champ Eric Reed (Texas A&M) to pop out to left field. In the top of the eighth, Bush retired the side in order. In the top of the ninth inning, A's closer Zane Carlson (Baylor) came in throwing gas but was almost too excited from the get-go and hit the lead-off man, Mike Huggins (Baylor). Miami of Ohio's Russ Bayer then stepped in to pinch hit for the struggling Galloway and hit a hot shot to second baseman Mike McCoy (San Diego). Sensing at the last second he would lose valuable time making a throw to second base, McCoy double clutched and tagged out Huggins, then threw to first for a clutch double play. Fired up, Carlson came full bore at Murphy and struck him out to gain the save and force a third and deciding game for the 2001 CCBL title.
Chatham Aces Pull off Hard-Throwing Trifecta - Frasier Dizard (USC) got the win for the A's and went 6 2/3 innings. He struck out eight, walked two, allowed one earned run and scattered a meager four hits. David Bush served as the set-up man, albeit the hardest-throwing middle reliever in recent Cape League memory, striking out one batter in 1 1/3 innings pitched. He also gave up one hit and walked one. Closer Zane Carlson (Baylor) hit one batter and struck out one for the save in one inning of work.

A Laudable Performance - Imagine giving up just four hits, striking out nine and walking none in eight innings of work and then losing the game. Well, that's precisely what happened to Gatemen starting righty Clark Girardeau (South Alabama) Saturday night at Veterans Field in Game Two of the 2001 CCBL Championship Series. All totaled, Girardeau faced just 27 batters in eight innings of work, while Wareham sent 34 men to the plate on the evening, facing three different pitchers.

Rumors Fly About Finishing the Series - Prior to the start of Game Two of the 2001 CCBL Championship Series, players were abuzz about the weather. Yes, with forecasts for rain for Sunday (Aug. 12) and Monday (Aug. 13), there was speculation that the league would offer Chatham and Wareham dual bragging rights to the 2001 Cape League crown. Immediately following Chatham's 2-1 victory, CCBL Commissioner Bob Stead, Wareham General Manager John Wylde, Chatham General Manager Charlie Thoms and field managers Cooper Farris and John Schiffner convened an impromptu meeting at home plate to discuss what to do about the third and final game of the title series. Ultimately, it was decided to play the final game at 5 p.m. at Spillane Field.

One-Hit Wonders? - Due to some incredibly stingy pitching from both sides, there was not one multiple-hit batsman from either the Chatham or Wareham squads in Game Two and only one extra-base hit from Bobby Malek (Michigan State), a solo shot in the second inning.

Sean Walsh/CCBL 2001