News
08/16/2001 11:39 AM
Article By:
For immediate release: 16 August, 2001

Baseball America's 2001 Top 30 Prospects
from the Cape Cod Baseball League

CHICAGO--In what was unmistakably a pitcher's year in the Cape Cod League, a relatively unheralded position player emerged as the premier summer league's top pro prospect.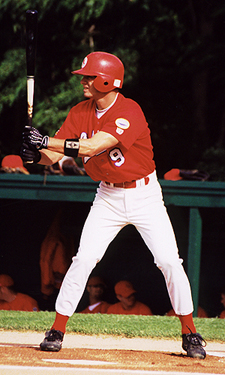 Orleans Cardinals second baseman Russ Adams (UNC) was named the Cape League's Top Prop Prospect by Major League scouts and this week, by Baseball America.
Sean Walsh/CCBL 2001
While the league as a whole established new records for ERA (2.69), lowest batting average (.224) and strikeouts (3,604), Orleans second baseman Russ Adams shone brighter than any pitcher. He hit .281-2-12 in 171 at-bats and tied for the league lead with 23 steals.

Baseball America surveyed the league's 10 managers, and nine of them raved about Adams' tools and desire. He also won the Cape's outstanding prospect award, voted on by pro scouts.

If the Cape League is any indication, the Atlantic Coast Conference could be loaded in 2002. In addition to Adams, Wake Forest righthander David Bush, Georgia Tech outfielder Matt Murton and Duke first baseman Larry Broadway all ranked among the five best prospects.

1. Russ Adams, 2b, Orleans (North Carolina). Adams doesn't seem to be cut from the same mold as Mark Mulder, Mark Teixeira, Matt McClendon and Todd Linden--BA's choices as the Cape's best prospect in the each of the last four years. But he's not lacking in tools and gets the most out of his skills.
Speed is his biggest asset, and he uses it to his advantage offensively and defensively. He works counts, gets on base and puts the ball in play with hard contact. He played some shortstop this summer but projects as a second baseman as a pro. He's a quicker, more athletic version of former Georgia Tech second baseman and former Cape Leaguer Rich Lewis, a supplemental first-round pick by the Braves in June.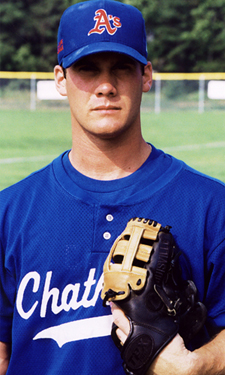 Number two prospect David Bush (Wake Forest) of the Chatham A's.
Sean Walsh/CCBL 2001
2. David Bush, rhp, Chatham (Wake Forest). A fourth-round pick of the Devil Rays, Bush definitely boosted his stock this summer, whether he signs or returns for his senior season at Wake. Hyannis Mets manager and former Cape League all-star pitcher Mike Juhl (SUNY-New Paltz) said Bush had the best arm in the league by far, and when Bush struck out Falmouth's Jarrod Schmidt (Clemson) with a wicked slider in the all-star game, Yarmouth-Dennis manager Scott Pickler cracked, "Three guys in the dugout buckled too." Bush's mid-90s fastball, slider, command and poise give him big league closer potential. He overpowered Cape hitters with a 0.34 ERA and 35-3 strikeout-walk ratio in 27 innings.

3. Matt Murton, of, Wareham (Georgia Tech). A 2001 Freshman All-American, Murton added the league MVP award, RBI title and a Cape championship to his resume. He batted .324 and stole 19 bases in as many attempts, showing fine speed for a 6-foot-1, 215-pounder.

His short, direct stroke is tailor-made for wood, and he'll develop more power. Murton wowed the 3,500-plus fans and 75 Major League Scouts at the July 21 Sprint PCS All-Star Game in Falmouth when he crushed four consecutive home runs and seven total in 10 swings in the home run hitting contest. His only below-average tool is arm strength.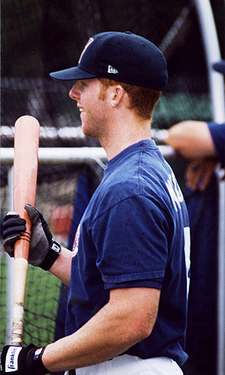 Third top prospect Matt Murton (Georgia Tech), CCBL MVP.
Sean Walsh/CCBL 2001
4. Chris Leonard, lhp, Wareham (Miami, Ohio). College baseball's other Miami produced the Cape's pitcher of the year. Leonard went 6-0, 0.98, leading the league in wins and ERA. He doesn't have big-time velocity, but his pitches get on hitters quick because he has a smooth, deceptive delivery. His fastball, curve and changeup are all solid, and he throws them for strikes at will.

5. Larry Broadway, 1b, Orleans (Duke). Orleans manager Don Norris said Broadway showed more batting-practice power than Teixeira did as a Cardinal two years ago. Broadway, who finished second in the league in homers (six) and RBIs (27), had the best power potential on the Cape. He covers the plate well, stays back on offspeed pitches and makes adjustments. He's also a slick first baseman. Named the MVP and Home Run Hitting Champion of the CCBL Vs. NECBL Game on July 28 in Keene, NH.

6. Joe Blanton, rhp, Bourne (Kentucky). Blanton didn't resemble the pitcher who went 3-5, 5.62 for the Wildcats this spring. Showing a fastball that reached 95 mph and a power, 12-to-6 curveball, he ranked with Bush as the best pure arm in the league. Blanton led all Cape pitchers in strikeouts (77) and innings (68) and led the Braves to the playoffs.

7. Joe Saunders, lhp, Harwich (Virginia Tech). Saunders is similar to Leonard, though his stuff isn't quite as good. He usually pitches at 87-88 mph, though he's projectable at 6-foot-3 and 190 pounds and isn't afraid to challenge hitters inside. He throws his fastball, curve and changeup for strikes and is tough to run on.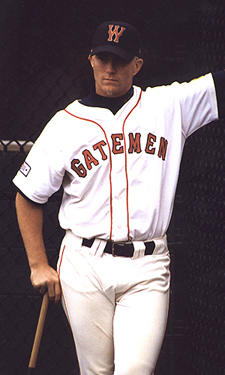 Wareham ace Chris Leonard (Miami, OH) ranked as the fourth best CCBL propsect.
Sean Walsh/CCBL 2001
8. Ben Crockett, rhp, Wareham (Harvard). The 2000 Cape co-pitcher of the year, Crockett was projected as a possible Ivy League first-rounder. When he went in the 10th round to the Red Sox (308th overall), he decided to return to the Wareham Gatemen for the 2001 CCBL season. He pitched to both corners with an 89-92 mph fastball, setting up hitters for his nasty slurve. Crockett's league-high six losses were misleading, as he had a 1.67 ERA and a 74-9 strikeout-walk ratio in 59 innings.

9. Aaron Hill, 3b, Wareham (Louisiana State). A year ago, LSU infielders Mike Fontenot and Ryan Theriot starred for the Gatemen. This summer it was Hill, and he hit .400 in the playoffs to earn Playoff MVP honors. Managers see him more as a second baseman as a pro, though they liked his line-drive approach and gap power at the plate. His arm and speed are also solid average tools.

10. Chadd Blasko, rhp, Cotuit (Purdue). Blasko is still a work in progress, but his potential is obvious. While he needs to add strength to a 6-foot-6, 205-pound frame, he already throws 93-95 mph and can get his curveball and slider over for strikes.

11. Jason Perry, 1b, Hyannis (Georgia Tech). While Hyannis' Jack McKeon Field is not the best home run park on the Cape, Perry nevertheless led the league in homers (eight), extra-base hits (17) and slugging (.538). He has a short stroke, can drive the ball where it's pitched and has no trouble as a lefty hitter versus lefty pitchers. Was named to the CCBL All-Star Final Team.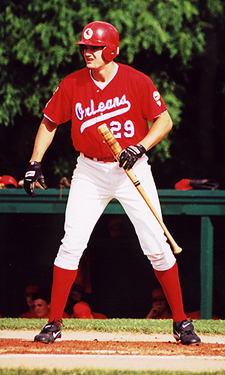 Big Larry Broadway (Duke) was this summer's fifth top prospect.
Sean Walsh/CCBL 2001
12. Casey Shumaker, rhp, Bourne (Jacksonville). Shumaker topped NCAA Division I with 14.0 strikeouts per nine innings this spring, and would have been an early-round pick if his bonus demands hadn't scared teams away. After the Pirates took him in the 23rd round, he took his low-90s sinker and tremendous slider to the Cape. Despite battling tonsilitis, he had no trouble converting from relieving to starting.

13. Daniel Moore, lhp, Chatham (North Carolina). Moore went 5-2, 1.02, yet the consensus is that he's only starting to scratch the surface of his potential. He's a 6-foot-6 lefthander who's still growing into his body. With little effort, he throws a lively fastball that touches the low 90s, and his breaking ball also will be a plus pitch. He's very projectable and effective with what he has.

14. Justin Maureau, lhp, Falmouth (Wichita State). At 6 feet and 175 pounds, Maureau doesn't look intimidating. But he has plenty of stuff, including a low-90s fastball he can run to either side of the plate, a slurve-curveball that's his out pitch and a changeup. He made hitters look bad all summer.

15. Steven White, rhp, Falmouth (Baylor). White flashed an overpowering slider in his first Cape start of the summer, but his breaking ball wasn't as good afterward. That didn't matter much, as he threw in the low 90s and showed a changeup and command that were better than advertised. He's also eminently projectable at 6-foot-5, 205 pounds.

16. Matt Brown, rhp, Bourne (California). Bourne didn't need Shumaker in the bullpen because it had Ryan Speier, who set a league record for saves, as its closer and Brown as its primary setup man. He's huge (6-foot-5, 240 pounds) and has a pause in his delivery that makes him even more disconcerting to hitters. He throws everything on a downward plane, including a fastball that reaches 95 mph and a hard curve.

17. Chris Hamblen, c, Brewster (Cincinnati). Hamblen has made a full recovery since missing all of 2000 because of Tommy John surgery. He was the consensus best catcher on the Cape, and he was also athletic enough to handle the outfield. A switch-hitter, he also showed some offensive promise despite hitting .232. The Giants drafted him in the 35th round as a sophomore-eligible.

18. Hunter Brown, 3b, Falmouth (Rice). Four of the 10 managers used the same word to describe Brown: "Solid." He doesn't have a standout tool, but he can hit for average, drive the ball in the gaps and get the job done defensively at second or third base. The Padres took him in the 31st round, though he's expected to return for his senior year at Rice.

19. Tyler Parker, c, Wareham (Georgia Tech). Parker had a breakthrough summer in 2000, ranking third on this list, but his reviews were mixed a year later. His proponents still admired his catch-and-throw skills, as well as his power. His detractors thought he had bulked up too much, slowing down his bat and messing up his arm action. Parker batted .214 and didn't go deep all season.

20. Trevor Hutchinson, rhp, Orleans (California). At one point during the spring, Hutchinson projected as a possible first-round pick, but he tailed off and lasted until the Mets took him in the 20th round. His body (6-foot-5, 225 pounds) is more impressive than his velocity, though he has an average fastball, a late-breaking slider hitters can't resist and command. He's more of a pitcher than his older brother Chad, who's in the St. Louis system.

21. Drew Meyer, ss, Chatham (South Carolina). Meyer ranked 14th a year ago despite hitting .214, and managers still respect him after he hit .192 without a homer in 2001. "He's as good a defensive shortstop as I've seen up here," Y-D Red Sox Manager Scott Pickler said. "Defensively, he can play anywhere at any level." Meyer had the best infield arm on the Cape to go with great instincts and average speed. He has the tools to hit and hit for power, but it just hasn't happened yet with wood.

22. Kyle Sleeth, rhp, Cotuit (Wake Forest). With a 6-foot-5, 175-pound frame at age 19, Sleeth may have been the league's most projectable pitcher. And like Moore, the current version isn't too bad itself. Sleeth throws a 90-92 mph fastball and a plus slider with nice mechanics and command.

23. Luke Robertson, rhp, Kansas State. Though Robertson wasn't drafted after his junior season, he definitely has pro potential. While his fastball is average at best, his curveball and changeup are plus pitches. He has a strong body (6-foot-4, 220 pounds) and fine control.

24. Ryan Barthelemy, 3b, Hyannis (Florida State). Another junior who wasn't drafted, Barthelemy turned down a free-agent offer from the Cardinals, who wanted him to catch, which he ended up trying and liking near the end of the 2001 CCBL season. Reports are mixed on whether he can play third as a pro after being mainly a first baseman at Florida State, though he's a decent athlete for a 6-foot-3, 225-pounder. There were fewer doubts about his bat. Barthelemy ended the summer with his second consecutive finish amid the league batting leaders in the league while playing 10 less games than his counterparts. A two-time CCBL all-star.

25. Brad David, lhp, Brewster (Louisiana State). The Whitecaps pitching staff included Southern California's Chad Clark and South Florida's Ryan Gloger, both of whom made this list in 2000, as well as UCLA's Mike Davern, who throws 93 mph. But it was David, who was not drafted in June as an eligible sophomore, who impressed managers the most. As a co-closer, he overmatched hitters with a lively fastball and a plus curveball. He declined a free-agent contract from the Braves.

26. Jarrod Schmidt, 1b, Falmouth (Clemson). Opinion was divided on Schmidt, a two-way player at Clemson who was learning to play catcher. Some managers said he has a quick bat with power-he hit .292, good for seventh on the Cape-and a strong arm. Others said he had too many holes in his swing and could be had with good fastballs inside, plus they wondered if there was a position that suited him.

27. Matt Lynch, lhp, Harwich (Florida State). Lynch's 63-8 strikeout-walk ratio testifies to his command of three pitches, including a fastball that can top 90 on a good day and a curveball that eats up lefthanders. He easily throws strikes from a variety of arm angles. Lynch has a square sort of body (6-foot-1, 190 pounds) that doesn't fit a classic pro prototype, but that hasn't held him back.

28. Brandon Luna, rhp, Yarmouth-Dennis (Auburn, signed with Rangers). Sidearming relievers were in vogue on the Cape. Luna signed with the Rangers for $75,000 and Bourne's Speier, who set the single-season save record with 16, agreed to terms with the Rockies, both of them as non-drafted free agents. Luna is the better prospect because he throws hard, in the high 80s from a low three-quarters angle or as hard as 92 mph when he comes over the top. He also has a tight slider and generates a lot of movement on both pitches. Managers who had seen Luna at Auburn credited Pickler with straightening out his mechanics.

29. Tila Reynolds, ss, Yarmouth-Dennis (Washington). The Huskies had three players who intrigued managers. Orleans outfielder Tyler Davidson had the best body (6-foot-4, 245 pounds) on the Cape, while Brewster outfielder Jay Garthwaite was one of the top power hitters. Reynolds showed plenty of flair at shortstop, where he ranked behind only Meyer as a defender. He's also improving as a hitter and has average speed.

30. Steve Ponder, lhp, Yarmouth-Dennis (Texas A&M). Boston drafted Ponder in the 28th round in June, two years after making lefty Casey Fossum a first-round pick out of Texas A&M. Ponder has some similarities to Fossum, as he's short (6 feet) has an average fastball and lives off his breaking pitch (a curveball). He added more movement to his pitches when he raised his arm angle to a high three-quarters slot.

-- Jim Callis, Baseball America,
with additional statistics added by Sean Walsh/CCBL Editor