News
08/19/2001 11:38 AM
Article By:
for immediate release: 19 August, 2001
Kerrigan Takes Boston Red Sox Helm

Boston - Former Cape League righty Joe Kerrigan, the longtime pitching coach for the Boston Red Sox, was hired as manager of the Major League Baseball club this week after Boston Red Sox General Manager Dan Duquette fired manager Jimy Williams with a little over a month to go in the season. Williams had been manager of the Bosox for five seasons.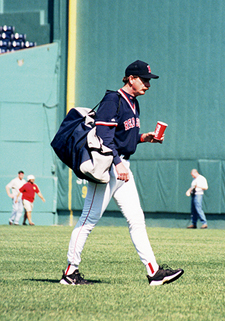 Newly appointed Boston Red Sox Manager Joe Kerrigan got his first taste of Big League pressure in 1972 as an Orleans Cardinals relief man.
Sean Walsh/CCBL File Photo

Kerrigan pitched for the Orleans Cardinals in 1972, throwing from the bullpen in relief. That season, Kerrigan went seven innings, scattering five hits, walked two and struck out five batters. He notched one save in his Cape Cod Baseball League career.

Kerrigan was a teammate that summer of Ace Adams, the former Falmouth Commodores Field Manager. It was also the summer that Cape Cod Baseball League Hall of Famer Mike Flanagan made an indelible mark, eventually going on to pitch his entire Major League career (18 seasons) with the Baltimore Orioles. Adams played three summers in the Cape League, one each for Orleans, Cotuit and Falmouth.

Kerrigan, much loved by Red Sox fans and well-respected throughout Major League Baseball as one of the top pitching coaches in the game today, is believed to be the first-ever former Cape League player to manage the Boston Red Sox. Other Cape Leaguers who have gone on to manage Major League ballclubs include Bobby Valentine, Stump Merrill, Buck Showalter and Jim Riggleman.

-- Sean Walsh, with special thanks to Bruce Hack, Official CCBL Historian