News
08/27/2001 11:36 AM
Article By:
for immediate release: 27 August, 2001
Mets Hire New Field Manager

HYANNIS -- The Hyannis Mets will see a welcome and friendly face once again on Jack McKeon Field come the 2002 season, as two-year pitching coach Keith Stohr was named last week as the franchise's new manager.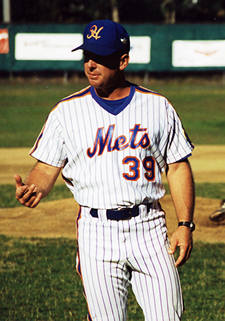 Hyannis Mets pitching coach Keith Stohr was promoted last week to Field Manager, while the Bourne Braves hired a new top dog for 2002. Sean Walsh/CCBL 2002


The Hyannis Athletic Association announced last week that the vote was unanimous to promote Stohr, but also said it will allow Stohr to maintain his responsibility over the increasingly popular and successful summer baseball camp sessions run at Hyannis West Elementary School.

Stohr replaces Mike Juhl (SUNY-New Paltz), who led the Mets to a 17-27 season in 2001.

For the past two seasons, Stohr served as top assistant and pitching coach for the Mets, including the 2000 season when Hyannis advanced to the Cape Cod Baseball League Championship Playoff Series before losing to Brewster.

Coach Stohr currently teaches physical education at Quashnet School in Mashpee, and is a training instructor at Frozen Ropes in Pocasset. Stohr served as assistant baseball coach at State University of New York (SUNY) at New Paltz from 1999-2000 and before that was an assistant coach at Duchess Community College.

Stohr was an associate scout for the Chicago White Sox in 1993 and for the Major League Scouting Bureau the following year. He attended Coastal Carolina University on a baseball scholarship and was invited to spring training for the White Sox in 1981.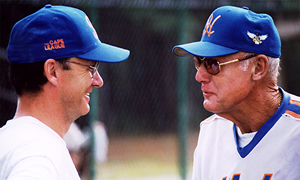 Hyannis Mets assistant coaches Joe Hardy (left) and Nick "The Greek" Siemasz will return to assist with the team next summer. Sean Walsh/CCBL 2001

Keith has an associate of arts degree, a bachelor of science degree and a masters degree in education. He lives year-round in Mashpee with his wife Paula and their three children. Stohr's daughter Olivia served as a batgirl for the Hyannis Mets last season.

Coaching with Stohr will be Scott DeGeorge from the Northwoods League. DeGeorge managed the St. Cloud (MN) Riverbats and took the Northwoods 2000 Championship title.

Also returning to the Mets next season will be longtime assistant coach Nick "The Greek" Siemasz and assistant coach Joe Hardy. Hardy pitched for the Y-D Red Sox under then manager now commissioner Bob Stead and has been with the Mets for four seasons, commuting from Boston for each practice and game.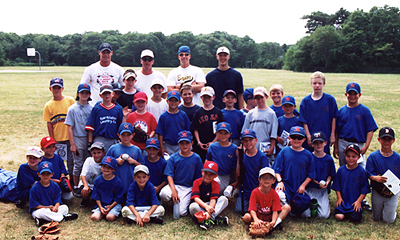 New Hyannis Mets Field Manager Keith Stohr (center) stands with 2001 Mets players and camp counselors Brian Stavisky (Note Dame), Tom Kandybowicz (Villanova) and Justin Taylor (Baylor) on the last day of Hyannis Mets Baseball Camp this summer. Sean Walsh/CCBL 2001

Sean Walsh/CCBL 2001, with thanks from John Garner