News
08/07/2002 12:52 PM
Article By:
This week in Baseball
7 August 2002


Y-D Red Sox Clinch Second Place and Playoff Berth
Cardinals to Host Red Sox, Kettleers Take on Gatemen

HYANNIS -- The Yarmouth-Dennis Red clinched second place in the Eastern Division last night, wrapping up the sole remaining playoff berth in the CCBL and pitting the Sox versus the Orleans Cardinals in game one of the Eastern Divisional Playoffs, Thursday, Aug. 8 at Eldredge Park in Orleans.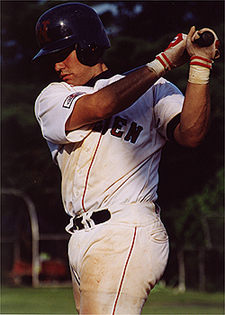 Wareham Gatemen catcher Mike Nickeas (Georgia Tech) will be counted upon to help the Wareham Gatemen in the playoffs' opener versus Cotuit at 3 p.m. Thursday, Aug. 8 at Lowell Park.
Sean Walsh/CCBL 2002

The Wareham Gatemen head to Elizabeth Lowell Park for game one in the West, starting at 3 p.m., also on Thursday, Aug. 8.

Field Manager Scott Pickler's crew went about clinching second place in an odd sort of way, though, falling to the Hyannis Mets at John McKeon Field in Hyannis, 7-4 in what turned out to be a tempestuous game. Pickler, in an attempt to cool off Y-D Michael Bourn (Houston) in an argued out call at first base, was ejected from the game, as was Bourn. Regardless, the Brewster Whitecaps fell to the visiting Harwich Mariners, 8-1, at Cape Cod Regional Technical High School, thereby eliminating Y-D's need to beat Hyannis. Tied with Brewster for second place on Sunday night (Aug. 4), The Red Sox picked up the only point in the standings they would need in a 6-6 tie versus Falmouth on Monday (Aug. 5) night at Red Wilson Field. The tie gave Y-D 45 points on the regular season, while Brewster had 44 points going into tonight's tete-a-tete with Harwich.

The Cotuit Kettleers clinched first place in the West last week and simply had to ride out the last five regular season games. Wareham clinched second place in the West on Saturday (Aug. 3) versus Bourne. Wareham took on Bourne at home last night for the Braves' final regular season game, while Cotuit headed for Falmouth. Orleans hosted Chatham. All three games were played late and final scores were not immediately available. None of the three late games bore any consequences on the division standings.

Should two of the four teams in the playoffs sweep their opponent in two games (Aug. 8 & 9), the CCBL Championship Series will begin on Saturday. The Championships are slated to begin Sunday evening in the event teams split games in the division playoffs.

Should a third game be necessary in the division playoffs, Orleans and/or Cotuit will host. Times and field locations for the Championship series will be announced following the conclusion of the division playoffs.

Yarmouth-Dennis Red Sox all-star third baseman Brett Cooley (Houston) blocks the throw on a base theft by Wareham's Tim Moss (Texas) earlier this week at Spillane Field.
Sean Walsh/CCBL 2002


Can UNC flamethrower Garry Bakker and the Cotuit Kettleers return to their early season form in time to take on Wareham?
Sean Walsh/CCBL 2002

Texas A&M's Matt Farnum may be counted on to help lead the Y-D Red Sox in the playoffs, set to begin Thursday, Aug. 8.
Walsh/CCBL 2002

Orleans Cardinals all-star outfielder David Coffey (Georgia) plans on leading the way when the Red Birds take on the Y-D Red Sox Thursday night, Aug. 8. Walsh/CCBL 2002

-- Sean Walsh