News
00/00/0000 12:00 AM
Article By:
for immediate release: 12 May, 2003
Former CCBL Commissioner Fred Ebbett dies at age 70

CAPE COD, Mass. – CCBL Hall of Famer Oversaw Cape League's Switch Back to Wood Bats

Fred Ebbett, who served as served as commissioner of the Cape League for 13 years and championed the league's return to wood bats in the mid-1980's, passed away suddenly last Friday at age 70, following surgery.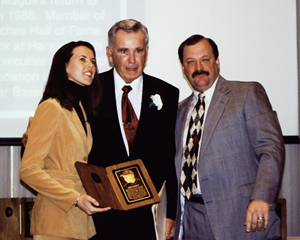 Fred Ebbett was inducted into the
Cape Cod Baseball League Hall of Fame
on January 19, 2002.
Sean Walsh/CCBL 2002

The personable Ebbett served as CCBL commissioner from 1984-96 and was a force behind the Cape League switching back from aluminum to wood bats in 1985, a move which helped catapult the CCBL as the premier summer baseball league in the country.

"Fred Ebbett was a true gentleman and oversaw league activities during a crucial time in its history," said CCBL commissioner Bob Stead. "He was a pleasure to work with and it was thrilling for all of us when he was inducted into the Cape League Hall of Fame. He will be sorely missed."
Before his stint as commissioner, Ebbett was field manager of the Harwich Mariners in 1971-72 and again in 1975-77, posting a won-lost record of 80-124-4.

In 2001, he was selected to the Cape Cod Baseball League Hall of Fame. He was also a member of the Curry College Hall of Fame and the Massachusetts Baseball Coaches Association Hall of Fame. "It's a very sad time for Fred's family and for all of us in the Cape League, " said Cape Cod Baseball League President Judy Walden Scarafile. "Fred touched so many lives. We will always remember his devotion to the Cape League and how much time and work he put into his passion for baseball. "He had the best outlook on life and always found the good in everything and everyone. It was an honor and a privilege to work with Fred during his 13 years as commissioner."

Ebbett is a former baseball coach, athletic director and vice principal at Harwich High School and was the first executive director of the National Association of College Summer Baseball. "I never met such a unique man as Fred Ebbett," said Harwich Mariners President Mary Henderson. "He was Mr. Harwich, through and through, and was just the nicest man to deal with. There will never be another one like him."

There will be a memorial service on July 13 on Whitehouse Field in Harwich. He leaves his wife Sheila and their four children, Christina, Fred Jr., Mariah and Kyle.


McAuley is top Div. III Player for Hyannis

One of the top Division III players bond for the Cape league this summer is Hyannis Mets outfielder A.J. McCauley of Guilford College. The speedy McAuley was named all-Conference for the third straight year, after batting a .420 (4th highest in school history) with a school record 71 hits, 11 doubles, 24 RBI, .471 OBP and 20-27 in stolen bases. Former NBA standouts ML Carr and Lloyd (World B.) Free are both Guilford alumni.

Mariners' Swindle, Happ and McCann Enjoy Solid Spring Seasons

Three Harwich Mariners players are enjoying excellent seasons for their respective college teams. RJ Swindle, a 6'3" left-handed pitcher, has notched 107 K's in 98 innings for Charleston Southern and has been named Big South Pitcher of the Week. Lefty hurler JA Happ of Northwestern was named national pitcher of the week, after being selected Big Ten Pitcher of the Week for the thrid time this season. Returning slugger Brad McCann has slugged nine home runs for Clemson and is one of the top third basemen in the ACC.

Free Agent Tryouts Slated for May 28 at Wareham

The annual Cape Cod Baseball League tryouts are scheduled for Wednesday, May 28 at Spillane Field in Wareham. Approximately 70 collegiate players will be invited to participate in the one-day tryout. Registration beings at 9 am and Coach Joe Walsh of Harvard will conduct a morning scrimmage with the players. For more information, contact John Wylde at 508-295-3956 or [email protected].

Hall of Fame Inductees to be Announced at First Pitch Brunch

The 2003 CCBL Hall of Fame class will be announced by league commissioner Bob Stead at The First Pitch Brunch, sponsored by The Ninety Nine Restaurant & Pub, held at their location on Rt. 28 in West Yarmouth, Sunday, June 8 beginning at 10 am. Each of the league's 10 field managers will give a brief preview of his 2003 team. Pete Sheppard of WEEI Radio (850 am)'s "The Big Show" in Boston will serve as master of ceremonies. The CCBL Hall of Fame exhibit is featured at Heritage Museums & Gardens in Sandwich, MA.

CCBL's Mass. License Plate Program

The Cape Cod Baseball League is establishing a Special Edition Massachusetts automobile license plate. The proposed CCBL License plate will honor the nation's premier NCAA-sanctioned summer baseball league that can trace its roots back to 1885. The Massachusetts Legislature requires a commitment and partial payment from 3000 individuals interested in obtaining a CCBL license plate in order to proceed with the approval process through the legislature. For more information, visit www.capecodbaseball.org/plate. Applications or further information is available by contacting Jim McGonigle at 508-385-6260 or e-mail [email protected].

Who's Hot and Who's Not – Cape League Alumni

AL – Boston Red Sox infielder Bill Mueller (Bourne '92)'s home run vs. the Twins Sunday on ESPN was his ninth straight game with an extra base hit – the longest such streak since Butch Hobson's in 1977. Jeremy Giambi (Bourne '94) went 4-for-4 with two HR as the Red Sox lost a 9-8 slugfest to the Twins. Doug Mirabelli ((Hyannis '90)'s RBI double led the Red Sox to a 6-5 win over the Twins on Saturday. Todd Walker (Brewster '92) hit a two-run homer, while Kevin Millar (Harwich '92) drove in a run with a sacrifice fly for the Red Sox…Mark Mulder (Bourne '97) hurled a three-hitter over eight innings with eight strikeouts to lead the Oakland A's to a 5-2 win over the New York Yankees. He is now 6-1 on the season…Catcher Brandon Inge (Bourne '97) broke out a long slump with the first two-homer game of his career, leading the Detroit Tigers to a 9-4 win over Baltimore last Wednesday…Eric Hinske (Hyannis '97) of Toronto leads the AL with 16 doubles, while Nomar Garciaparra (Orleans '93) of the Red Sox is fourth in runs scored (28).

NL – Kris Benson (Hyannis '94) pitched an eight-hitter over eight innings and struck out five to lead the Pittsburgh Pirates to a 5-4 win over the Diamondbacks. The hard-throwing right-hander is now 4-4…Aaron Boone (Orleans '93) slugged three home runs to lead the Cincinnati Reds to an 8-6 win over Cardinals. Last Wednesday, he hit his 7th home run of the season to lift the Reds to a 4-2 win over St. Louis. Boone went 7-for-14 with 5 HR and 7 RBI as the Reds got their first series sweep in the Great American Ball Park...Rich Aurilia (Hyannis '91) singled home the tie-breaking run in the 9th inning to lead the SF Giants to a 3-2 win over the Marlins…Jeff Bagwell (Chatham '87-88) of the Houston Astros is second in the NL with 11 HR, while Mike Lowell (Chatham '94) and Boone rank third in homers (10). Todd Helton (Orleans '94) of the Colorado Rockies leads in runs scored (34) and is third in RBI (31)… Billy Wagner (Brewster '92) registered his eighth save in Houston's 10-7 win over the Phillies. The Astros' Craig Biggio (Yarmouth-Dennis '86) collected two hits including his 8th double, while Pat Burrell (Hyannis '98) hit his 6th HR.

John Garner, Jr.
CCBL Director of Public Relations & Broadcasting
(508) 790-0394
[email protected]