News
07/14/2003 9:47 AM
Article By:
for immediate release: 14 July, 2003
Perry Barber Becomes First Female Umpire in Cape League History

CAPE COD, Mass. – Another piece of history will be sliced from the 119-year- old Cape Cod Baseball League tonight (Monday) when Perry Barber becomes the first female in history to umpire a league game.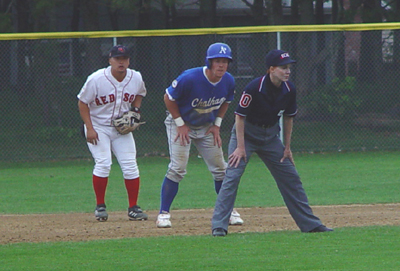 Perry Barber became the first woman to umpire in a Cape League game.
CCBL/2003

Barber, a native of New York City and a 12-year member of the NY-NJ chapter of the College Baseball Umpires Association (CBUA) will umpire the bases tonight at Yarmouth-Dennis and has a full slate of games this week on Cape Cod, including behind home plate Thursday at Y-D.

"I'm very excited to be on Cape Cod this week to umpire some games," said Barber, a supervisor in the independent Atlantic League. "I got my start in baseball because of my love for baseball trivia and gravitated to umpiring games."

Barber, who is the only female umpire currently officiating games in the Eastern College Athletic Conference (ECAC), has been assigned to games at Y-D tonight, at Cotuit Tuesday, at Brewster Wednesday, at Y-D Thursday, at Orleans Friday, at Chatham Saturday and at Brewster Sunday.

"We feel fortunate that Perry has been able to join us on the Cape this summer and umpire some games," said ECAC supervisor of baseball umpires Nick Zibelli. "We have another female umpire in Massachusetts who's working her way toward becoming a college baseball umpire."

Barber, who has the automobile license plate number, "Big Six" after legendary pitcher Christy Mathewson of the New York Giants, has entered and won several trivia contests in the New York City area. - John Garner, Jr -Director of Public Relations & Broadcasting

Bourne and Y-D continue to lead Cape League divisional races

Thanks to a team batting average (.264) that is 30 points higher than their nearest rival, the Yarmouth Dennis Red Sox still lead the Eastern Division with a 15-11 record – four points ahead of second place Brewster, Chatham and Orleans. The Red Sox boast three of the top six hitters in the league in Chris Malec (.345), Hyung Cho (.328) and Sean Gamble (.319), son of former Cleveland and Yankees' slugger Oscar Gamble. The strong-armed Bourne Braves sit atop the West Division with a 15-9 record and lead the second place Hyannis Mets by three points. Paced by Kyle Schmidt (1-0, 0.32) and Dennis Bigley (3-1, 0.64 ERA), the Braves boast the Cape League's best pitching staff with a team ERA of 1.74. They also boast one of the league top hitters in Justin Maxwell (.333 BA). Buoyed by the league's most potent offense, the Yarmouth-Dennis Red Sox lead the East Division by two points over Chatham. The Red Sox lead the league with a .252 batting avg. and 82 runs and are paced by slugger Chris Malec, who leads the CCBL in hitting (.375), slugging (.547) and on-base pct. (.449). Y-D has also posted the league's fifth lowest ERA (2.55). – John Garner, Jr., CCBL Director of Public Relations & Broadcasting

Memorial Service Held For Former Commissioner Fred Ebbett

A special memorial service for former CCBL Commissioner Fred Ebbett was held Sunday at Whitehouse Field in Harwich. Ebbett, who passed away in May at age 70, served as league commissioner for 13 years from 1984-96 and will be fondly remembered as the person most responsible for re-instituting wood bats to the Cape League in 1985. Friend and colleague Dick Sullivan presided over the ceremony as master of ceremonies. During Ebbett's memorial service at Whitehouse Field Sunday before a large gathering of family, friends and colleagues, several honors were bestowed on the late Cape League commissioner. The Cape Cod Baseball League has named its Lifetime Achievement Award after Fred Ebbett and that will be presented at the CCBL Hall of Fame Induction in November. The Harwich Mariners named their 10th Player Award after Fred and retired his old uniform number 17. They also presented a plaque, which will hang at Whitehouse Field in Ebbett's honor. The Ebbett family was presented with a specially inscribed Barnstable Bat and also with official league baseballs with Ebbett's name inscribed.– John Garner, Jr., CCBL Director of Public Relations & Broadcasting

Coca Cola Player and Pitcher of the Week

Orleans' Jonathan Zeringue is this week's Coca Cola Player of the Week. Zeringue did it all this week going 7-19 whacking three doubles and three homeruns. He also knocked in 12 runs and scored seven while slugging 1.000. Harwich's Justin Hedrick is this week's Coca Cola Pitcher of the Week. Hedrick stymied opposing hitters in his only start of the week going seven strong allowing only one hit and no runs while whiffing 11. –Gregory Feeley CCBL PR (508) 432-9786

List of Top CCBL Pitchers Littered with Braves

The pitching for Bourne continues to shine as four Braves are among the leagues leading pitchers. Kyle Schmidt (Georgia Tech) continues to lead all pitchers with his 0.32 ERA over 28 innings pitched. Schmidt is 1-0 and has 40 strikeouts. Eric Beatty (Tampa), Dennis Bigley (Oral Roberts), and Tim Grant (Dartmouth) also grace the list. Bourne as a staff leads the Cape league in record (15-9), ERA 1.79, homeruns allowed (3), and walks allowed (57) while giving up the third fewest hits (179). The Braves cling to first place as they could only manage two wins this week losing 3-1 at Hyannis Thursday and dropping another to Chatham 8-2, Saturday. Justin Maxwell (Maryland) continues to swing a hot bat to lead the Brave's offense. Maxwell went 3-5 in Friday's extra innings win at Wareham. Mike Butia (James Madison) added two hits of his own and knocked in the winning run in the 12th. Vince Bongiovanni (Miami) pitched six innings of shout-out relief picking up his second win of the season. Schmidt, who started the game, allowed his first earned run of the season. The game scheduled at Orleans for Wednesday, July 9, was postponed due to rain. The game will be played on Thursday, July 31 at 7 p.m. at Orleans. –Gregory Feeley CCBL PR (508) 432-9786

Y-D's Strong At Bats Lead Them To First in East

The Yarmouth-Dennis Red Sox lead the Eastern Division of the CCBL with a record of 15-11 due to their strong performances at the plate. Y-D holds the highest team batting average at .264. Chris Malec (Cal State Santa Barbara) slipped to second in batting with an average of .345. Malec has 12 runs, 29 hits, and two homeruns at 84 at-bats. Chris also has 11 RBI's on the season with a .417 on base percentage. Y-D's line-up holds two other top 10 hitters. At number four, Hyung Cho (Houston) has a .328 batting average, and holds the number one slugging percentage with a .578. In 64 at-bats, Cho has 12 runs, 21 hits and four homeruns. He has also belted in 18 RBI's, which stands second in the league. Clenching the sixth spot for hitters, Sean Gamble (Auburn) holds a .319 batting average with 69 at-bats, 18 runs, 22 hits, and a homerun. The speedy out-fielder holds a .440 on base percentage. Trevor Crowe (Arizona) hit his first homerun against Falmouth on Saturday, when Y-D defeated the Commodores 12-6. Crowe has two triples on the year with 18 runs, and a .404 on-base percentage. Jim Brauer (Michigan) is tied for first place in wins with four. Brauer is 4-1 on the season with a 1.15 ERA in 31 innings pitched. Fellow starter, Justin Keadle (Wake Forest), has struck out 40 batters in 35 innings pitched. Keadle is among the top five for innings pitched in the league. –Sarah Hinkley CCBL PR (508) 432-7288

Tucker and Jackson Pace Second Place Hyannis Mets

Leading the charge for the second place Hyannis Mets are hard-hitting second baseman Jonathan Tucker Florida) and lefty hurler Zach Jackson (Louisville). Tucker is fifth in the league in hitting (.326), second in hits (29) and stolen bases (90) and third in runs scored (16) and OBP (.406). Jackson is a perfect 4-0 with a 1.65 ERA, including an eight-inning, 3-1 win over Bourne last Thursday. Slugging outfielder Ben Harrison (Florida) is currently hitting .321 (9-28), while first baseman Ryan Baty (Kansas) is 10th in the league with a .308 batting avg. Outfielder Sam Fuld (Stanford) is hitting .283. A.J. Shappe (Cal-Riverside) is 3-0 with a 0.54 ERA, while Austin Tubb (S. Mississippi) is 0-1, with a 0.64 ERA and leads the league in saves (9) and appearances (15). – John Garner, Jr., CCBL Director of Public Relations & Broadcasting

Big Bats Lead Wareham

The Gatemen feature two of the leagues premier hitters in the top third of their order in Warner Jones (Vanderbilt) and Andy LaRoche (Grayson County). Jones who has hit safely in 10 straight games (21-45, 4 2B, 2 RBI, 2 SB) now leads the league in batting (.350) and hits (36). Jones had three multi-hit games this week going 3-5 in a 7-2 win over Yarmouth-Dennis Thursday, 3-6 in a 3-2 win over Bourne Friday, and 2-3 in a 2-1 loss at Brewster. LaRoche's .314 batting average places him in eighth among the league's leaders while his .535 slugging percentage is a mere .023 behind the league leader. In Thursday's win over Y-D, LaRoche went 2-3 with two runs scored and three RBI. He also notched his fifth round-tripper putting him tied for the league lead. Trey Taylor (Baylor) picked up his second win for the Gatemen pitching seven innings allowing only one earned run and striking out three Red Sox. Jeremy Sowers (Vanderbilt) still leads the league with 38 innings pitched and is second in strikeouts with 41, just one off the leader. The game scheduled at Cotuit for Wednesday, July 9, was postponed due to rain. The game will be played on Tuesday, July 15 at 5 p.m. at Cotuit. –Gregory Feeley CCBL PR (508) 432-9786

A Long Ball Affair

The Falmouth Commodores stand tenth in league pitching with a 3.57 ERA and tenth in batting with a .184 average placing Falmouth fifth in the Western Division. Falmouth's Joe Metropoulous (S. California) is currently third among home run leaders with five. Metropoulous proved wooden bats are easy to adjust to as he blasted his fifth home run of the season at Eldred Park against the Cardinals Thursday evening off Oklahoma's David Purcey. Last night the Commodores and the Red sox had quite the slugfest going as Falmouth drove six homers out of the park. Darryl Lawhorn (South Carolina) was the first to homer followed by Collin Mahoney soon after in the first. In the second Brent Johnson (UNLV) hit a two run homer with Ryan Ruiz on base. Mahony decided he wasn't done with another blast in the third with Lawhorn on base. Unfortunately even with six home runs, Y-D proved to go the distance as they came out on top with an 11-6 win. –Liz Logan CCPL PR (508) 945-9492

Cotuit

The Kettleers rallied back after dropping their first three games this week to knock off division rival Hyannis 8-7 Saturday. Cotuit tallied nine hits in the contest, two each coming off the bats of Clint Sammons (Georgia) and Blake Gill (LSU). Sammons added two RBI and scored a run. Gill knocked out his first homerun on season scoring, and batting in one run. Team batting average leader (.278) Zeke Parraz (Georgia) also drove in to runs and stole his fifth base of the season. Garry Bakker (North Carolina) combined with Eugene Espineli (Texas) and Michael Hyle (Georgia) to pitch 2 1/3 innings without allowing an earned run, to preserve the win for Cotuit. Hyle earned the win, his first of the season. Bakker is among the league's leaders in pitching with a record of 1-0, an ERA of 0.92 over 29 innings pitched and has struck-out 25.
The game scheduled at Cotuit for Wednesday, July 9, was postponed due to rain. The game will be played on Tuesday, July 15 at 5 p.m. at Cotuit. –Gregory Feeley CCBL PR (508) 432-9786

Orleans Battles Their Way to Second in the East

After a rough start, the Orleans Cardinals have taken over the second spot in the Eastern Division of the CCBL with a record of 13-12. Latecomer, Jon Zeringue (LSU) has helped Orleans win their last five out of nine games. Zeringue used his speed to help him belt four doubles and 17 hits. Aside from his speed, Jon shows he has a powerful swing with three homeruns and 11 runs, boosting his batting average to a .304. Zeringue isn't the only Cardinal with quick feet, infielder, Billy Lockin (Loyola Marmount) leads the league in stolen bases at 10. Infield teammate, Cesar Nicolas (Vanderbilt), has the second most doubles in the league with seven. Nicolas has 10 extra-base hits, which is tied for first in the league, and has 12 RBI's. Myron Leslie (Southern Florida) has six doubles and two homeruns with a batting average of .224. Aside from hitters, Orleans' roster holds the number two pitcher spot in the league. Will Startup (Georgia) has a 0-1 record with a low 0.39 ERA. Startup has thrown 23 innings and allowed 12 hits and stuck out 18 batters. Rhett James (Florida State) is among the four pitchers who are tied for most wins. James has four wins versus just one loss. Rhett has an impressive 42 strikeouts in 35.1 innings pitched. –Sarah Hinkley CCBL PR (508) 432-7288

Pritz Hits Second Televised Homerun

Bryan Pritz (Richmond) hit his second homerun of the season, both of which were nationally televised. College Sports Television covered last Sunday's Chatham victory over Brewster, when Pritz hit his second homerun. CSTV commentator, Jack Edwards, also interviewed Bryan for the second time after the game. Pritz has 20 hits on the season and 9 RBI's. Ben Ingold (Wake Forest) leads the league in RBI's. The third baseman has 19 RBI's so far this season. Ben has been the leader in RBI's all season long. Fellow infielder, Ryan Klosterman (Vanderbilt) has stolen nine bases, which is second to Lockin of Orleans. Glen Swanson's (UC-Irvine) tricky move to throw out runners trying to steal second has led him to a 4-1 record. Swanson has a 1.47 ERA in 30.2 innings pitched. He has only allowed six runs and stuck out 28 batters. Adam Yates (Ole Miss) has proven himself reliable out of the bullpen. The reliever is ranked fourth in pitching leaders with a 1-1 record and a low 0.44 ERA. Yates has pitched 20 innings and only allowed nine hits and three walks. Yates has stuck out 16 batters and threw two more scoreless innings against the Bourne Braves on Saturday. The win put Chatham in the third spot in the East, and helped their record to 13-12. –Sarah Hinkley CCBL PR (508) 432-7288

Brewster Looks to Santos in Close Games

Brewster's closer, Jarrett Santos (UNC Greensboro) holds the second most saves in the CCBL. Santos has saved seven games in his 14 appearances. Santos has pitched 20 innings with a 1.35 ERA, allowed only 10 hits and has stuck out 18 batters. Bret Butler (USC) still ranked among the top pitchers in the league, holds a record of 2-2 with a 0.75 ERA in 36 innings pitched. He has allowed 20 hits with 26 strikeouts. Matt Macri (Notre Dame) still leads the league in homeruns. The third baseman has hit five bombs on the year. Kyle Larsen (Washington) is back after missing the first part of the season due to a back injury. He has had 39 at-bats, and is hitting a .308 batting average. This power hitter has 12 hits, two of which were homeruns and two that were doubles. Larsen has run in six scores and helped his team with seven RBI's. The Whitecaps are placed fourth in the Eastern Division with an overall record of 13-13. –Sarah Hinkley CCBL PR (508) 432-7288

Hendrick, Van Note and Newman Shine for the Mariners

The Harwich Mariners stand eighth in league pitching with a 3.00 team ERA and eighth in batting with a .199 average placing Harwich fifth in the Eastern Division. Shannon Sprouse (Citadel) and Justin Hendrick (Northeastern) are both Cape League Leaders in pitching this week. Sprouse is currently fourth in league saves with five and Hendrick is fourth in league strikeouts with 38. Hendrick shined for the Mariners this week pitching seven innings of one-hit ball, retiring his last 16 batters as the Mariners took the 4-2 win over the Chatham A's Tuesday night. Hendrick (2-2) finished with 11 strikeouts while walking just two. Brad McCann (Clemson), Jeff Dragicevich (California), and Wyatt Toregas (Virginia Tech) also stepped up to the plate for the Mariners that night. McCann singled in the first and later added a double. Dragicevich singled twice with an RBI in the second. Toregas had an RBI double in the third and scored on a ground out to give the Mariners a 4-0 lead. Toregas also hit his first home run the night before against Y-D's Jordy Template (Louisiana). Two hits by Steve Van Note (Delaware) and Cory Newman (S. Illinois) proved to be all that mattered Thursday evening at Veterans Field as Harwich came out on top winning 3-0 over Chatham. Van Note sent a solo- home run over to left field giving him his second of the season. After a walk to Dragicevitch (California) Newman stepped to the plate and sent his first home run of the season right over the A's scoreboard giving the Mariners the game winning 3-0 lead. Three mariners were solid at the plate helping Harwich to get the 7-1 victory over Cotuit Friday. Chuck Jeroloman (Auburn) led the Mariners going 2-for-4 with four RBI's and two doubles. Brad McCann (Clemson) went 2-for-4 with one RBI and Auburns Tug Hulett went 2-for-5. –Liz Logan CCPL PR (508) 945-9492

Cape League Returns to Sandwich

For the second straight year, Fenton Field in Sandwich will host a Hyannis Mets home game, this time against the rival Cotuit Kettleers, Saturday, July 19 at 7 p.m. The Community Bank of Sandwich is the presenting sponsor and the game will be televised on Sandwich Community Access Television (SCAT) and Cape Cod Community Television (formerly C3TV).

Cape League on HBO

The Cape League and the Alaska Summer League were featured in this week's "On the Record with Bob Costas" on HBO. The show will be shown again Monday at 7 and Wednesday at 10 p.m.

Cool 102 Game at Orleans

The next Captain Parkers Cape Cod Baseball Game of the Week on Cool 102 (WCIB, 101.9 FM) will be tonight, Monday, July 14 at 7 p.m. Next week's game will be at Guv Fuller Field in Falmouth, Monday, July 21 at 7 p.m.
John Garner, Jr.
CCBL Director of Public Relations & Broadcasting
(508) 790-0394 [email protected]

Close Window