News
08/06/2003 3:11 PM
Article By:
This week in Baseball
6 August 2003
Maxwell Shines On and Off Field
Today's "complete" player is one who succeeds in most, if not all, statistical categories of his or her game. Too many times the immoralities of high profile athletes spill into our world of "reality TV" based entertainment. While too much of the public eye is captivated by court hearings and arrests of our professional athletes and not by game day accomplishments or charitable work, it is refreshing to see the stars of tomorrow shine today, both on and off the field.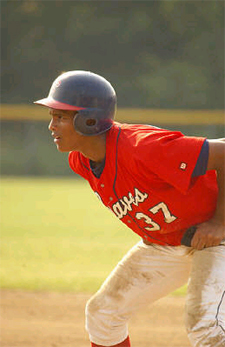 Justin Maxwell (Maryland)
Manny Robello 10th Player Award Winner
SportsPix 2003
The University of Maryland's 19 year-old Justin Maxwell, is one such player who is spending his summer on Cape Cod.

"I come home one night and he's reading the bible, I come home the next night and he's putting my youngest, my daughter, to bed," said Bourne Braves GM Sean Walsh of Maxwell his rather imposing 6'5'', 220-pound centerfielder.

Maxwell was not initially signed by any of the Cape League franchises. The Cape League holds an annual preseason tryout and it was here that Walsh first met Maxwell. "After seeing him workout at the tryout I wanted him," said Walsh, "he was hitting 90 mph fastballs easily to the wall." According to Wareham GM and tryout coordinator, John Wylde, 125 letters are sent to North and East Coast schools requesting recommendations for players capable of playing in the Cape Baseball League. On average about 140 recommendations are received and of those, the tryout pool is dwindled to about 75 potential Cape Leaguers. Roughly 20 players will sign on with teams.

"I just tried to play the same way I've always played, and tried not to be flashy," said Maxwell. "It was Cape League or bust."

Within just one week, Maxwell was signed to a contract with Walsh and the Bourne Braves. With no housing available and the season fast approaching, Walsh agreed to take Maxwell in. "The host families all over the Cape are great," said Maxwell, "they show so much support for us (but) I wouldn't ask to be put into any other place than Sean's (Walsh). He has three little kids that I play with all the time that come to all of our games."

"He's a great kid, his phone rings all day, he's articulate, he's very outgoing with the fans," said Walsh, "and he loves little kids."

Like all Cape Leaguers, Maxwell's summer consists of two major responsibilities: baseball and a day job. Maxwell works about 25 hours a week at the Bourne Braves Youth Clinics working with children. "We play kick ball and baseball and stuff like that with the kids. Sometimes they come out to our games and cheer for me," said Maxwell.

His work off the field does not end there. Maxwell, who turned down an acceptance letter to Harvard to stay closer to home and play baseball for the Terrapins, is a Pre-Veterinary Medicine Major with a 3.88 grade point average, which is impressive considering many young players are still undeclared. With all of his commitments off the baseball diamonds, it is clear to those around him what his goals are.

"He understands the mission, and that's to play professional baseball and at the highest level," said Walsh. "He's a hard worker with a good head. He is in the gym after every game. He sits in front of the TV working his bats with sandpaper and a dog bone until 2:30 in the morning." The sand paper is to better the grip at the end of the bat while working the barrel of the bat with the dog bone, something Maxwell picked up from watching tape of Ted Williams, strengthens the grains in the wood.

"It's going to take hard work and confidence," said Maxwell, "I mean seven times out of ten you fail in baseball. You have to mentally tough."

Maxwell was chosen to start in leftfield for the West All Stars on July 26 in Falmouth. He also joined the likes of Nomar Garciaparra as the Cape League's Manny Robello 10th player award winner. Maxwell finished the season at .307 with 47 hits, two home runs, while committing just one error.

Gregory Feeley CCBL PR