News
08/08/2003 3:09 PM
Article By:
This week in Baseball
8 August 2003


Richard Mercado of Hyannis cops Cape League's
Silva Sportsmanship Award

CAPE COD, Mass. – Richard Mercado of the Hyannis Mets is the Cape Cod Baseball League's quintessential Renaissance Man.

The sturdy 6-0, 205-pound catcher is an art major at the University of Arizona and would like to someday become a graphics designer.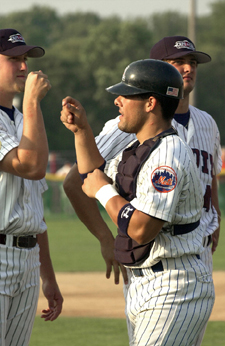 2003 All Star Team selection
SportsPix 2003

His day job with the Mets is assisting Coach Nick "The Greek" Siemasz with field maintenance at McKeon Park, where he makes sure the playing surface is mowed, watered and looking good. But it's his on-the-field demeanor and rock-solid contribution at and behind the plate that has earned Mercado the 2003 Daniel J. Silva Sportsmanship Award for the Cape League.

"It's quite an honor to be selected with the Cape League's sportsmanship award," said Mercado, who was presented with the award before Friday's CCBL playoff game between Bourne and Hyannis. "I've always tried to play baseball the way it ought to be played and always conduct myself the right way."

Mercado has been selected by Cape League umpires as the player who has exemplified the sportsmanship qualities exhibited by former league administrator and umpire Dan Silva.

Originated in 1973, some past league sportsmanship recipients include major leaguers Steve Lombardozzi, Mark Sweeney, Greg Myers (also a catcher), Lou Merloni and Carlos Pena
"Richard was chosen from among approximately 250 players who performed in the Cape League this summer," said CCBL deputy commissioner Sol Yas. "He is someone who has impressed the umpires as a player who works hard, has good leadership qualities and conducts himself as a gentleman."

Mercado has split catching and designated hitting duties with Donny Lucy of Stanford and been one of the main ingredients in the Hyannis Mets' turnaround from two straight last-place finishes to a playoff berth in 2003.

"He (Richard) calls his own game and is extremely good at directing bunts and balls hit to the right side," said Hyannis general manager John Howitt. "We feel that with Richard and Donny Lucy that we have one of the top catching combinations in the league."

Mercado enjoyed a terrific first half of the season offensively and defensively, hitting .270 before the All-Star break and being selected as the starting catcher for the West Squad in the All-Star classic in Falmouth July 26. But the wear and tear of his catching duties plus some bad luck has resulted in a late-season batting slump that dropped his average to .214, with four doubles and 16 RBI.

His performance behind the plate has not suffered as he has made just two errors all season and has exhibited one of the strongest throwing arms in the league. Mercado has also done an excellent job handling the Mets' talented pitching staff.

"We've enjoyed a good season, but have had some tough injuries down the stretch," said Mercado, who hails from San Clemente, CA. "I enjoy platooning with Donny (Luce). It give us a chance to both catch and DH while being in the lineup every day."

Mercado, whose host parents are Jay and Heidi Conti of Hyannis, will return to the University of Arizona this fall and looks forward to another year of collegiate baseball.

"Baseball is something that I really enjoy," said Mercado. "Being a catcher, I'm in on almost every play and can see everything develop in front of me. I take a lot of pride in playing hard every day and trying to be a leader on and off the field."

It appears Richard Mercado has convinced many people in the Cape League that he is doing exactly that. – John Garner, Jr., Director of Public Relations & Broadcasting

John Garner, Jr.
CCBL Director of Public Relations & Broadcasting
(508) 790-0394 [email protected]