News
07/17/2005 12:51 PM
Article By:
THIS WEEK IN THE CAPE LEAGUE
(11 July – 17 July 2005)

Coca Cola Pitcher and Player of the Week
COCA COLA PLAYER OF THE WEEK
It doesn't get any better than this for Chatham's Evan Longoria (Long Beach State), who has been named the Coca-Cola Player of the Week for the second time this season. In 30 at-bats this week, Longoria smashed three home runs, two doubles, one triple and had 11 RBI for the second place A's. Over the seven-game period, Longoria scored six runs and compiled an amazing .400 batting average, .833 slugging percentage and a .424 on-base-percentage. With the All-Star game only two weeks away, it's a safe bet Longoria will earn serious consideration from team managers.
COCA COLA PITCHER OF THE WEEK
Sweet Home Alabama - Wareham's Wade LeBlanc (Alabama) has been named the Coca-Cola Pitcher of the Week. Starting in two games this week for a total of 15 innings pitched, LeBlanc compiled a 1-0 record, 0.00 ERA and racked up 15 K's against opposing hitters. In 34.1 innings pitched this season, LeBlanc has stymied Cape League competition with a 0.79 ERA - which is good enough for fourth in the league. LeBlanc is Wareham's first Pitcher/Player of the Week selection this season. Michael Kydd, CCBL Intern, [email protected]
Lincoln's Versatility A Hit For Braves
At the plate...or on the mound...Bourne's Brad Lincoln has been a hit for the Braves. And that versatility is something the University of Houston product hopes will take him to the next level.
"I want to focus on my pitching (here in the Cape League)," stated Lincoln, a right-handed pitcher. "But whatever it takes to get me to the next level, I'm flexible."
So far, Lincoln's been a success at both the plate and on the mound. Heading into this past weekend's play, Lincoln, a left-handed hitter, was batting .308, tops among Braves batters. Although he's just short of qualifying for the league-leaders in that category, Lincoln's average would've put him 10th. On the mound, Lincoln is 1-0 with a 1.47 earned run average. In 30 2/3 innings pitched for Bourne, he's struck out 28 and walked only eight. In his last start, he pitched seven strong innings against Cotuit, yielding just four hits and one run while fanning five. He left with a 3-1 lead, but the Braves eventually lost the game, 4-3.
Lincoln's not unique in being a two-way player in the Cape League this summer, in fact, he's not even the only two-way player on his team. Speedy center fielder Mike McBryde has pitched twice in relief for the Braves, including earning a save in his first-ever Cape League appearance on the mound. Hyannis' Charlie Furbush and Wareham's Bobby Bramhall are two other two-way players, but it is Lincoln who has the best upside at continuing either at the plate or on the mound if he gets a shot at the majors.
"I wasn't expecting to hit as well as I have up here," admitted the Lake Jackson, TX, native, who batted .337 with seven home runs and 52 RBI for the Cougars this spring. "I had never hit in a game with wood bats against live pitching before (coming to the Cape)."
Lincoln, who was 4-7 with a 4.76 ERA at Houston this spring, feels that his best shot at the next level is pitching. But, then again...
"Maybe I'll get lucky and (get) drafted by a National League team," laughed Lincoln, knowing full well he'd then be able to pitch AND hit!
RUNNING THE BASES - Manager Harvey Shapiro became the Braves' all-time winningest manager in franchise history when Bourne downed Hyannis, 7-6, on Wednesday. The win gave Shapiro 56 wins as manager of the Braves, surpassing the mark held by Jim Watkins, who skippered the Braves from 1988-1990. Currently, Shapiro is 57-53-3 as Braves skipper and has an overall Cape League mark of 175-154-5. Scott Sanford, Website Editor, [email protected]
Cotuit Pitchers Making Noise
Cotuit has received some great performances from their pitching staff, as the Cape League swings into the second half of the season. The Kettleers have been in a struggle for first place in the West with Wareham and Bourne. Big game pitching performances have kept the team in the race.
Josh Johnson (Mississippi State) is 2-0 on the season in four appearances and has recorded a 1.86 ERA. For the Bulldogs in the spring, Josh went 5-0, recording 43 strikeouts good for third on the team. Obviously, Josh' success has continued in the Cape as he has become one of the leaders of the staff.
"Josh has had two great starts and has impressed many opposing managers and players, we hope he continues his success," Cotuit GM Bruce Murphy stated.
Cotuit has been pleased with the progress starter Clay Dirks (LSU) has made as he has become the workhorse of the staff starting in a team-high six games.
As a spectator, you can't help but notice the fun the pitching staff has together in the bullpen during games. The pitchers come out of the pen loose and relaxed and the atmosphere they create for the kids at the park is amazing. As a child you idolize these players and to be able to chat with them and even play at times is a great opportunity.
In Cotuit, a radar gun has been placed in the dugout, allowing kids and people of all ages to try a few tosses and test your arm. This creates a lot of excitement and is a great way to get the players involved with their fans.
Out of the pen, Cotuit has received some great performances. The brightest spot of the bunch has been Chris Toneguzzi, one of the most dominant closers in the league. Chris' fastball has reached mid-90s and the 6'5'' righthander seems to be unhittable at times. Chris is in the top five in saves and is tied for second in the league in appearances. Nick Mucci, CCBL Intern, [email protected]
Green Wave Trio Impacts Falmouth Lineup
Although they missed the early part of the schedule due to the College World Series, the arrival of a pair of Tulane teammates has greatly impacted the Commodore lineup.
Given the success of the Green Wave this past spring, it should be no surprise these players are having such a significant impact. Tulane spent the majority of the season as the No. 1 ranked team in the country before losing to Baylor in a single-elimination game June 21.
Mark Hamilton, Sean Morgan and Warren McFadden were all members of the Tulane squad this past spring.
Hamilton, who was mentioned here last week, has continued his torrid pace. In seven games this week, he hit a home run and knocked in seven runs. The sophomore also has a .294 average and .529 slugging percentage through the 14 games he has played. Although he has played in significantly fewer games, Hamilton is already fourth in the league in RBIs, just four behind league-leader Evan Longoria of Chatham.
"Hamilton is just a flat-out good hitter," manager Jeff Trundy said. "He expects to get a hit every time, and he should with his ability."
Batting primarily in the clean-up spot, Hamilton has formed a nice tandem with Jon Still, who has been hitting the ball well all summer long.
Although he is only a freshman, Sean Morgan will be counted on to provide stability at the end of games for the Commodores. He has already shown he is up to the task, notching two saves in his first three games. The Sugar Land, Texas, native has not surrendered a run in his three innings of work, but has recorded five strikeouts.
McFadden, who is also a freshman, has yet to find his feet in Cape League play, as he is hitting .152 through 13 games. Colin Reed, CCBL Intern, [email protected]
D'Alessio Wields Heavy Bat For Hyannis Mets
Although the Hyannis Mets have struggled mightily in 2005, big first baseman Andy D'Alessio has more than held his own against the toughest hurlers in the Cape League.
The 6'4", 220-pound first baseman from Clemson is ranked seventh in the CCBL with a .317 batting average, along with one homer and a team-leading 11 RBI and four doubles.
"I'm having a great time playing in the Cape League for the Hyannis Mets," said D'Alessio. "Coach (Greg) King has created a fun atmosphere here and I've enjoyed getting to know my teammates."
In a tough 7-6 loss last Wednesday to the first-place Bourne Braves, D'Alessio crushed a 400-foot, three-run homer to center field in the third inning to tie it at 3-3. An inning after D'Alessio singled home a fourth run, Justin Tellam (UNLV) led off the sixth inning and greeted reliever Andrew Carignan with a solo shot that carried over the fence in center. They were the first homers of the year for both D'Alessio and Tellam.
"We needed a big stick in the middle of the lineup and were sure that Andy would fit the bill," said Hyannis GM John Howitt. "He's a good hitter who can hit for power to all fields and makes consistent contact at the plate."
D'Alessio batted .280 for the Tigers in 2005, was second on the team with 15 home runs and drove in 60 runs, while cementing his reputation as the best defensive first baseman in the ACC. He hit .333 as a freshman, with four homers, 10 doubles and 22 RBI.
Andy led Clemson to a 43-23 overall record this past spring, earning its 19th straight NCAA Tournament appearance. The Tigers advanced to the Waco Super Regional, losing in three games, after going 3-0 in the Clemson (SC) Regional. It was the Tigers' fifth super regional appearance in the seven years of its existence.
D'Alessio had the best batting average (.778) in the NCAA Regionals. He also led the regionals in on-base percentage (.857) and was second in slugging percentage (1.556). His four doubles tied for the best in the nation as well. In three games, he was a torrid 7-for-9 with four doubles, a homer, four RBIs, four walks, and a stolen base on his way to earning Clemson Regional MVP honors.
"Andy is one of the more exciting offensive players in the ACC," said Clemson coach Jack Leggett on the team's official web-site. "He's a rock for us at first base. He's really improved his defensive skills, and has been a really hard worker and has a great attitude. He's a leader on our team, and we look for him to hit in the middle of the order and play a big role for us offensively, and to be the leader of the infield."
Last year, he was rated the #5 freshman in the nation and the third-best newcomer in the ACC in preseason by Baseball America. He was drafted in the 10th round of the 2003 draft by the Cincinnati Reds out of high school. A sport management major at Clemson, he was a member of the ACC Academic Honor Roll in 2003-04.
After D'Alessio, the leading Mets' hitters are Kyle Norrid (Memphis) at .267 and Mike Baxter (Vanderbilt) at .264.
The top hurlers include Chris Duke (San Diego CC) at 1-0, 3.52 and Ryan Kennedy (Virginia Tech) at 1-3, 3.63. John Garner Jr, Director of Public Relations & Broadcasting, [email protected]
Gatemen's New Additions Hope To Add Power
Wareham's pitching has been the team's strong suit so far this season. The lineup on the other hand, has struggled and besides a few outbursts, the team batting average has remained around the basement of the league. The lineup took a hit early in the season by losing a few key players and management is hoping the latest additions to the team will give a much-needed boost.
From the national champion Texas Longhorns, Carson Kainer returns for his second season as a Gatemen. For the Longhorns, Carson was fourth on the team in batting average, hitting .312 and started 60 games. As a freshman, Carson earned freshmen All-American honors and also was named to the All-Big 12 team. Carson became a star on a team loaded with talent for a school that has produced so many professional athletes.
Carson's great arm strength from the outfield makes him a threat to pick off players in any situation. Although he only hit .181 last year, the staff is confident that Carson will be a lot more successful in his second stint.
"Carson is a great young man and a great athlete, we are very confident in his abilities and we feel he will have a great year for the Gatemen," GM John Wylde said. His overall athleticism is something that the Gatemen staff will appreciate having as they try to earn their first playoff spot in two years.
The Gatemen also recently added third basemen Kevin Russo from Baylor. For the Bears, Russo hit .286 and finished third on the team in RBIs, a squad who finished fourth nationally after earning a berth to the college world series.
Ed Easley a freshman from Mississippi State looks to be a very promising addition for the Gatemen as well. He hit .296 for the Bulldogs, playing catcher and third base for a very successful squad. Nick Mucci, CCBL Intern, [email protected]
Whitecaps Give Fans What They Want
Loyal fans and visiting families have been flocking to the baseball field at Cape Cod Tech this summer to catch Brewster's collegiate superstars in action.
With the Whitecaps (12-14) only two games under .500, fans continue to fill up the first base hillside to cheer on their favorite players.
James and Susan Spencer have made the trip to the Cape for the past two summers and enjoy frequent family outings to the ballgames with their children, Dana, 11, and Colin, 8. Dana's favorite player, second baseman Keoni Ruth, and Colin's pick, Craig Cooper of Notre Dame, are fan favorites at the ballpark and often get the warmest of receptions when at the plate.
"We enjoy getting to sit up close and personal at these great baseball games," said Susan. "It is fun for the kids to chase foul balls and get autographs, but it really is fun for our whole family."
As kids race around the field scrambling for foul balls and answering trivia questions, Brewster's batboy, Brad Kempaner, sits tight near the dugout in admiration of the possible big leaguers, especially the talented Cooper.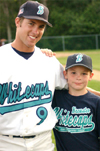 UNC's Jonathan Hovis and batboy Brad Kempaner are all smiles after a Whitecaps recent game.
SportsPix/kubesch
The batboys for Brewster seem to have the most coveted job outside of actually playing for the Whitecaps, and Kempaner can attest to that. Kids at the ballpark often ask him for a baseball or occasional broken bat, but Kempaner has to turn them away.
In addition, Kempaner's family houses two pitchers, UNC's Jonathan Hovis and Brian Donahue of Amherst College, but a pitcher himself, Kempaner loves to be around all the Brewster players. "I enjoy getting to know all of the players and learning which bat each one likes to use," he said.
The Whitecaps appreciate all of the support shown to them by the town of Brewster and its visitors, and the team hopes to tack on numerous wins in the upcoming weeks. Aaron Bates (NC State) and Matt Cusick (USC) lead the Whitecaps, each with a batting average of .298. Bates' personal stats for the week include a 2-5 performance with a grand slam against Hyannis in Brewster's 9-6 win over the Mets. On the mound, P.J. Walters picked up his fifth win in as many starts, while lowering his ERA to 1.50. Jenna Kubesch, Intern, [email protected]
Lutz Saves The Day For A's
Another week in Cape League play, another Chatham pitcher named Coca-Cola Pitcher of the Week. For the third straight week, a member of the A's staff received the honor, as Derrick Lutz (George Washington) followed the lead of teammates Jared Hughes and Robert Woodard.
Lutz had a spectacular week, posting two saves and 11 strikeouts. Most impressively, over the five innings he pitched, he surrendered no earned runs.
While Chatham's pitching has undoubtedly been strong, the A's lead the league in team batting. Through July 13, their .274 average is more than 30 percentage points higher than anyone other team in the league. Cotuit ranks second with a .243 average.
Outfielders Alex Presley (Mississippi) and Baron Frost (Southern California) are both enjoying fine seasons at the plate and are a big reason for Chatham's offensive success. They usually bat first and second in the batting order respectively, and have set the table nicely for the heart of the lineup.
Presley, a sophomore who bats and throws lefty, is hitting .319 in the leadoff spot. He has an on-base percentage of .397 and has also stolen four bases. Frost, a right-handed batter, is hitting .375 with an eye-opening .462 on-base percentage. Frost's batting average is best in the league, and Presley is not far behind his teammate.
Manager John Schiffner says the lefty-righty duo complement each other extremely well. "They set the table nicely for us," Schiffner said. "They're both good hitters and make contact."
The veteran manager added that the two lead the team in getting runners home with less than two outs. "They both just bare down when they have two strikes," he said.
The A's, who were trailing the Eastern Division leading Orleans Cardinals by six points through Friday's action, are poised to make a run as the season progresses, especially if they keep hitting and pitching at their current pace. Colin Reed, CCBL Intern, [email protected]
Emanuele Sparks Mariners Streak
Harwich has been benefiting from the late-season acquisition of outfielder Chris Emanuele (Northeastern). Through Friday's action, Emanuele is hitting .346 through eight games.
Emanuele's Cape League career was supposed to begin in Harwich last summer, but he suffered a serious leg injury on May 1, 2004 that sidelined him the rest of the spring season, as well as the summer.
The Mississauga, Ontario, native bounced back nicely in the 2005 campaign, as he led the Huskies in all three major batting statistics: average (.340), home runs (11) and RBI (40). In addition, he also stole a team-high 17 bases and scored a team-high 50 runs. These numbers earned him a spot on the All-Conference first team in America East.
This year, Emanuele went undrafted before Englert picked him up off the waiver wire. "He's going to bat at the top of the lineup," Englert said. "He steals bases, plays great defense and he can swing the bat too."
The Mariners put together a modest two-game winning streak in the fifth week of play, as they defeated Falmouth and Chatham on consecutive nights.
After a hot start, the team began to struggle and is currently fifth in the Eastern Division with a 10-16 record. However, they are still very much in the thick of things, as they are just two points behind Brewster and seven behind Yarmouth-Dennis.
Manager Steve Englert remained upbeat and was pleased with their overall play. "They're still playing hard," he noted. "We got a couple of wins to help the kids feel better about themselves."
Colin Reed, CCBL Intern, [email protected]
Wright And Burris Lead Cardinals To Top
With the Orleans Cardinals in first place in the East Division, it doesn't look like they need any saving, but that's exactly what they are getting from pitcher Steven Wright (Hawaii).
The right-hander is currently tied for the most saves in the league with six and is also tied for second in games pitched with eleven. "He's the go-to guy," said General Manager Sue Horton, "Very dominant."
The Cardinals pitching staff has been outstanding thus far with an ERA of 2.18, which is good for second in the league. With pitching like that it is no wonder the Cards are sitting pretty in first place, a cool three games ahead of Chatham.
Also contributing to the Cardinals success this season is third baseman Manny Burris (Kent). Burris is currently leading the league with 29 stolen bases and that leaves Burris as the stolen base single season record holder for the Orleans Cardinals.
"It's a lot of fun to watch Manny play," said Horton. The previous team record was 27 stolen bases, achieved by Pete Stanieck in 1984. The league record of 48 was set in 1993 by Roy Marsh, who played for the Wareham Gatemen.
The Cardinals are doing well this season and it could be due in part to the fans. Orleans averages about 2000 fans per game and with the competition in the Cape League every extra push helps. Horton is pleased with the Cardinals success so far this season, "I'm really glad to see how it (the season) is going, but things can change on a dime in this league. We're not taking anything for granted." Stefanie Falco, CCBL Intern, [email protected]
Late Bloomer Drives Red Sox
The defending champion Yarmouth-Dennis Red Sox are off to a slow start, but once they get going, they will be hard to keep up with, much like Sox outfielder Jeff Kindel (Georgia Tech).
Kindel has emerged on the Cape League category leader board -- he is currently batting .375, good for third in the league.
"Jeff has really improved his stroke this week," said Y-D field manager Scott Pickler. At Georgia Tech, Kindel was a late bloomer, switching from pitcher outfielder where he found his niche and started to shine.
About his success in the Cape League Kindel says, "I've been working harder every day." Kindel does list the wood bats as a challenge in the league, but he obviously is adjusting.
According to Kindel, the good, solid pitching in the Cape League is the other big challenge. Kindel is enjoying his first year in the Cape League, getting to play baseball and work the camps everyday is a highlight.
The Sox are making a move this week and are now in third place in the East Division -- only one game behind Chatham and are only four games behind the league leader Orleans Cardinals. Stefanie Falco, CCBL Intern, [email protected]
Around the Cape League Horn
Fresh Air Fund Night: For the eighth year in a row, the Cardinals hosted Fresh Air Fund Children and their host families at a game at Eldredge Park on July 14. Since 1877, the Fresh Air Fund has provided free vacations to nearly 2 million children from New York City. Learn more about this wonderful program, and perhaps become a host family yourself next year -- visit freshair.org for more information… Film Festival: The Woods Hole Film Festival will include "Touching the Game: The Story of the Cape Cod Baseball League" as one of its featured documentaries. It will be shown on Monday, August 1 at 9 p.m. at The Old Woods Hole Fire Station The actual film trailer reads: "There is no amateur baseball league more prestigious and more storied than the Cape Cod Baseball League. Now for the first time, the story of the league is told by the players, coaches, fans, and others who make Cape Cod the place to be for a true summer experience." Year: 2004, Length: 105 min., Format: DV, Origin: Massachusetts, U.S.A. Producer: Fields of Vision and Eye Candy Cinema, Director/Writer/Editor: Jim Carroll, Cinematographer: Eric Scharmer. Narrator: Steve Buckley… Keyspan Community MVP's: KeySpan Energy Delivery, the largest provider of natural gas in the Northeast, announced the first group of KeySpan Community MVP's for the Cape Cod Baseball League (CCBL) season include: Cotuit's Kristen Logan; Hyannis' Daryn Raschand Kirsten Leary of Brewster. All three are students from area high schools, a new focus for the KeySpan program, which previously recognized civic leaders of all ages. MEDIA ALERT: Any media wishing to attend the Cape Cod Baseball League All-Star Game should contact John Garner at [email protected] and Mike Kydd at [email protected] no later than Thursday, July 28, 2005.

John Garner, Jr.
CCBL Director of Public Relations & Broadcasting
(508) 790-0394 [email protected]

Interns: Stephanie Falco, Jason S. Itzkowitz, Jenna Kubesch, Michael Kydd, Nicholas Mucci, Colin Reed
Contributing Editor, Scott Sanford