News
08/09/2005 1:04 PM
Article By:
10 August 2005
THIS WEEK IN THE CAPE LEAGUE
Championship Week
Chatham takes Game one in 11 Innings
Orleans, Mass.— Before the second-largest crowd in Cape League history, the Chatham A's defeated the Orleans Cardinals 6-3 in an 11-inning thriller. In a match-up of the two best teams in the Eastern Division, the A's scored three runs in the 11th inning off star closer Steven Wright to win the first game of a three game series. Having secured a win on the road, Chatham returns home with a chance to end the series and advance to the championship against either Cotuit or Bourne.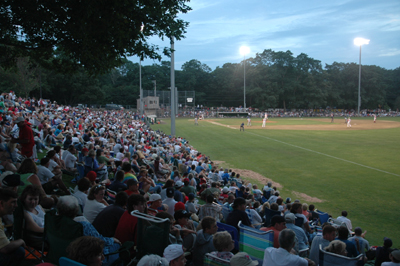 Chatham wins in extra Innings thriller before largest crowd of the season.
The game appeared to be over going into the bottom of the ninth, as the A's had a one run lead. Andrew Miller, their ace-lefthander, had pitched eight strong innings before handing the ball over to star closer Derrick Lutz, virtually unhittable this summer. Lutz, who recorded 12 saves during the regular season without allowing a single run to cross the plate, was greeted by first basemen Brett Pill. Pill did what no player had done all season against Lutz, slamming the first pitch he saw over the left field wall to tie the game at three and sending the contest to extra innings, delighting the 9,259 in attendance at Eldredge Park.

Orleans had a chance to put the game away in the bottom of the tenth inning when they had the bases loaded with no outs. The Cardinals filled the bases in a bizarre series of events, starting with the leadoff hitter, catcher Jason Jacobs, laying down a beautiful bunt single that caught everyone by surprise. The next batter, Steve Singleton, attempted to bunt the runner over, but the first pitch got by the catcher and Jacobs was able to move to second. On the next pitch, Lutz fielded the bunt cleanly, but there was no one covering first base and everyone was safe. Lutz walked the next batter intentionally to load the bases. Chatham brought the infield and the outfield in, but Lutz was able to retire the next three batters he faced to send the game to the 11th.

In the 11th, the A's were able to load the bases for Evan Longoria. The league's leading RBI man did not have to take the bat off his shoulder for the go-ahead run to cross the plate, as a pitch got by the catcher allowing the runner from third to score. Longoria struck out swinging before Coghlan was intentionally walked to load the bases. Josh Morris made the Cardinals pay, grounding a two-run single into left field that gave the A's a three-run lead. This would be more than enough for Lutz, who shut the Cardinals down in the bottom of the inning for the win.

As he has done all summer, Miller pitched brilliantly for the A's. The Cardinals did not get their first base runner until the fourth inning, and, despite taking a sharp line drive off the ankle, Miller was able to finish eight innings and left the game with his team leading by a run. The tall lefty struck out 10.

Chatham outfielder Alex Presley, who finished third in the league in hitting with a .341 average, was named player of the game for his 3-for-5 performance. Presley was also issued two walks and scored two runs.

Daniel Albritton entered the game for the Cardinals in the seventh and pitched well in relief. Ironically, this game saw the two best closers on the Cape this summer, Lutz and Wright, both pitch without either recording a save. Wright, who was honored by Commissioner Paul Galop as the best relief pitcher in the league in a pre-game ceremony, was tagged with the loss, while Lutz was credited with the win.

Throughout its long and distinguished history, the Cape Cod Baseball League has seen only one crowd bigger than the one that packed Eldredge Park on Tuesday. This occurred five years ago in the year 2000 when the Cape League All-Stars took on Team USA.

On Wednesday, the series moves to Veterans Field in Chatham for what promises to be another tightly contested match-up. Orleans sends Everett Teaford to the mound; he will be opposed by Robert Woodard. Both pitchers posted 5-1 records during the regular season. Colin Reed, CCBL Intern, [email protected]

John Garner, Jr.
CCBL Director of Public Relations & Broadcasting
(508) 790-0394 [email protected]

Interns: Stephanie Falco, Jason S. Itzkowitz, Jenna Kubesch, Michael Kydd, Nicholas Mucci, Colin Reed