News
08/10/2005 1:06 PM
Article By:
10 August 2005
THIS WEEK IN THE CAPE LEAGUE
Championship Week
Orleans/Chatham Match Up Suspended Due to Fog
CHATHAM, MA- And the winner is…Fog!? The Orleans-Chatham match up was suspended during the 4th inning due to fog over Veterans Field in Chatham.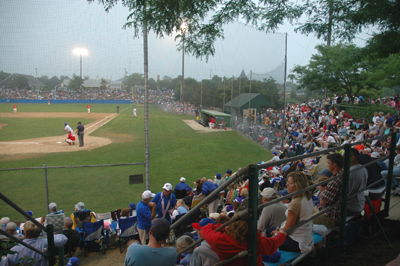 Fog in the 4th inning forced the game to be suspended.
The game that started at 7pm was suspended at about 8pm due to fog that was a hindrance to the players. The game had all the makings of a classic, Orleans trying to get a win to stay alive in the playoffs and Chatham trying win the series over those pesky Cardinals that kept them out of first place all season.

The weather was holding steady through the first inning as the game got under way and then just when things started to pick up the fog did as well.

In the fourth inning, when the fog was at its worst, Orleans' Dave Uribes (Peperdine) led off the inning with a double and then took third on a pass ball by Robert Woodard (UNC). Brett Pill (Cal State Fullerton) then lined a single to score Uribes and the Cardinals took the lead 1-0.

In the bottom of the fourth, Chatham star Chris Coughlin (Mississippi) roped a single to get things started for the A's, then with 2 outs amidst the foggy skies Gary Bussiere (U Cal Berkley) picked out a pitch and sent it right over the left field fence for a 2 run homer. Following the play the Cardinals walked off the field while a discussion amongst the umpires ensued.

The fog was so thick that the Orleans outfielders could not pick up the ball. The umpires then decided to delay the game until nine o'clock to wait for the fog to lift. At 8:30 pm an announcement was made that at 9 pm a decision would be made as to whether or not the game would continue or be suspended until tomorrow at 1pm.

League Commissioner Paul Gallop, who was in attendance explained that normally the umpires only had to wait 30 minutes to decide if the game should be suspended, or continued, but since it was a playoff game they were able to wait a full hour in order to make the best decision possible.

The game was suspended which means it will resume tomorrow at 1pm at Veterans Field in Chatham and play will start off in the bottom of the 4th inning with 2 outs with Chatham leading 2-1.

Coach Nicholson of the Cardinals thought that the fog would "have been pretty cool if it wasn't in the middle of the game." Coach K said that the fog "wouldn't change much, except for the pitching," which he said "we'll figure something out."

There was no lack entertainment during the initial suspension of the game, the crowd that remained was wowed by a Chatham A who had a hidden talent as a bat juggler, and the Orleans Cardinals bobsled team made an appearance 'a la' "Cool Runnings" on the first baseline. And to top off the antics an unidentified Orleans Cardinal put his uniform on upside down and ran around the field to create the illusion that he was walking on his hands.

The conclusion to the game will be played tomorrow at Veterans field at 1pm. If a third game is necessary it will be played in Orleans at 7pm. There is no doubt that the conclusion to the East division playoffs will be an exciting finish. Stefanie Falco, CCBL Intern, [email protected]
John Garner, Jr.
CCBL Director of Public Relations & Broadcasting
(508) 790-0394 [email protected]

Interns: Stephanie Falco, Jason S. Itzkowitz, Jenna Kubesch, Michael Kydd, Nicholas Mucci, Colin Reed