News
08/11/2005 1:13 PM
Article By:
11 August 2005
THIS WEEK IN THE CAPE LEAGUE
Championship Week

Orleans Prevails to Win East
Orleans, Mass. - In the third and deciding game of the series, the Orleans Cardinals defeated the Chatham Athletics 9-7 in the nightcap of a day-night doubleheader to become Eastern Division champions.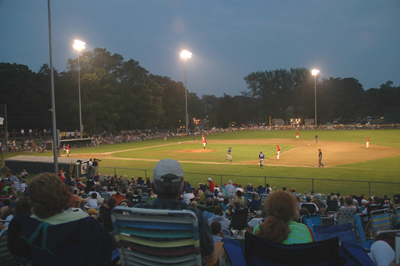 Cardinal fans prevail.
Following their 5-2 victory earlier in the day at Veterans Field, the Cardinals held on to win a wild one at Eldredge Park. On a hot and humid evening when neither starter looked sharp, it was a back-and-forth game that saw many different lead changes.

Jared Hughes (Long Beach State), the starting pitcher for the Eastern All-Stars in Hyannis on July 30th, lasted only four plus innings for Chatham. Hughes did not have his typical pinpoint control, walking three, hitting three batsmen and throwing two wild pitches. Hughes never had command of his curveball, one of his best pitches.

Orleans starter Lee Hyde (Georgia Tech) did not fare much better, lasting only three and a third innings and surrendering three runs.

The Chatham bats got things started early, hitting the ball hard off Hyde from the get-go and staking Hughes to a 2-0 lead in the first inning. As he did all season, leadoff man Alex Pressley (Mississippi) set the table, leading off the game with a double to the opposite field and crossing the plate on a sharp single up the middle by Baron Frost (Southern Cal). Frost moved to second on a pitch in the dirt that catcher Jason Jacobs was unable to field cleanly before Evan Longoria flew out to deep center field. Chris Coglan singled sharply back through the pitcher's box and Frost decided to test Orleans center fielder Colin Curtis' arm. The All-Star MVP fielded the ball cleanly and came up throwing, nailing Frost at a very close play at the plate. The A's were able to get one more run on an error by third basemen Emmanuelle Burriss that allowed Coglan to cross the plate.

The Cardinals twice loaded the bases with no outs. In the second inning they were unable to capitalize, scoring only one run, as Hughes was able to get a 4-6-3 double play.

Orleans did not squander the opportunity in the fifth, again loading the bases and chasing Hughes in the process. The new Chatham pitcher, Brooks Brown (Georgia), first faced Steve Singleton (San Diego), who hit a slow grounder just inside the first base line that scored two runs. Next up was Jason Jacobs, who singled to left. The runner at third, unsure if the ball was going to be caught, attempted to score and would have been out had catcher Garrett Bussiere been able to hold onto the relay throw. Brown retired the next three batters he faced, but not before Orleans had added three runs to take a 9-4 lead to the sixth.

The A's began to chip away at the lead immediately on an RBI double by Evan Longoria, but the Cardinals were able to escape the sixth inning without any further damage. The A's batters did not quit, however, as the first two A's reached in the seventh. Adrian Ortiz slapped a double down the third base line that scored Todd Frazier. With no outs and two on, the Cardinals brought in Daniel Albritton to slam the door on the Chatham rally. Allbriton, who pitched well in relief on Tuesday night, had the undesirable task of shutting down the top of the Chatham lineup. The A's loaded the bases when Presley singled off the first pitch he saw. Baron Frost lined a single into left field that scored one run. Again, a Chatham base runner tested the arm of an Orleans outfielder, as Ortiz, arguably the fastest runner in the league, tried to score from second. And again, the runner was nailed at the plate. League MVP Longoria walked to bring up the clean-up man Chris Coghlan, but Albritton got him to strike out on a pitch in the dirt, preserving a two-run Orleans lead.

Hughes never was able to get into the groove that made him an All-Star this summer, as Orleans batters tagged him for three runs in the fourth. Steve Singleton singled to lead off and immediately was brought home by a double off the bat of Burriss, who had cost his team a run in the previous inning with a throwing error. Burriss came home on a single through the drawn-in Chatham infield by Dave Uribes, who later came home to score the sixth Cardinals run.

Star closer Steven Wright, relief pitcher of the year for the 2005 season, entered the game in the top of the eighth and preserved the two-run lead. Wright looked like the pitcher who was so dominant during the regular season, retiring all six A's he faced for the two inning save. Wright ended the game emphatically, striking out Alex Presley with a hard fastball.

Tempers flared briefly in the bottom of the eighth inning when a 96 MPH fastball from Derrick Lutz sailed over the head of Brett Pill, who had already been hit with two pitches earlier in the game. Order was quickly restored and the game ended without further incident.

The Cardinals now face the Western Division champion Bourne Braves on Friday night at 7 p.m. at Eldredge Park. Colin Reed, CCBL Intern, [email protected]
John Garner, Jr.
CCBL Director of Public Relations & Broadcasting
(508) 790-0394 [email protected]

Interns: Stephanie Falco, Jason S. Itzkowitz, Jenna Kubesch, Michael Kydd, Nicholas Mucci, Colin Reed