News
07/05/2006 4:07 PM
Article By:
5 July 2006
Cape League Special
HARWICH, Mass. – The school bell sounded at Harwich High, signifying the ending of the academic year. Kids flooded the parking lot, with the seniors excited that they were one day closer to their last summer before college life. But two popular faces remained. Tying their cleats, and grabbing their gloves, they entered the gates at Whitehouse Field, a field that brings to life memories of the past, realities of the present, and hopes for the future.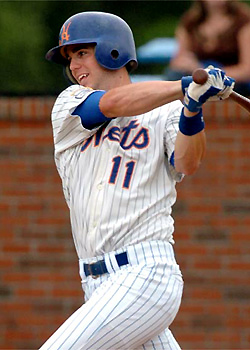 Jared McGuire
SportsPix / 2006
Jared McGuire (Boston College) and Cody Crowell (Vanderbilt) are Harwich natives. Best friends from the start, these two stars of Harwich have made a name for themselves in the world of athletics through their continued perseverance, talent, and ambition. Their camaraderie began as youngsters when they played along side each other in various sports. But Jared and Cody quickly found that they shared one common love: the love of baseball.

After high school, Jared took to the diamond as a Boston College Eagle, winning the 2005 Big East Player of the Year award. Cody traveled past the Mason-Dixon Line to Nashville, Tenn., where he became a master on the mound at Vanderbilt University.

Their athleticism and extraordinary talent on the diamond has led them to play for the Cape Cod Baseball League this summer. But currently, life for this duo does not match their former baseball nights as Harwich High Rough Riders. What Jared and Cody have always been accustomed to has suddenly changed. They are no longer teammates who sported the same uniform and joked around in the dugout after games. They are competitors, as they each fight to lead their own team to a CCBL Championship. McGuire, an outfielder for the Hyannis Mets, and Crowell, a left-handed pitcher for the Brewster Whitecaps, have yet to face each other on the diamond, but that will likely change in a hurry.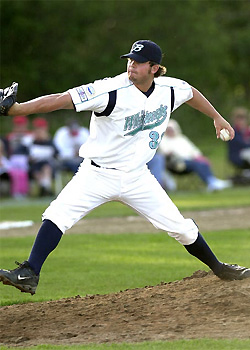 Cody Crowell
SportsPix / 2006
When asked about his feelings of playing against his childhood friend, McGuire stated, "I have not yet had the chance to face Cody, although when the time comes, it certainly will be different. He will throw hard and try to get me out, but I will also try and get a good hit. We are both competitors, but after the game we will joke about the outcome."

McGuire and Crowell are light-hearted with each other off the diamond, but once they are in the zone, there is no stopping their competitive streaks. Through the Fourth of July, McGuire rode a team-high six-game hitting streak, including multi-hit games in four of those six. He has given the Mets fan base a great deal to cheer about, leading the team with four outfield assists from his usual spot in left field.

After pitching for the Harwich Mariners last summer, Crowell will not be pitching from his familiar mound at Whitehouse Field, but he hasn't lost the golden touch that he mastered for years in Harwich. During the home opener, Crowell, after four innings of hard-throwing relief, managed to post six strikeouts, leaving the game with a 0.00 ERA. Through the first two weeks of action, Crowell was leading the league with 20 strikeouts.

Two other Cape Cod natives, Adam LaPlante (Wheaton) of Harwich and Jake Yagjian (Wheaton) of Brewster, added flavor to the Whitecaps for the first couple weeks of their highly anticipated season. In the spring, they led the Wheaton Lyons to the championship round of the NCAA Division III College World Series. Unfortunately, both were released from their temporary contracts earlier this week.

What is so unique about McGuire and Crowell's story is that they are now representing teams this summer that they grew up watching. It is rare for natives of the Cape to have the chance to play for the exclusive Cape League, as many of the best players in the country fly in from locations ranging from San Diego to Curacao. The number of spots available to aspiring baseball players on the Cape League each summer is minimal – yet Jared and Cody have both proved on their own merit that they have what it takes.

As the summer presses on and the competition to lead their prospective teams to a championship begins to boil, McGuire is secure knowing that "Cody and I have been best friends since we were little. Our competition is both friendly and competitive. On the diamond we are both competing to be on top, while off the diamond we are just friends hanging out."

What remains imminent this summer will be helping their respective teams secure wins, something they learned a thing or two about from their high school baseball coach, Fred Thacher.
"Coach Thacher prepared us perfectly for the road ahead. He's a great coach who actually won a state championship this year for Harwich High. He gets the best out of his players, and I definitely credit a lot of my success to him," McGuire stated.

Thacher must have done something right. McGuire and Crowell have turned out to be fierce competitors in their own college environments, and are packing the heat in the best collegiate league this summer. What was taught to them in their hometown dugout of Whitehouse Field year after year must have been sacred, because they haven't turned back since.

It has been smooth sailing for this BC Eagle and Vandy southpaw so far. They have now become official Cape League players, and their memories of watching summer ball on the Cape have turned into realities of the present as they hope to conquer their dreams of playing pro ball in the future.

By Lauren Malone, CCBL Intern [email protected]